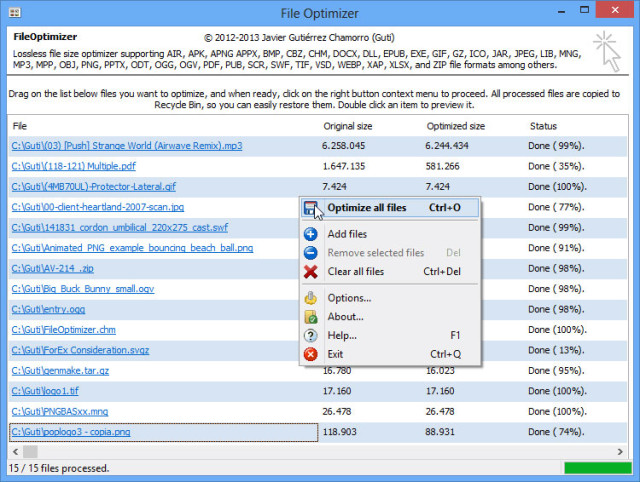 FileOptimizer is a lossless file size optimizer supporting AIR, APK, APNG APPX, BMP, CBZ, CHM, DOCX, DIB, DLL, EPUB, EXE, FAX, GIF, GZ, ICO, JAR, JPEG, LIB, MNG, MP3, MPP, OBJ, PNG, PPTX, ODT, OGG, OGV, PDF, PUB, SCR, SWF, TIF, VSD, WEBP, XAP, XLSX, and ZIP file formats among others.

It keeps the behavior of the file untouched, but with its size reduced thanks to several re-compression and optimization techniques.
Key features:
Suitable for home users that need to speedup file transfers no matter if they are in email attachments, P2P or shared upload servers.
Suitable for webmasters to increase the page load speed.
Suitable for web developers to reduce content weight.
Suitable for desktop developers in any platform (Windows, Linux, MacOS, ...) to reduce distribution sizes and reduce load times.
Suitable for mobile developers (Android, iOS, Windows Phone, ...) to reduce distribution sizes and reduce load times.
Suitable for server administrators that could integrate FileOptimizer via command line.
Suitable for content creators and distributors to reduce content weights.
What's new in this version:
Added JNG to the JPEG tool chain.
Implemented generic .aai .avs .dcx .pcc .pcx .fits .jp2 .jpc .hdr .hrz .mif .miff .mtv .otb .p7 .palm .pdb .pbm .pcd .pcds .pfm .pgm .picon .pic .pict .pnm .ppm .psb .psd .sun .vicar .viff .wbmp .xbm .xpm .xwd to the ImageMagic tool chain.
Updated to ImageMagick 6.8.6.7.
Better performance updating to ASMLib 2.31.
Included vcomp100.dll required by ImageMagick (Kolpotoru).
Upgraded to C++ Builder XE4 Update 1.
Download: FileOptimizer 5.80.258 | 17.5 MB (Open Source)
View: FileOptimizer Website