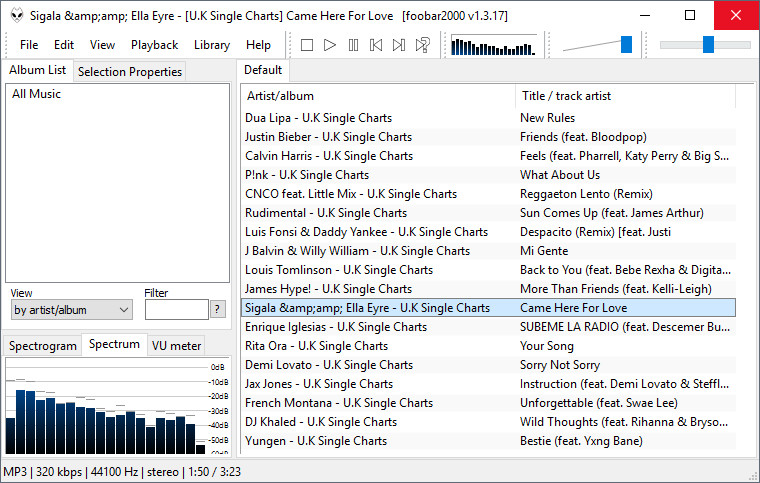 foobar2000 is an advanced freeware audio player for the Windows platform. It features the simplest, most minimalistic interface you'll ever see in this kind of program. Other features include full unicode support, ReplayGain support and native support for several popular audio formats.
foobar2000 features:
Supported audio formats: MP3, MP4, AAC, CD Audio, WMA, Vorbis, FLAC, WavPack, WAV, AIFF, Musepack, Speex, AU, SND... and more with additional components.
Gapless playback.
Full unicode support.
Easily customizable user interface layout.
Advanced tagging capabilities.
Support for ripping Audio CDs as well as transcoding all supported audio formats using the Converter component.
Full ReplayGain support.
Customizable keyboard shortcuts.
Open component architecture allowing third-party developers to extend functionality of the player
foobar2000 1.6.6 Beta 1 changelog:
Made Advanced Preferences searchable.
Added support for attaching pictures to Matroska files; fixed Matroska tag editing bugs.
More accurate reporting of Matroska bitrate (actual content is probed if needed).
Added itunesadvisory tag support for M4A.
Updated embedded cuesheet handling code.
Replaced PPHS resampler with much faster libretro resampler.
Added support for internet radio album art.
Converter: Encoded FLAC files are now updated with proper FLAC seektables, if FLAC.exe doesn't write them by itself.
Converter: Workarounds for clashes when writing to a Media Library indexed folder.
Converter: Added built-in profile for exhale AAC encoder.
Converter: Fixed some warning prompts not being possible to permanently disable.
Fixed slightly inaccurate bitrate reporting for Musepack and WavPack. Tags are now excluded from file size used to calculate the bitrate.
Now compiled with Visual Studio 2019 (was 2017 before).
Download page: foobar2000 1.6.6 Beta 1 | 4.5 MB (Freeware)
Links: Home Page | foobar2000 for Mac | Windows Store | Android
Get alerted to all of our Software updates on Twitter at @NeowinSoftware