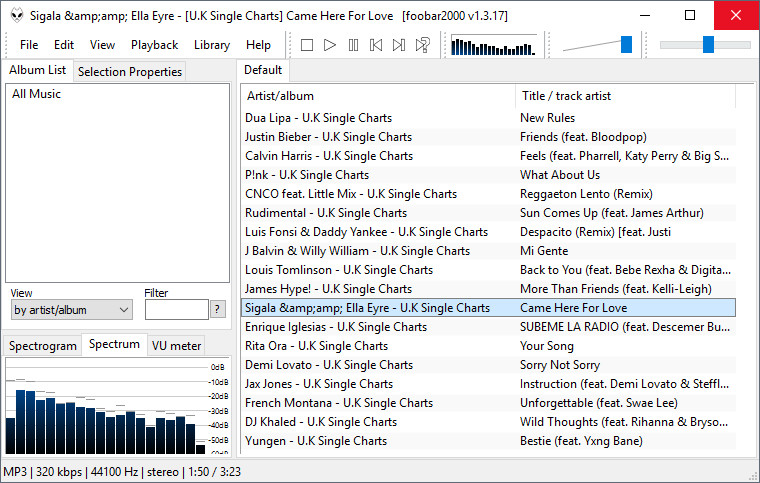 foobar2000 is an advanced freeware audio player for the Windows platform. It features the simplest, most minimalistic interface you'll ever see in this kind of program. Other features include full unicode support, ReplayGain support and native support for several popular audio formats.
foobar2000 features:
Supported audio formats: MP3, MP4, AAC, CD Audio, WMA, Vorbis, FLAC, WavPack, WAV, AIFF, Musepack, Speex, AU, SND... and more with additional components.
Gapless playback.
Full unicode support.
Easily customizable user interface layout.
Advanced tagging capabilities.
Support for ripping Audio CDs as well as transcoding all supported audio formats using the Converter component.
Full ReplayGain support.
Customizable keyboard shortcuts.
Open component architecture allowing third-party developers to extend functionality of the player
foobar2000 2.0 changelog:
Support for modern processor architectures. Now available as:
x86 32-bit (legacy) - requires Windows 7 or newer.
x86 64-bit - requires Windows 7 64-bit or newer.
64-bit foobar2000 requires 64-bit builds of components; it can not load legacy 32-bit components. However, at this time, most components have 64-bit builds available already.
ARM - requires Windows 11 ARM device.
foobar2000 for ARM has been compiled in Emulation Compatible (ARM64EC) mode and can load components built for x86 64-bit. There's no need for component developers to specifically build ARM components.
User interface updates:
Dark mode support on Windows 10 and 11. Add-on components need to be updated to utilize it.
Added album art in Default User Interface playlist view.
Clickable rating stars in Default User Interface playlist view (with new Playback Statistics component only).
New Default UI element: ReFacets, reimplementing most of Facets functionality. Old Facets component doesn't work with new 64-bit foobar2000.
Improved Default UI splitter, now allows any number of panes.
Added 'remember per playlist layout' to Default User Interface playlist view.
Added 'stream selector' element to Default User Interface toolbar.
Some Default UI Elements (ReFacets, Equalizer, visualisations) now also accessible as Columns UI panels.
Made more edit boxes recognize ctrl+backspace.
Fixed remembered main window position/size not respecting system DPI settings.
Configuration management changes:
New internal playlist format, changes instantly saved to disk, no more recent changes lost on crash.
New configuration data format, changes instantly saved to disk, no more recent changes lost on crash.
For non-portable installs, profile folder is now %appdata%\foobar2000-v2. There is no need to back up old profile before upgrading, your foobar2000 v1.x profile will be left untouched.
First run performs import of old configuration data (playlists, library).
New full config reset semantics - now clears profile folder (optionally leaving user-components intact) instead of asking all components to reset themselves.
DSP technology updates:
Made possible to apply DSP config changes without reinitializing affected DSPs.
Allowed DSPs to manipulate their shown name depending on preset data.
Added crossfeed DSP from foobar2000 mobile.
Added sample rate exclusions to SSRC resampler. [full release notes]
Download: foobar2000 64-bit | 6.3 MB (Freeware)
Download: foobar2000 32-bit | 5.6 MB
Download: foobar2000 ARM64 | 5.6 MB
Links: Home Page | foobar2000 for Mac | Windows Store | Android
Get alerted to all of our Software updates on Twitter at @NeowinSoftware