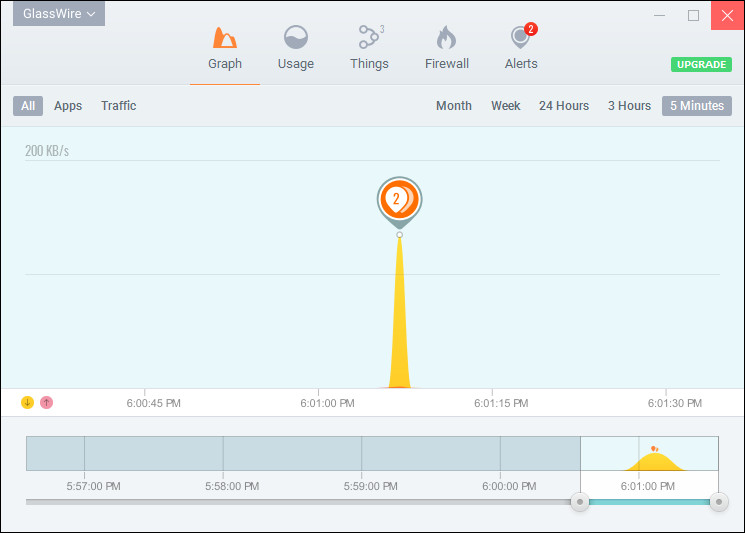 Visualize your current and past network activity by traffic type, application, and geographic location, on an easy to use graph. GlassWire lets you see what applications are sending out data over the Internet and shows you what hosts they are communicating with. The program also looks for; domains or IP addresses that are known threats, networking system file changes, unusual application changes, ARP spoofing and more.
GlassWire shows you what network activity occurred while you were away or logged out from your computer. No more wondering what your computer was doing while you were out. Just go back in time with GlassWire's graph and see exactly what happened in detail.
GlassWire visualizes what current and past applications are accessing the Internet. If you don't like what you see you can instantly block network access to specific apps with GlassWire's firewall manager.
GlassWire 2.2.210 changelog:
Fixed a bug that caused "ask to connect" to not work in some unusual situations.
Fixed a bug that could cause Incognito to keep data in the GlassWire user interface temporarily, even after being cleared.
Modified the "Evil Twin" detection feature so it works in a more useful way. It will now only alert whenever it senses a completely new mac address, but not every time your mac address changes. Some routers use multiple mac addresses in some situations and the alert can be annoying.
Fixed a bug that caused some host names to be kept in the database when the history was cleared.
Fixed a bug with RDP connection detection where it would not detect RDP connections in some situations.
Fixed an issue with Italian translations.
Fixed an issue that could cause GlassWire's service to crash in some situations.
Optimized the firewall to avoid an unusual scenario with some games that could cause GlassWire to experience high CPU usage.
Fixed a UI issue that could cause parts of the GlassWire window to flash with some OS versions.
Fixed an issue where counting could be wrong in some situations with our usage screen, after updating from a previous version.
Fixed an issue where some DNS host names could be wrong in some situations.
Many other small fixes and enhancements. We would like so say thanks to our GlassWire fans that reported these issues and helped test new versions to solve them.
Download: GlassWire 2.2.210 | 46.0 MB (Shareware)
View: GlassWire Website | Android
Get alerted to all of our Software updates on Twitter at @NeowinSoftware