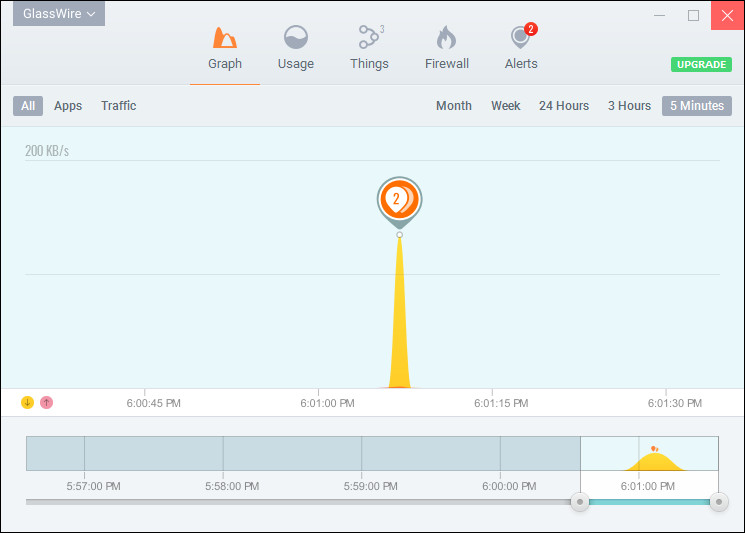 Visualize your current and past network activity by traffic type, application, and geographic location, on an easy to use graph. GlassWire lets you see what applications are sending out data over the Internet and shows you what hosts they are communicating with. The program also looks for; domains or IP addresses that are known threats, networking system file changes, unusual application changes, ARP spoofing and more.
GlassWire shows you what network activity occurred while you were away or logged out from your computer. No more wondering what your computer was doing while you were out. Just go back in time with GlassWire's graph and see exactly what happened in detail.
GlassWire visualizes what current and past applications are accessing the Internet. If you don't like what you see you can instantly block network access to specific apps with GlassWire's firewall manager.
GlassWire 2.3.367 changelog:
Fixed a bug where GlassWire would crash for some users in some specific situations.
Fixed a crashing bug specifically related to Windows 11.
Fixed a bug that caused issues with GlassWire and the taskbar, and auto-hiding.
Fixed a French translation thanks to a report from a French fan of GlassWire who posted the issue in the forum.
Fixed a high DPI bug that caused UI issues.
Fixed the time formatting for English language users, where 24 hour time should now display correctly if selected in our settings.
Fixed an issue that could cause a Windows Defender false positive when GlassWire is in "ask to connect" mode, due to helpful reporting of GlassWire fans in the forum.
Download: GlassWire 2.3.367 | 65.5 MB (Shareware)
Links: GlassWire Website | Android
Get alerted to all of our Software updates on Twitter at @NeowinSoftware