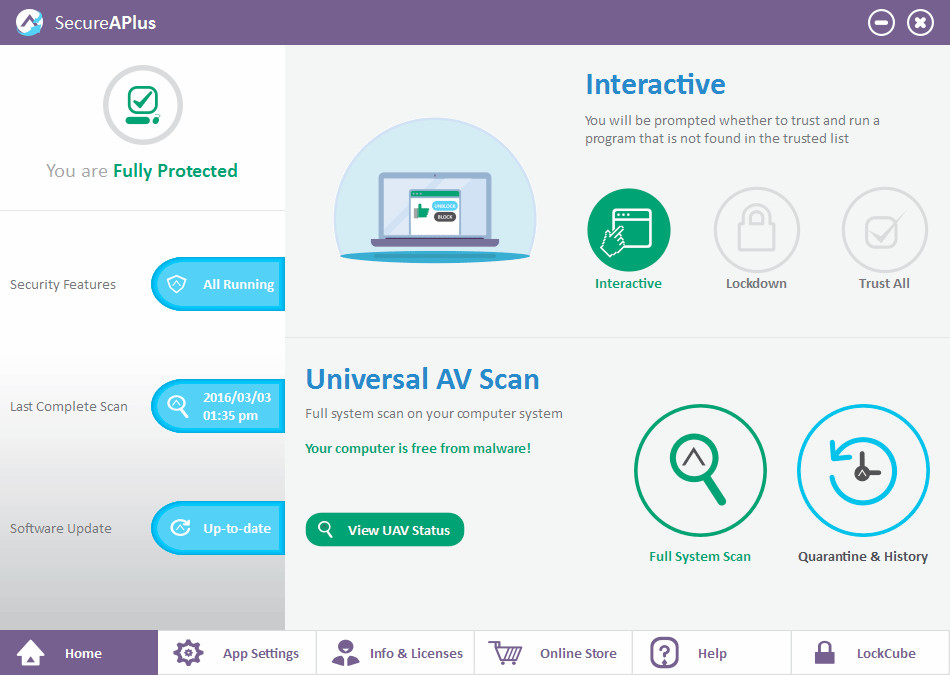 SecureAge SecureAPlus combines application whitelisting and antivirus components to protect your computer from known and unknown malware more effectively. It does what other conventional antivirus cannot do – it can block any new and advanced malware regardless of how they try to evade detection. It even alerts you when risky programs are attempting to run to prevent any accidental installation that potentially can harm your computer. Hence, SecureAge SecureAPlus is the next generation antivirus that truly protects your computer without taking any chance.
The 12 engines that the SecureAPlus Universal AV uses are Emsisoft, Avira, Sophos, McAfee, Microsoft Security Essential, ESET, Bitdefender, AVG, Norman, Quick Heal, Total Defense and Clamwin.
SecureAPlus Freemium comes with a ONE-YEAR FREE LICENSE but users can also join the Referral Program to extend the license and to even earn a free perpetual user license. For more information, please visit the "Referral Program" webpage.
What's new in SecureAPlus 4.3.3:
Pre-approved whitelist at the server. This feature will be sold as add-on feature.
Clicking on VirusTotal detection ratio will open VirusTotal link at the browser.
Japanese translation for online SecureAPlus installer (small installer).
Set higher compression for the installer to make the installer file smaller.
Non-trusted user account can request for whitelist approval when the application is blocked. This feature is only for premium users.
Show dialog for the application that is supposed to be blocked, but not blocked because SecureAPlus is in the Observation Mode.
Show dialog for application that is blocked in Lockdown mode.
Bugs fixed:
In Windows 10, the OS was not able to terminate sanotifier.exe during sign out.
Premium Trial button appears even for Premium user (this bug started from v4.3.2).
"C:\Program Files\SecureAge" folder was not deleted during uninstallation.
When ClamAV is used as active engine, manual scanner crashed during closing if UAV is not able to perform scanning.
Manual scanner crashed when delete all infected files (this bug started from v4.3.1).
Manual scanner dialog is too big for 1024×768 screen resolution.
SecureAPluService.exe crashes in Windows 7 SP1 32-bit, while updating Windows Security Center after boot-up.
Modifications:
Do not delete the temporary file from UAV server if there is an error.
Change "Go to log location" to "Go to log locations".
Resize finish installation dialog because the Russian text does not fit.
Resize Universal AV threats detected dialog. In the previous version the text was truncated in Russian language.
Dedicated support and home page link for Japanese version.
Set Universal AV scheduled scanning to 24 hours.
Download: SecureAPlus 4.3.3 | 147.0 MB (Freemium)
View: SecureAPlus Home Page