Claim your complimentary free Cheat Sheet today, before the offer expires.
This Free Cheat Sheet provides you with the basics of understanding Office 365.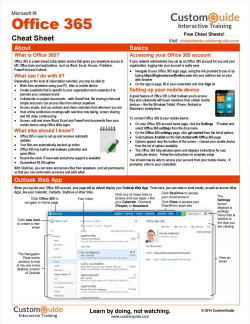 You'll also get information on setting up your mobile device, the Outlook web app, and using OneDrive with Office 365.
Use this cheat sheet to learn about Office 365 and what it can do for you. You'll get tips on creating a document with web apps and how to edit and upload it. This printable guide is yours to use, distribute, and share at your organization!
Along with this free reference card, you will also receive more information from CustomGuide regarding their innovative interactive training and learning solutions to help improve the software skills of you and your staff for success in today's workplace.
How to get this free resource:
Complete and verifiable information is required in order to receive this offer. If you have previously made use of these free offers, you will not need to re-register. While supplies last! Please ensure you read the terms and conditions to claim this offer.
>> Microsoft Office 365 - Free Cheat Sheet
Offered by CustomGuide, view other free resources. Limited time offer.
---
Not for you?
That's OK, there are other free eBooks on offer you can check out here, but be aware that these are all time-limited offers. If you are uncomfortable sharing your details with a third-party sponsor, we understand. Check out the Neowin Store for our preferred partners.

Disable Sponsored posts · Neowin Deals · Free eBooks · Neowin Store
Disclosure: A valid email address is required to fulfill your request. Complete and verifiable information is required in order to receive this offer. By submitting a request, your information is subject to TradePub.com's Privacy Policy.