Today's highlighted deal comes via our Online Courses section of the Neowin Deals store, where for only a limited time, you can save 96% off the Complete 2018 Learn to Code Bundle. Make 2018 the year you Learn to Code with nine courses and 210+ hours of training for just $5 per course*.
What's the deal?
This bundle consists of nine courses, listed below:
Complete Java Masterclass
Master Java 8 & 9 Core Development Step-by-Step
The Complete Google Go Programming Course For Beginners
Learn the Language Google Created to Streamline Everything
Dissecting Ruby on Rails 5
Learn What it Takes to Become a Professional Rails Developer
Working with Financial Data in R
Discuss Risk Modeling, Optimization, Factor Analysis & Regression in R
Complete PHP Course with Bootstrap3 CMS System & Admin Panel
Learn How to Use PHP to Create a Seamless, Content-Driven Website
The Complete Javascript Developer Course: Build a Professional Project
Cover Object-Oriented & Functional Programming, the DOM, Inheritance & Much More
From 0 to 1: Learn Python Programming - Easy as Pie
Make Quick Work of This Popular, Powerful Programming Language in Just 9 Hours
Advanced Machine Learning in Python With TensorFlow
Powerful Techniques in Python for Image Classification, Word Representation & Clustering
Git Complete: The Definitive, Step-By-Step Guide
Start from Scratch & Become the Next Git Expert
For full details, terms, and instructor info, click here.
What's the benefit?
The Complete 2018 Learn to Code Bundle normally represents an overall value* of $1,356.95, but it can be yours for just $49.99 for a limited time, a saving of $1,306.96
Enter the promo code
For an additional 10% off (*only in March)
Enter MADMARCH10 promo code when checking out
Saving an additional $4.99 off the price
Meaning you pay just $45
>> Get this deal, or learn more about it
See all Online Courses on offer
This is a time limited deal scheduled to end in 5 days
---
Save even more!
Stick with Neowin Deals and earn credit or even deeper discounts.
For every $25 spent, you get $1 credit added to your Neowin Deals account.
Refer the deal for $10 credit via social media or email and if it results in a purchase of at least $10, you'll get $10 credit added to your account.
10% off for first-time buyers: be sure not to dismiss the popup offer to subscribe to email updates on the deals page in order to profit!
---
Not for you?
If this offer doesn't interest you, why not check out our giveaways on the Neowin Deals website? There's also a bunch of freebies you can check out here.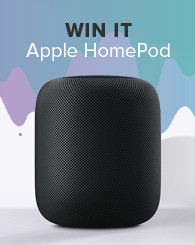 Or try your luck on The Apple HomePod Giveaway. Get the latest and greatest smart home assistant and speaker from Apple for 100% off. All you have to do is sign up here to enter this giveaway.
Miscellany and the fine print!
In some cases, such as with Online Courses, a store credit refund within 15 days of purchase is possible if you are unhappy with it; this does not apply to all deals, so please do check the terms on the page before making a purchase.
Check our other recent deals, before they expire, or our preferred partner software.
How can I disable these posts? Click here.
Disclosure: This is a StackCommerce deal or giveaway in partnership with Neowin; an account at StackCommerce is required to participate in any deals or giveaways. For a full description of StackCommerces privacy guidelines, go here. Neowin benefits from shared revenue of each sale made through our branded deals site, and it all goes toward the running costs. Values or percentages mentioned above are subject to StackCommerces own determination of retail pricing.