Taking mercy on its users' eyesight, business communication platform Slack decided to roll out a dark mode feature last year. Arriving first on the phone application, the vision friendly feature came to the desktop app a few months later. The latter not only has a base dark mode, but also a collection of different coloured themes to go with the normal and dark modes.
Today's guide will walk readers through the process of turning on the dark mode on Slack for two platforms: Android and Windows.
Android
Step 1: Launch the Slack app on your Android smartphone. If you don't have it on your phone yet, you can download it from the Google Play Store here.
Step 2: Once the app has opened, locate the vertical sidebar on the left by tapping your company logo or by swiping right. This will open up a list of options where you need to tap on 'preferences'.
Step 3: After opening up your app preferences, you will find the dark mode toggle right there. Press on the setting to enable dark mode on the Slack app.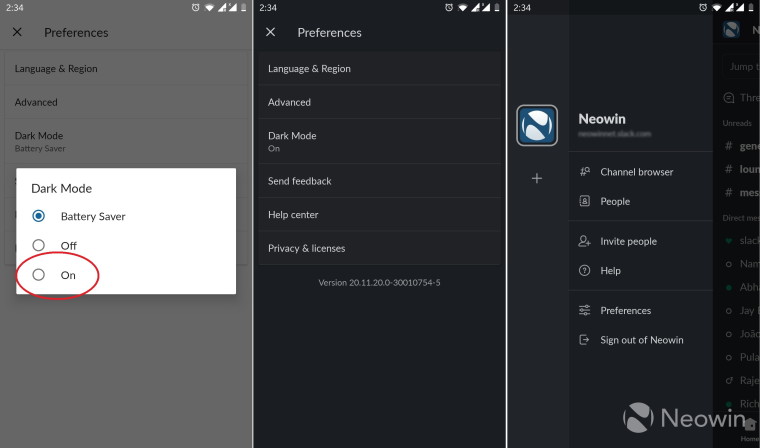 Windows
Step 1: Launch the Slack desktop app for Windows. If you don't have it, you can download it from here. Find and click on your company's logo on the top left corner of the app to toggle the settings menu.
Step 2: In the settings menu, select the preferences option. This will open up the desktop app's preference menu where you need to choose the themes option.
Step 3: Upon reaching this point, you will see several options under the themes option. This is where you must locate and click on the dark mode feature to enable it.
Bonus tip: If you want to further customize the colour palette of your Slack desktop app, you can scroll down to find a bunch of themes below the dark mode toggle button. There you will find several different themes that are each compatible and adapt to the dark mode as well as the light mode.
You can see one such example of the Slack theme in the images below. The first displays a certain yellow theme in the regular light mode whereas the second picture shows the same yellow theme in the dark mode.
With that, we conclude our tutorial for toggling the dark mode on Slack for the two platforms. If you have any questions about the instructions, feel free to ask in the comments below!