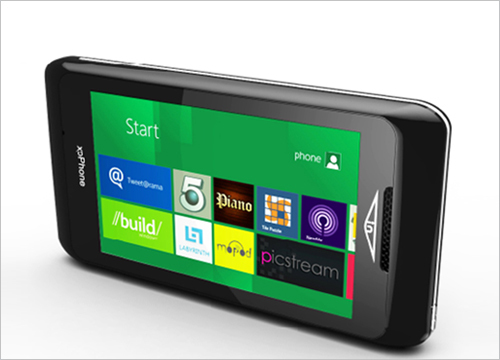 Microsoft may be pushing Windows Phone 7 as its mobile operating system, but how would you like to have a smartphone that not only runs Windows 7 itself but could also run the upcoming Windows 8? The China-based company In Technology Group (ITG) has just announced plans to release the xpPhone 2, a smartphone that it claims can run both of Microsoft's PC operating systems.
The company is trying to pitch this devices as an all-in-one product. You can use it as a smartphone while traveling and as a notebook while in the office. It can be used as a desktop PC at home (just hook it up to a monitor) and while driving it can turn into a GPS device.
Make no mistake; this is a big phone. It has a 4.3 inch touch screen, a 1.6 Ghz processor, 2 GB of RAM, and 112 GB of hard drive space. It's basically a mini-PC that seems to think its a smartphone. You might think this kind of hardware configuration would drop battery time down to almost nothing but ITG claims that the xpPhone 2 has 18.5 hour of continuous talk time.
The big question: Is this phone for real? Engadget reports that ITC announced and supposedly launched the first xpPhone in November 2010 but has yet to see one in the general public. The xpPhone 2 is supposed to be released sometime in January 2012.
Image via ITG