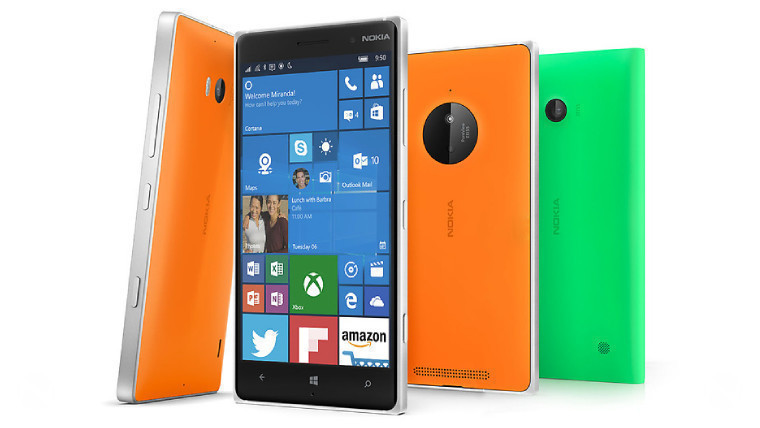 The latest tracking stats for Windows Phone have been released by advertising network AdDuplex, which monitors usage across its network to create a detailed monthly breakdown of Microsoft's mobile ecosystem. Each month, the reports capture a snapshot of worldwide usage across one 24-hour period - in this case, February 16, 2016.
However, AdDuplex's latest report comes with a significant correction that undermines some of the data that it presented in recent months. Since last year, AdDuplex has documented the growing usage of Windows 10 Mobile, even while it was available exclusively in Insider Preview form. According to its data, from 5.7% of active Windows handsets in October, Windows 10 Mobile usage grew to 7% in November, then 8.8% in December, and 9.5% last month.
But its newest report explains that that data was actually incorrect:
Unfortunately we have a correction to make regarding our OS version reports for the last few months. The figures we had for devices running Windows 10 Mobile included some devices still running WP8.1.
Having adjusted its findings to factor in that error, AdDuplex now says that Windows 10 Mobile is currently in use on 5.3% of active Windows phones, an increase of 0.8% over last month. This means that in January, 4.5% of devices were running Windows 10 Mobile, not 9.5%.
There's been virtually no movement as far as the dominance of Lumia handsets in the Windows phone ecosystem goes. They still account for almost 97% of active Windows devices, with the remaining 3% distributed among Microsoft's dozens of other hardware partners.
There's been no change in the top five most widely-used Windows handsets around the world, although the gap between the ancient Lumia 520 (12.6%) and the newer Lumia 535 (11.9%) is narrowing. The Lumia 635 saw the biggest drop in usage (down 0.6%) compared with last month, while the newer Lumia 640 and Lumia 640 XL each increased by 0.1%.
In the United States, the Lumia 635 maintains a considerable lead over other Windows handsets, although it fell by 2%, while the Lumia 640, in second place, narrowed the gap with its own increase of 2.4%. Various discounts on the 640 in recent weeks are likely to have contributed to this.
Usage of the Lumia 530 and the Verizon-only Lumia 928 declined month-over-month to the point that they're no longer in the top 10 in the US. Their loss has pushed the Lumia 1020 and Lumia 1520 up into 9th and 10th places, respectively.
The most widely used device across the 'EU5' markets (France, Germany, Italy, Spain and the UK) is the Lumia 535 (10.7%), followed closely by the Lumia 630 (10.4%) and 635 (10.2%). The newest handset among the top five is the 640 (9.2%), which went on sale last year, but the much older Lumia 520 is still clinging on in 5th place with 7.8%, although that represents a drop of 3.1% in the last four months.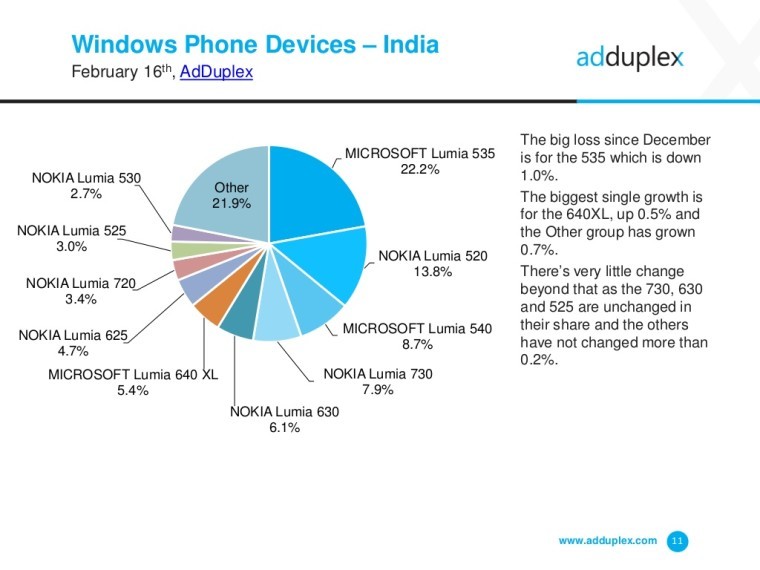 In India, the Lumia 535 is still dominant with 22.2% of active Windows devices, although this is down 1.0% since December, while the 520 remains popular at 13.8%. The super sized Lumia 640 XL has also seen a modest increase in usage over the last couple of months, up 0.5% to 5.4%, but aside from these devices, there's been very little change among the top 10 in that market.
AdDuplex also published a list of devices running Windows 10 Mobile that it has identified across its network. Many of these devices have already been announced or rumored, while some are simply older handsets apparently running the new OS. This is likely a result of manufacturers testing Windows 10 Mobile on their handsets, although this is not necessarily a firm indication that these devices will be upgraded.
For example, in December, AdDuplex spotted the HTC Windows Phone 8X running Windows 10 Mobile, a few weeks before the manufacturer confirmed that it would not be upgrading that device after all.
---
You can check out a deeper overview of this month's AdDuplex report here, including a detailed breakdown of handset usage in Brazil and Russia. AdDuplex will publish its full monthly report tomorrow on its website.