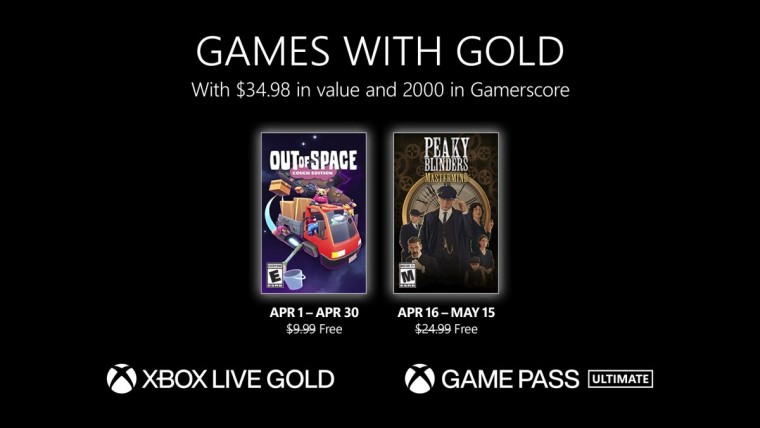 Games with Gold returns in April with another round of games for Xbox Live Gold and Xbox Game Pass Ultimate subscribers to claim as a membership benefit. Unfortunately, the offer has gone back to being the standard two-game deal than the three-game offer that appeared in March.
The newly announced Gold promotion brings the Xbox One titles Out of Space: Couch Edition as well as Peaky Blinders: Mastermind. Both games tout backward compatibility too, meaning Xbox Series X|S consoles can also play them natively.
Here are the games' introduction and removal dates:
Out of Space: Couch Edition: Available April 1 to 30
You and your friends are about to move into a house in space, where you will have to deal with a deadly alien infestation and face the challenges of building a sustainable spaceship, all to make your new place feel as cozy as home!
Peaky Blinders: Mastermind: Available April 16 to May 15
Welcome to Birmingham, during the aftermath of the Great War. Set right before the events of Season One, Peaky Blinders: Mastermind lets you join the Shelby family's criminal gang. Follow the rise of Tommy as he successfully uncovers a sinister plot to put the family out of business, proving himself worthy of being the true mastermind of the Peaky Blinders.
Xbox Live Gold and Xbox Game Pass Ultimate members still have a couple of days to claim the still remaining March Games with Gold titles. Trüberbrook and Sudden Strike 4 are going away on March 31, to be replaced by Out of Space, while Lamentum will remain available until April 15 before Peaky Blinders takes over.