With the 'They Shall Not Pass' and 'In the Name of the Tsar' expansions under its belt, Battlefield 1 is on its way to receiving its third expansion, 'Turning Tides', in a few months. However, unlike previous expansions in the series, this one will arrive in waves starting December 2017 through January 2018.
In December, DICE will bring the two new maps, Achi Baba and Cape Helles, to the game, along with the new Gallipoli Operation that takes place across the aforementioned two maps.
Conquest Assault mode, seen in previous Battlefield titles, is making a return this month. The mode starts off one team in possession of all flags and tasks the opposing team with capturing the map.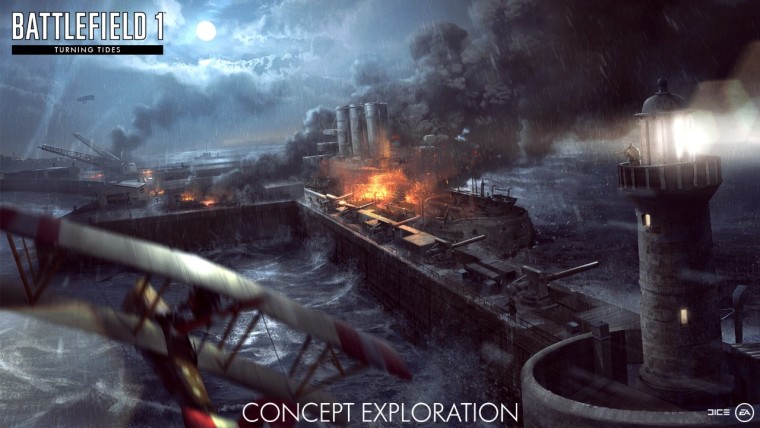 In addition to that, incoming in December are six new guns and two new melee weapons, as well as an L-Class Destroyer ship equipped with heavy firepower, and a C-Class Airship for raining death down upon anyone poor souls below.
A new Infiltrator Elite Class pickup will also make an appearance, which gives players access to a permanent sprint boost, artillery strikes, along with the ability to deploy a mobile spawn point. New specializations, unlocks, and Service Assignments are included as well.
After a hefty December, the remaining two maps, Heligoland Bight and Zeebrugge, will be made available in January, and also marks the first appearance of the British Empire's Royal Marines in the game, which arrives as a new faction.
Battlefield 1 Premium Pass owners will have two weeks of early access to Turning Tides' contents as they launch, with anyone who purchases the expansion separately set to receive them after this period.
Source: Battlefield 1, 2
Don't forget to follow us @NeowinGaming on Twitter to keep up to date with our gaming coverage!