When smartphones became mainstream, a common topic of conversation was what the "next big thing" would be. For a time, many thought it would be smartwatches, and then it was virtual reality. Both of those are still pretty niche markets, but at some point, it became clear that voice assistants are that thing.
This couldn't be more apparent than it was at CES last week, where it seemed like every new device had integration from either Google Assistant or Amazon Alexa. Lenovo announced an Assistant device that is similar to an Echo Show (with a touchscreen), and LG announced Alexa support for its upcoming smart TVs.
But for Microsoft fans, the most significant announcement will be that four PC OEMs - Acer, ASUS, HP, and Lenovo - are bringing Alexa to their Windows 10 devices. To be clear, this isn't just Amazon in an attempt to expand, releasing Alexa as an app. These are four PC manufacturers that partnered with Amazon to do this.
Naturally, I met with these OEMs at CES, and among other things, I inquired about the decision to bundle Alexa onto Windows 10 PCs. After all, Windows 10 already has Cortana, and indeed, it still does. All of these new machines will respond to "Alexa" and "Hey, Cortana", and the proper voice assistant will respond.
The responses that I got from PC-makers were mixed. One was quick to show me a demo of Cortana as soon as I asked about Alexa, and another was clear that Cortana simply isn't compelling. In the latter case, I was told that "no one uses Cortana", in a very blunt discussion about how Microsoft isn't doing anything to make its virtual assistant exciting.
Indeed, Cortana news has been scarce since Harman Kardon introduced the Invoke speaker. Microsoft detailed some new devices that will include integration with the assistant, and it had some devices on display at its Showcase event, such as the GLAS smart thermostat, and we even spotted a Toshiba Echo Cortana Speaker.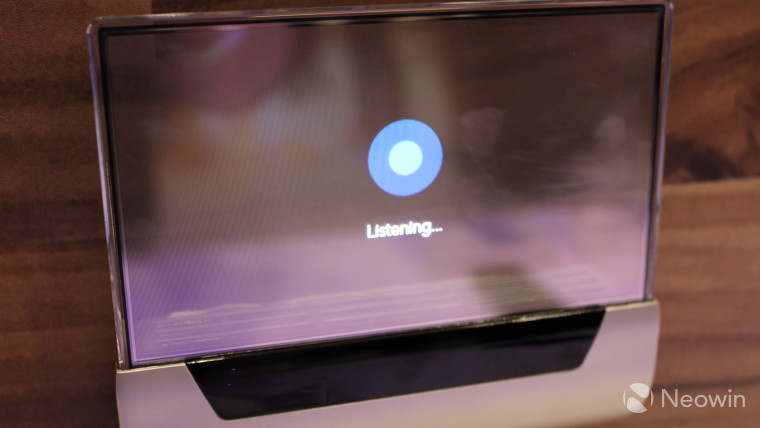 Frankly, that's not enough. We're rapidly reaching a point where consumers will have multiple voice-enabled devices in the same room of their homes. For example, you might have an Echo, Alexa-enabled desktop PC, and an LG smart TV all in your living room. Ideally, it won't matter where you are in your home or which device you're closest to, as they'll all have some digital assistant.
Cortana currently offers 234 third-party skills, whereas Alexa has over 25,000. Microsoft says that its in-house assistant has over 161 million active users, but it's unclear in what capacity those users are accessing the service.
We've also learned today that Microsoft is planning to move Cortana from Windows Search to the Action Center, in an effort to weave it more tightly into the Windows 10 OS. This may or may not be a good idea, but either way, it doesn't solve the problem of not being integrated into third-party devices.
There was a brief period of time when Cortana had a unique advantage. It's available on your PC, phone, and Xbox console, allowing users to do things like setting a location-based reminder on their PC and receiving the notification on their phone. That window is rapidly closing though, as Amazon and Google expand their services.
It would seem that Cortana is falling the way that so many other Microsoft products and services have. In the beginning, it was something great, but a lack of focus and direction has caused it to fall behind its competitors. The most notable case of this would be with Windows phone, but it's also happening with HoloLens when Apple and Google are working with ARKit and ARCore, respectively.
In technology, it's never too late. A few years ago, no one would have ever guessed that Amazon would have the big breakthrough in the voice assistant market. Incumbents are replaced by newer and better things all of the time. The only problem is that Microsoft would actually have to focus on real-world improvements to Cortana, and it's not doing that.
This doesn't mean that Cortana is dead, or that Microsoft will be killing it anytime soon. The company is laser-focused on artificial intelligence, and Cortana is still its front-end showcase for those efforts. It will be that for the foreseeable future.
What do you think of Cortana? Do you think it has a future? Let us know in the comments!