In the first installment of our three part series regarding everything we think we know about Microsoft's plans for the next Xbox console, we gathered up all of the rumors and leaks about the hardware that might or might not be inside. In this second part, we discuss the reports about what sort of software might be running in the Xbox, along with its Xbox Live support and the whole deal over whether or not the next Xbox will need an "always on" game console."
What will the operating system be like inside the next Xbox?
It's looking like Microsoft will have a modified version of Windows 8 running things inside the next Xbox console, which makes sense if the CPU will be an x86 design. If true, this opens up a number of possibilities for not only cross-platform gaming but also cross-platform app development. In theory, an Xbox console running Windows 8 could run all of the apps made for Microsoft's current operating system.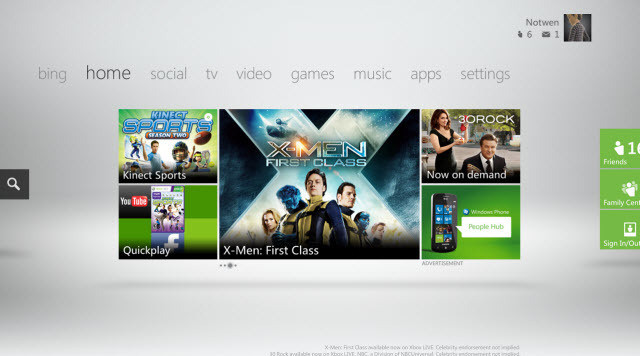 Will the next Xbox have a new design for its main dashboard compared to the Xbox 360?
It seems likely that Microsoft will do some tweaking to the Xbox Live dashboard interface for the next version of the console. The current design for the Xbox 360 already looks a bit like the Modern design that Windows 8 and Windows Phone share. A recent rumor claims Microsoft will release an updated dashboard for the current Xbox 360 console later this summer. That same rumor claims the update will allow Xbox 360 owners to access people who have the new Xbox via messaging, beacons and achievements.
Will I still have to buy Microsoft Points to download Xbox Live Arcade games?
According to recent rumors, in the coming months Microsoft will finally do away with their Microsoft Points system that it launched in 2005 for the Xbox 360 console. The console is supposed to support real money transactions for game and other content purchases. If true, this will certainly be a welcome change for most Xbox gamers who have dealt with the rather confusing Microsoft Points economy for several years.
Will Microsoft offer downloads of media apps for the next Xbox?
It would be a huge shock if Microsoft decided to no longer offer apps such as Netflix, YouTube, Hulu and others for the third version of the Xbox. The current Xbox 360 already has a plethora of downloadable streaming video and audio apps to choose from, and Microsoft wants the Xbox business to be its gateway in the living room to a full multimedia entertainment experience.
Will I still have to pay for Xbox Live Gold to access the media apps and play multiplayer games for the next console?
We see no indication that Microsoft intends to abandon its business model for Xbox Live that it already uses for the Xbox 360 for the next Xbox console. While there will likely continue to be a free Xbox Live tier, Microsoft will almost surely continue to charge for a subscription to Xbox Live Gold to access media apps and, more importantly for gamers, to play games online.
What's this about the next Xbox requiring an "always-on" Internet connection to play games and run media apps?
Without a doubt, this is the one aspect of the many, many rumors surrounding Microsoft's next game console that has touched off more debate than any other. The Internet has been buzzing for months that the next Xbox will require some kind of connection to the Internet to play games and use its many apps. The rumors have ranged from games simply requiring a one time connection to the Internet to play to the worse case scenario; an "always-on" connection that won't allow anyone to play anything on the console if there's an interruption in service.
Naturally, Microsoft has not given any official comment on these rumors. However, a recent report claims Microsoft sent out an internal email to Xbox staff members stating there are a number of things the console should be able to do without the need for a net connection, including playing a single player game. Hopefully, these reports are indeed true.
Will Skype finally show up in the next Xbox as its main messaging client?
Microsoft has been hiring people for over a year to work on Xbox related Skype programming positions, but the current Xbox 360 still doesn't have Skype client. However, we think it's almost a certainty that a Skype app will be included as the main messaging client for the new game console.
What's the deal with this news about Microsoft launching a revival of the TV show "Heroes" for the next Xbox?
In addition to offering games and media apps, the next Xbox could be a way for Microsoft to launch its own original episodic TV programming. The company opened a Xbox entertainment studio in Santa Monica, California, several months ago and hired veteran TV executive Nancy Tellem to run it. Rumors that started in April about the revival of the cult superhero TV show "Heroes" described the potential revival as being in the early stages of development. In other words, it might not happen.
Whether the "Heroes" relaunch happens or not, it seems clear that Microsoft wants to use the next Xbox to be a true entertainment platform, beyond just games. Netflix, Hulu and Amazon are all launching their own streaming TV shows and it would seem a natural for Microsoft to follow suit.
Will there be a version of Internet Explorer in the next Xbox?
Microsoft waited for seven years before finally adding a version of IE in the Xbox 360 in 2012. You can bet the house and the car that a version of IE will be available out of the box for the next Xbox, especially if it does use Windows 8 as its OS.
Will the next Xbox support the Xbox SmartGlass apps for iOS, Android and Windows 8?
This would seem to be a no-brainer. Microsoft made a big deal out of its Xbox SmartGlass apps for the Xbox 360 in 2012 and we can certainly expect that support to both continue and improve for the next Xbox.
Join us on Sunday as we conclude our look at what we think we know about the next Xbox with some speculation on the games that will be a part of its launch along with other related topics, not the least of which is, "When will the next Xbox be released?"
Images via Microsoft