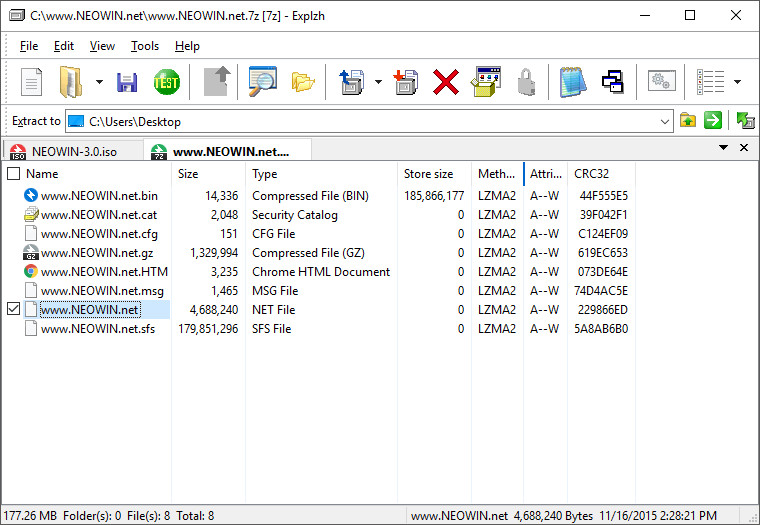 Explzh is a free Windows archive manager for creating, extracting and managing archives. The program supports many different types of archives, including zip, 7z, rar, tar, ace, lzh, arj, cab, iso, img, msi, sfx and more. Apart from archive creation and extraction, you will also be able to verify compressed data for errors, initiate repair routines, split data into multiple items, and more. It additionally allows you to password protect your data and attach digital signatures to files.
Key features of Explzh:
Explorer-like GUI and operability.
LHA, ZIP (ZIPX), JAR, CAB, RAR, TAR, TAR.XXX, 7z, ARJ, WIM, CHM, PE, HFS, NSIS Format Installer, ISO, InstallShield, MSI, and several other formats...
Support for more archive formats by introducing the integrated archiver DLL.
Self-extracting archive creation function that can create high-performance automatic installers.
Digital signature addition function to created self-extracting archive.
Office 2007 or later document compression / image optimization re-archiving function.
Supports compression and decompression of Unicode file names.
Supports compression and expansion exceeding 4GB.
AES encryption function. You can create a robust secure ZIP encryption archive.
Thumbnail function of image file.
In-library file search function. .
Equipped with archive file conversion function.
File split function. The split file has a self-consolidation function, and can concatenate files larger than 4GB. (No need for batch file or connection software)
UU (XX) Encode, Base64 decode function.
FTP upload function
Explzh 8.13 changelog:
Improved the method to check the validity of the stored executable file before execution. Execution is disabled for files that are determined to be invalid execution files.
When a dialog is displayed on a monitor other than the primary monitor in a multi-monitor environment, it is displayed in the center of the parent window. (We can not handle those processed by external DLL)
The file that was open last time is opened when the Explzh is restarted after the automatic update. (It will be effective from the next update after this version.)
When password data is saved when multiple Explzh processes are started, exclusive control is performed for writing, and the data of the current process is merged and synchronized.
Fixed some other bugs.
Download: Explzh 32-bit | 4.3 MB (Freeware)
Download: Explzh 64-bit | 4.7 MB
View: Explzh Home Page
Get alerted to all of our Software updates on Twitter at @NeowinSoftware