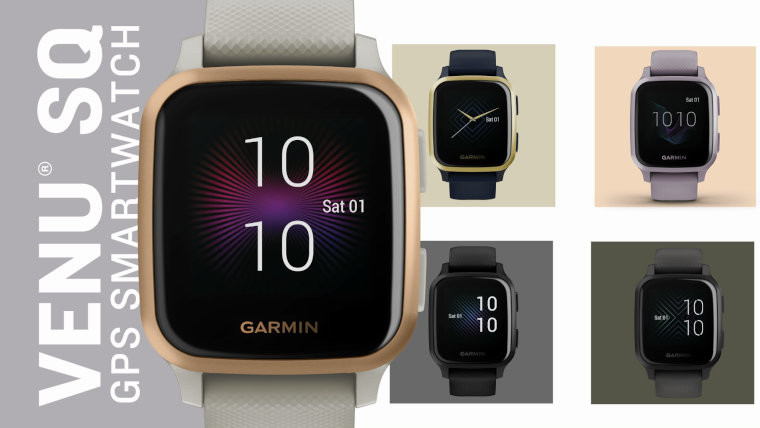 With the holidays quickly approaching, some of you will probably still be looking for gifts for friends and family (or maybe even yourself). Until 11:59 p.m. on November 29, Amazon is selling the Garmin Venu Sq smartwatch for $130 which is a discount of $70 or 35%. Typically, the device sells for $200 so buying during the offer period is a good idea. If you're wondering how good the device is, it currently has an average 4.5 stars from 3,479 ratings.
First and foremost, the Garmin Venu Sq makes for a great health assistant as it comes with many trackers including body battery energy monitoring, pulse oxygen sensing, stress tracking, menstrual cycle tracking, a mindful breathing activity, hydration tracking, respiration tracking, advanced sleep monitoring, wrist-based heart rate monitoring, built-in sports apps, preloaded workouts, and it can act as a personal running coach.
If you don't really care about the health features on the Garmin Venu Sq, there are several more features that make it a good accessory for day-to-day tasks. First, it can alert you if you receive a phone call, text, or social media alert via smart notifications. If you like to be connected throughout the day, the Garmin Venu Sq will ensure you don't miss anything.
The watch is also very helpful for those times when you have to go out shopping. With Garmin Pay contactless payments, you can hold the watch up to the card reader to pay for your items. This saves having to get your phone or bank card out to pay. You never have to worry about the watch suddenly running out of juice either as a single charge can keep the Garmin Venu Sq powered for six days or up to 14 hours in GPS mode.
Speaking of GPS, you can enable safety and tracking features such as incident detection on this watch. This feature will send your live location to a designated contact to help you get out of any trouble you find yourself in.
In addition to the great features mentioned above, the Garmin Venu Sq includes an always-on mode that allows you to glance and get the time instantly. There's no need to worry about about it being a bright day either because this watch features a bright display.
If you're interested in the heavily discounted Garmin Venu Sq, head over to Amazon now to place your order. It's currently available in three colours, Orchid Purple, Light Gold and White, and Slate Band. If you're not happy with the purchase, you're free to return the product to Amazon until January 31, 2022.
Get the Garmin Venu Sq for just $129.99 (list price $199.99)
As an Amazon Associate, Neowin may earn commission from qualifying purchases.