Google started rolling out Android 12 for Pixel devices over a week ago, and devices manufactured by other OEMs such as Samsung, OnePlus, Oppo, and more, will start receiving it over the next few months. Now, the company has revealed that it is working on the next "feature drop" for the OS, called Android 12L. Although the update will be available for phones too, it is geared more towards foldables, tablets, and ChromeOS devices.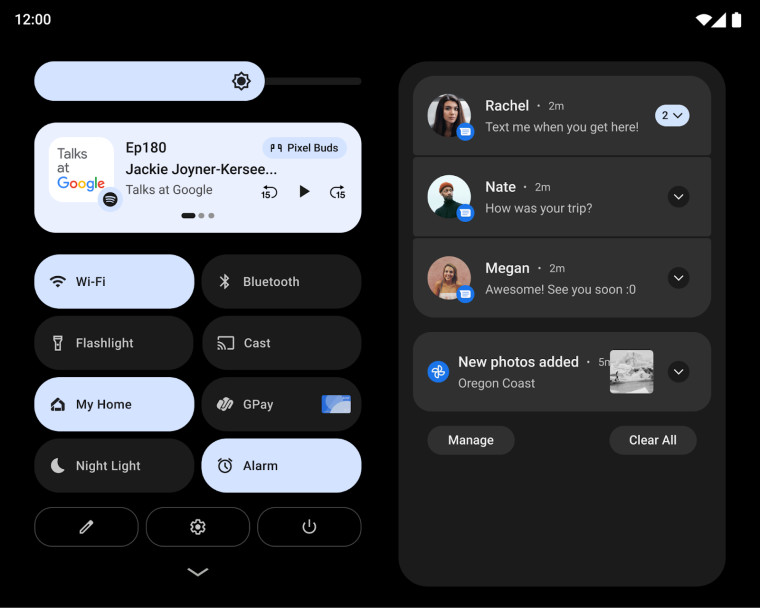 Google has noted that it is optimizing the UI of Android 12 and its apps for large screen devices. Users will notice refinements across notifications, lockscreen, quick settings, home screen, and more. An example is a new two-column layout shown above that takes advantage of the screen real estate to show you more information.
In the same vein, Android 12L will also feature multitasking enhancements such as the introduction of a taskbar that allows users quick access to split-screen mode and lets them swap between their favorite apps faster. All apps will be able to enter split-screen mode, regardless of whether they are resizable or not.
Letterboxing improvements are being introduced too, allowing apps to look better on large screen by default. OEMs will be able to further customize the letterboxing behavior, rounded corners, and more as well.
Although Android 12L is scheduled to land early next year, developers can already start developing for it and testing their existing apps on large screen devices via the Developer Preview, which is available right now. Google has also released new Material Design guidance, the Android 12L Emulator system images, and tons of improved APIs. You should head over to Google's blog post if you're interested to find out exactly which APIs you can utilize for your apps. If you want to check out Android 12L on a real-world device rather than an emulator, the Developer Preview will be landing on the Lenovo P12 Pro soon.