At its Innovation event yesterday (or earlier today depending on where you live), Intel launched its 12th gen desktop CPU lineup dubbed Alder Lake-S based on the Alder Lake performance hybrid architecture. A total of six SKUs, all unlocked, were unveiled at the event with more of the lineup launching later. The processors and their features are given below:
The company also launched the accompanying 600-series chipset for LGA 1700 socket motherboards. For now, only the flagship Z690 chipset was unveiled. The 600-series chipset and Alder Lake will support both DDR5 and DDR4 memory. An overview of Z690 features is given below: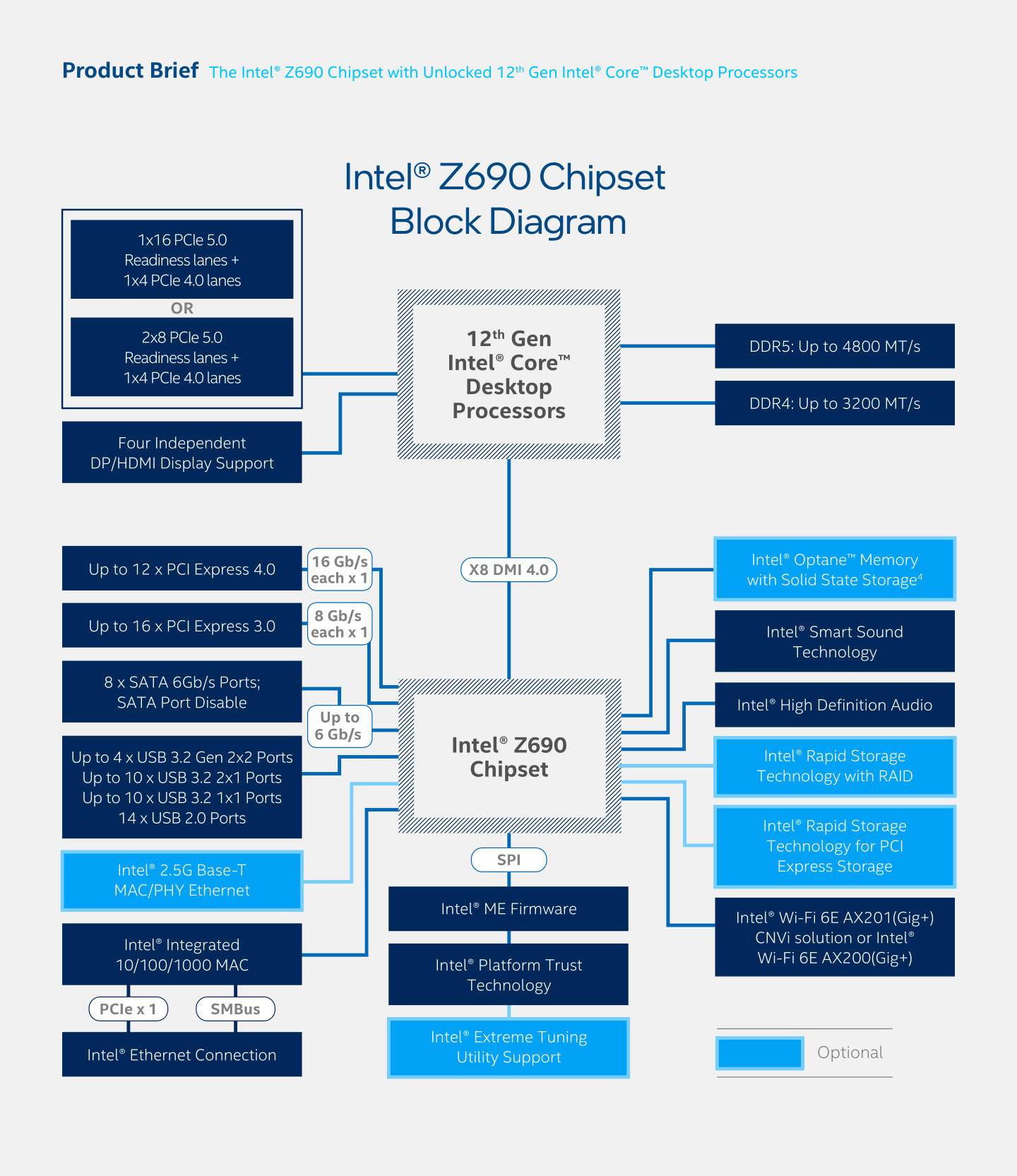 Some performance claims were also made by Intel for Alder Lake-S and one of the slides, which had already leaked earlier, shows the flagship Core i9-12900K SKU beating the Ryzen 9 5950X by up to 30% at gaming.
At the bottom of the image, Intel states that the performance comparisons were made in Windows 11 Pro but the particular build of the OS used hasn't been mentioned.
Charlie Demerjian, from the fellow publication SemiAccurate, alleges here that Intel used an earlier Windows 11 build which had issues on AMD's Zen-based CPUs related to L3 cache latency. The problem started with the Windows 11 GA version and was apparently made worse with the Patch Tuesday update. The bug has since been fixed with a later build 22000.282 and the patch has been confirmed to work flawlessly by AIDA64.
Confirmed, Intel used a known crippled version of Windows to hobble the AMD scores at the #IntelON event. Unacceptable intentionally misleading lies. Applying widely available and known patches would have fundamentally changed the results. They lied. Again. @PGelsinger

— Charlie Demerjian (@CDemerjian) October 27, 2021
Currently, there is no way to validate or invalidate the accusation as Intel's Performance Index page does not list its 12th gen Alder Lake-S CPUs yet, even though the firm has linked to the page in the slide's footnotes.
For those unaware, on the Performance Index page, Intel provides detailed descriptions of the internal performance claims it makes with hardware specifications and this information also contains the Windows Build number. At the moment only the last-gen Rocket Lake information is listed:
CapFrameX, however, claims that the performance hindrance Demerjian brings up is actually not the fault of Intel at all. Apparently, the latest AMD chipset driver version 3.10.08.506 is what is causing this loss in framerates when compared to an older driver. Interestingly, the new chipset driver is supposedly a fix for another Windows 11 issue that was causing problems related to proper core prioritization (CPPC2).
Well, whatever be the truth, the jury is still out on this one. Hopefully, though, things will begin to clear up once Intel updates its Performance Index page with Alder Lake-S data and third-party reviewers begin posting reviews of the platform.