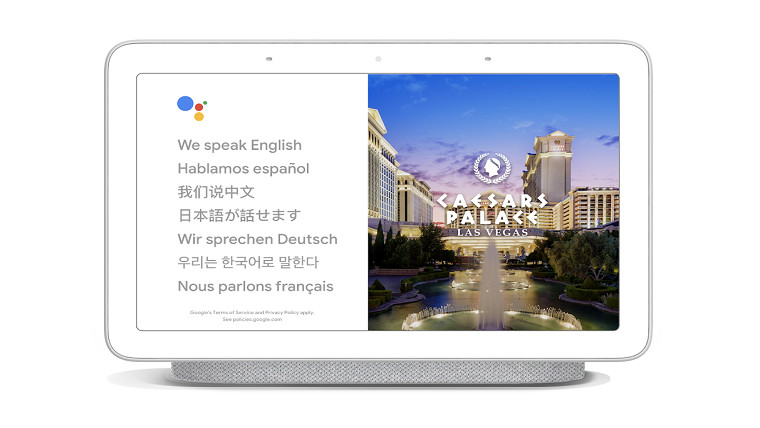 Google made a splash during last year's CES with the integration of Assistant into smart displays built by Lenovo and other manufacturers. At CES 2019, the search giant is once again trying to get more consumers to adopt its digital assistant by announcing a plethora of new updates for Google Assistant in collaboration with various partners.
One of the highlights at Google's CES booth is the Assistant-powered Smart Clock, a 4-inch touchscreen smart display that works to learn your daily activities in order to give you alarm suggestions. Smart displays also graced the event with a preview of Whirpool's new KitchenAid Smart Display, a 10-inch display that serves up cooking recipes from Yummly while helping you control smart devices at home.
Speaking of smart devices, Google also announced that it's bringing its virtual assistant to more device types with Google Assistant Connect, which was demonstrated at the event. The new platform will allow device manufacturers to incorporate Assistant into their low-cost hardware including, for example, an e-ink display that shows weather or calendar information. Google didn't provide more specifics about the platform, but it promises to share more details later in 2019.
On the language front, the Mountain View-based giant plans to release Interpreter Mode for Assistant over the next few weeks to Google Home devices and smart displays. It will allow you to receive real-time translation assistance in foreign hotels, for example, with support for dozens of languages. The new feature will be piloted at a number of hotel concierge desks in the coming days.
Google is also adding several new features to the Assistant app for Android and iOS, including the ability to check in to domestic flights with United Airlines, with more airlines to be added later. You will also be able to book a hotel room and take notes using Assistant in Google Keep, Any.do, Bring! and Todoist.
Additionally, you will soon be able to access Assistant from your Android phone without having to unlock it, provided you enable this feature in the settings menu. The Pixel devices already have this capability.
For travelers, Assistant now lets you talk to it directly from within Google Maps for Android and iOS. With this new integration, you can play music, look for destinations along your drive, or respond to a text message using WhatsApp, Messenger, or Hangouts. That's in addition to Google's collaboration with Anker and JBL to bring Assistant to your car accessories so that you can control them using your phone hands-free.
The internet giant also partnered with Samsung to add support for Assistant to the South Korean tech titan's smart TVs later this year. In addition, several companies including Sony, Hisense, Philips, TCL, Skyworth, Xiaomi, Haier, Changhong, and JVC are set to demo Assistant-enabled Android TV devices this week at CES.
Google also declared that Assistant is now available on more than one billion devices including smartphones. This year, the company plans to team up with several partners including GE, Instant Pot, Carrier, and McAfee to launch more smart home devices across various categories.
Neowin is at CES to bring you all the coverage from the show floor, click here for other articles.