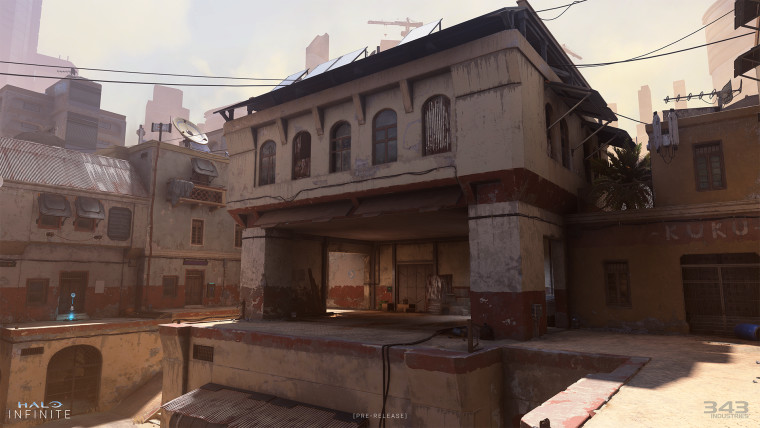 Halo Infinite's first ever multiplayer technical preview (flight) is opening its doors very soon, and to prepare the masses, 343 Industries today put forth a new Inside Infinite blog post detailing the process and what will be included in it. While a definite start date has not been given out yet, the studio says the flight is awfully close to releasing, and it "could happen as soon as next weekend."
The upcoming flight will be focused on testing the newest features Halo Infinite is introducing to the series, namely multiplayer bots, the Academy training system for Spartans, the menu and battle pass UIs, as well as the Halo Waypoint companion experience across the web and mobile platforms.
Insiders will be able to battle it out against bots in Slayer (4 players vs 4 bots) across Bazaar, Recharge, and Live Fire maps as the developer gathers feedback on bot behavior and performance. 343 says the bots won't simply be easy targets to put down either, with four skill options available: Recruit, Marine, ODST and Spartan. Here's how the studio described the bot's skill levels and how the AI won't simply be cheating to win:
ODST and Spartan Bots will effectively dodge grenades and rockets (Recruits and Marines will not). All Bots use equipment, and higher-level Bots will Grappleshot to you to finish you with a melee kill (I've seen them do this with Energy Swords which is amazing and terrifying). Bots keep track of power weapon spawns and sprint to claim them. But most importantly: Bots are fair; we don't change their health and damage values per difficulty level; they just get smarter and more resourceful the higher you go.
Meanwhile, from the new Academy side, players will have weapon drills to perform with different difficulty levels and a score system based on player performance. This flight's drills will be available for the following weapons:
MA40 AR
BR75
MK50 Sidekick
CQS48 Bulldog
Needler
VK78 Commando
S7 Sniper
Plasma Pistol
Pulse Carbine
Ravager
Heatwave
Skewer
The initial preview will be available to hundreds of thousands of Xbox and PC players who have signed up to be Halo Insiders. The studio plans to invite every eligible Insider at some point during the numerous planned tests before Halo Infinite's launch later this year.