HP's Elite Dragonfly is an excellent convertible PC. I know this because I reviewed one just a few months ago in December. Essentially, it takes the EliteBook x360 1030 and packs it into a magnesium chassis, making it much lighter. It still has its best-in-class keyboard and all of those HP security features that its Elite lineup is known for.
To be honest, there isn't much that's new for G2, not that there needs to be. There are two key new features here: Sure View Reflect, and Tile integration. Sure View Reflect is the fourth generation of HP's privacy display technology. The idea is that when someone looks over your shoulder, they can't see what you're working on.
Tile is a company that aims to make it easier to find things. You can attach a Tile to your keys, put one in your wallet, and now, there can be one inside of your PC. If you've ever been wondering where you put your laptop, you're in the right place with the Elite Dragonfly.
Specs
CPU
Intel Core i7-8665U @ 1.9GHz
Graphics
Intel UHD Graphics
Display
13.3" diagonal FHD IPS eDP + PSR BrightView WLED-backlit ultraslim direct bonded touchscreen with Corning Gorilla Glass 5 and HP Sure View Reflect Integrated Privacy Screen, 1000 nits, 72%NTSC (1920x1080)
Body
11.98x7.78x0.63in (30.43x19.75x1.61cm), starts at 2.2lbs (0.99kg)
Storage
512GB NVMe SSD
RAM
16GB LPDDR3-2133 SDRAM
Battery
HP Long Life 4-cell, 56.2 Wh Li-ion polymer
Audio
Bang & Olufsen, 4 Premium stereo speakers, multi array world-facing microphone
Connectivity
Intel AX200 Wi-Fi 6 (2x2) and Bluetooth 5 Combo
Ports
(2) Thunderbolt 3
(1) USB 3.1 Gen 1 Type-A
(1) 3.5mm combo audio
(1) HDMI 1.4
Camera
720p HD webcam, IR camera
Windows Hello
Facial recognition, fingerprint sensor
Material
Magnesium
Price
$2,179

There are actually more features to come. While I reviewed the LTE model back in December, there's going to be a 5G model this summer. That will also include Intel's Comet Lake vPro processors.
Day one
Design
The HP Elite Dragonfly is made out of machined magnesium, which is why it can weigh in at under a kilogram. Aluminum is a heavy material, and that's what the EliteBook 1000 series is typically made out of. My unit is a bit heavier than the 2.2-pound base model though, since it has the larger battery.
It's worth noting that it's machined magnesium though, rather than molded magnesium. Magnesium is a very common material for PCs that are this light, but if you held one of them, you'd probably guess that it's made out of plastic. The Elite Dragonfly doesn't feel like that. It actually feels premium, which is an impressive design feat.
The color is called Dragonfly Blue, not to be confused with the Poseiden Blue that comes on Spectre convertibles. It's a pretty shade of blue, but the one thing that I really appreciate is that HP gave it a color at all. So many of these magnesium laptops just come in this dull gray color. And of course, the lid is stamped with a chrome-colored HP logo. The silver color is also shown on the edges of the hinges; it's a nice touch.
The selection of ports is pretty standard. On the right side of the device, there are two Thunderbolt 3 ports, a 3.5mm combo audio jack, and an HDMI 1.4 port. I'd have liked to see HDMI 2.0 here in 2020, but I also don't use HDMI with a laptop much. If you plan on plugging this PC in for 4K output, you're better off making use of Thunderbolt 3.
On the left side, there's a USB 3.1 Gen 1 Type-A port. This is another area that could use an improvement, as many manufacturers have moved on to USB 3.1 Gen 2, which has double the data transfer speed at 10Gbps. In fact, while there's so much to love about this incredibly well-made convertible, there's a lot that feels decidedly last-gen, like the eighth-gen processors, although we'll talk about why that is in the performance section.
Sure View Reflect display
Sure View Reflect is the fourth generation of HP's Sure View privacy display, and the original Elite Dragonfly shipped with Sure View Gen3. My first taste of Sure View was with the EliteBook 840 G5, which had Gen2. If you looked at it from an angle, the screen would look white. With Gen3, it would look dark, although I've never received that on a review unit. With Sure View Reflect, it looks like it's a copper color.
The whole idea is that no one can see what you're working on if they're looking over your shoulder. As HP often says in its briefings, there are two types of people: those that need Sure View, and those that don't know they need Sure View. And HP's privacy panels work well, as the company has been at this for a while. Lenovo and Dell are just starting to get into the privacy screen game, but they both have some catching up to do.
Sure View Reflect is a massive improvement on Sure View Gen2, which is the only one I've actually reviewed. With Gen2, I found that I'd have a hard time viewing the screen in certain environments.
It's worth noting, however, that the viewing angle isn't that great with Sure View turned off. It's not like it's hard to use or anything, since this is actually a 1000-nit panel, but it does affect the overall experience.
If it sounds like it's not for you, there are two other options for the 13.3-inch screen. There's a low-power 1080p panel that will get you even better battery life, and a 4K UHD panel that will be absolutely gorgeous. For me personally, I'll take Sure View any day of the week. I do love to have that privacy screen when I'm out working in public.
The display has narrow bezels on the sides, with larger top and bottom bezels. While the bottom makes room for the HP logo and also makes the footprint large enough for a spacious trackpad, the top is for the webcam and the IR camera. There's also a privacy guard built into the webcam, which feels like an odd choice.
HP's Spectre x360 lineup takes a completely different approach to the privacy camera. It has a switch on the side that actually disconnects the camera internally, rather than a physical guard. This also takes up less room, and that PC has a much smaller top bezel. It's not that one approach is completely better than the other; I just wish these two teams would work a bit more closely with each other.
It's worth noting that closing the privacy shutter will also keep Windows Hello facial recognition from working, so I usually keep it open. This is true of every privacy shutter on the market, since facial recognition requires both the IR camera and the webcam to work. It does beat putting a piece of tape over your webcam though.
Keyboard and trackpad
The Elite Dragonfly uses HP's Premium Collaboration Keyboard, which in my opinion, is the best laptop keyboard on the market. I know that's saying a lot because I've championed Lenovo's ThinkPad keyboards for so long, but HP's keyboard is at least on par with Lenovo, if it doesn't exceed it. On a side note, speaking of the Elite and Spectre teams working closer together, this is one feature I'd love to see on a Spectre x360.
The keyboard first debuted on the EliteBook 1000 series, so this is mostly pulled out of the EliteBook x360 1030. Of course, HP did a lot of work to make it lighter, in just about every area. But the reason I compare it to the x360 1030 is because I want to be clear that there aren't any compromises when going from the aluminum EliteBook to the Elite Dragonfly.
The keys are accurate and comfortable, with the perfect depth and resistance. Your mileage might vary, but I don't think it will.
The trackpad makes use of the available real estate, and it uses Microsoft's Precision drivers, so it's fast and responsive. This is also why I often don't give companies a hard time about having larger bottom bezels, because if HP chopped down the bottom bezel on the Elite Dragonfly, the footprint would be too small to have a trackpad this big.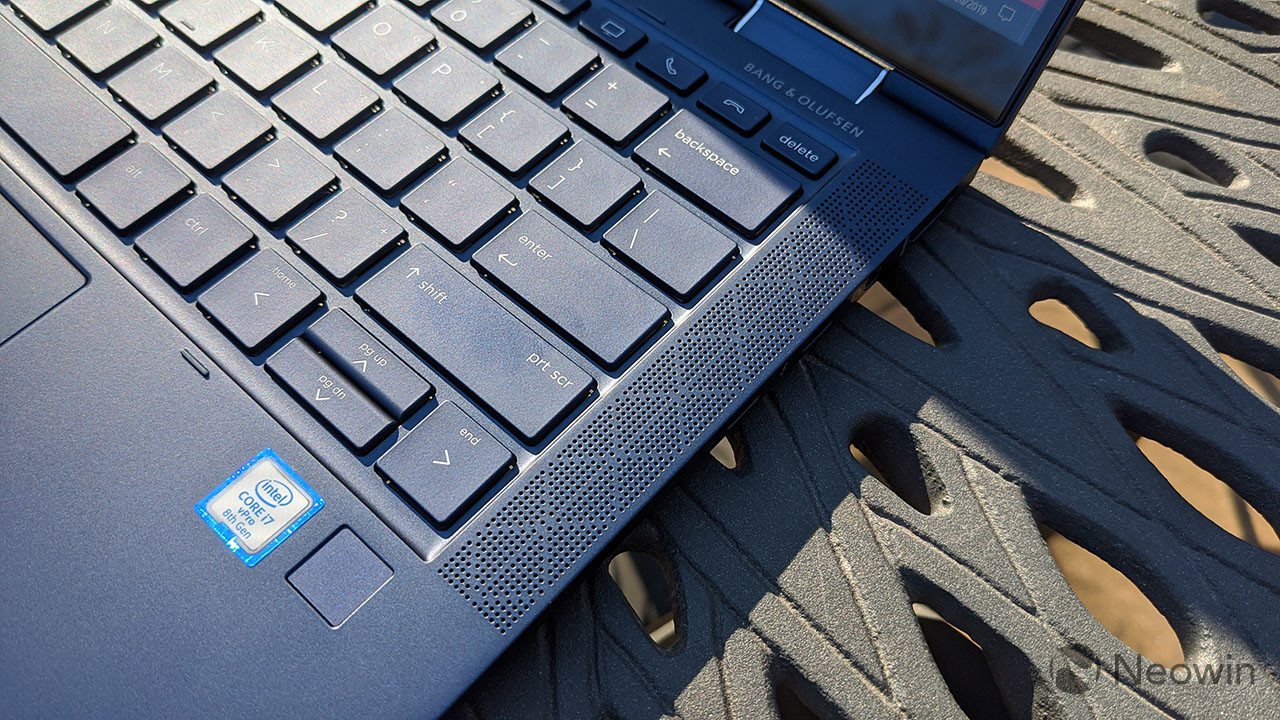 On the sides of the keyboard are Bang & Olufsen speakers, and the audio quality is phenomenal. HP's been partnering with B&O for its laptops' audio for some time now. They're loud too, whether you're using it as a clamshell or as a tablet.
HP is also using ocean-sound plastics in the speakers in an effort to help the environment. The company has been using these types of materials in several of its products now, and is committed to being sustainable.
Finally, there's a fingerprint sensor on the bottom-right of the keyboard. I'm more of a facial recognition fan, but it's nice to have the option, especially if you're one for using the privacy shutter on the camera.
Tile integration
I don't know how I've lived so long without Tile. The company makes a product that's aimed at helping you to find lost things. HP also sent me a pack of Tiles, which includes two stickers, a regular Tile, and a credit card-shaped Tile. Now, I have a sticker on my wife's phone, the regular Tile on my keychain, and the credit card-shaped one in my wallet.
The HP Elite Dragonfly is the first laptop to have a Tile built into it, although there are more coming. I actually had a bit of trouble setting it up due to some bad metadata, but HP was quick with a fix on that, so I assume that this issue won't show up in consumer units. It turned out to be as simple as installing a small script.
When you first open the Tile app on the Elite Dragonfly and sign in, you should be greeted with an option to activate the Tile in the laptop. Then, it takes under a minute.
Once you're all set, you'll be able to use your phone to locate your PC in your house, and a lot more. It can also keep track of your PCs last known location, or use the Tile network to find it when someone turns it on.
You can, of course, also use your PC to locate your phone, which only needs to have the Tile app installed on it to be found. But what's cool about actually having a Tile inside of the device is that with the Elite Dragonfly, you can ping your PC even if it's powered down.
It's a really cool idea. I don't know who hasn't had that moment of going for their laptop and forgetting where they put it last. Now, it's a non-issue.
Performance and battery life
The unit that HP sent me includes a Core i7-8665U, 16GB RAM, and a 512GB SSD. You read that right; it still has an eighth-generation CPU. The reason for that is because Intel's 10th-generation 'Comet Lake' vPro chips aren't out yet. It's just been so long since I've reviewed an eighth-gen PC that it feels strange that HP is still using it. Other companies, like Lenovo, are using standard Comet Lake parts while waiting for vPro to be announced.
It's also not like Comet Lake vPro will be wildly different from Whiskey Lake vPro, which is what's in the product. They're both 14nm parts, so it's going to be an iterative improvement. Intel might have a hexa-core chip this time, if it has a vPro variant of the Core i7-10710U.
That being said, the performance is fine. You're not exactly missing out by going with eighth-gen, at least for right now. Whiskey Lake is great for productivity, and that's what this machine is aimed at. Remember, this is still a business PC, as much as I'd recommend it to consumers.
Once again, battery life is phenomenal, which is no surprise since not much has changed since the one I reviewed in December. I couldn't quite get the eight hours of general usage that I did last time, and that's thanks to the Sure View display, which does use more power. Note that there are three different screens and two different size batteries. If battery life is your top priority, go for the low-power 1080p display and the larger battery.
For benchmarks, I used PCMark 8 and PCMark 10.
| | |
| --- | --- |
| PCMark 8: Home | PCMark 8: Creative |
| | |
| | |
| PCMark 8: Work | PCMark 10 |
| | |
| | |

All of the scores are strangely a bit higher. I say it's strange because the internals haven't changed. There's not much else to say about that though.
Conclusion
This is an amazing business laptop. It's super-light, it's pretty to look at, it has an incredible keyboard, and it has an excellent privacy display. It also has features like Sure Start, which checks the BIOS against a master copy and replaces it if it's corrupted. Another great feature is WorkWell, which can suggest that you take breaks or do stretches throughout the day.
The only thing that makes this tough to recommend is that it has eighth-generation Intel processors. If you're going to spend a couple of thousand dollars on this PC, you're better off just waiting until Comet Lake vPro is here. It's soon; I promise. I'd have also liked to see USB 3.1 Gen 2 Type-A and HDMI 2.0.
But in the context of so many people working from home at this time, you might need a new business PC right now. Look no further. The Elite Dragonfly is one of the best convertibles on the market, and not just for businesses.
Pros
Best-in-class keyboard Tile integration is useful Well-crafted design Sure View privacy display
Cons
Eighth-gen CPU Some last-gen port