HTC Sense on the One X, S and V has always been somewhat of a love, hate relationship for many users. We reviewed version 4.0 earlier this year and thought it was "skinning for the sake of skinning" but, now that there's a new version, does it make it better? Read on to find out.
Overview
HTC Sense 4+ is the HTC's product name for their skin that runs on top of Android. What's actually important is that anything that runs Sense 4+ also has Jellybean under the hood. Jellybean marks a big step forward for the Android platform in terms of speed, and that works well for HTC, since their skinned versions of Android have historically been marked as slow. There's not a huge slew of improvements here, but we'll cover off the notable ones.
Visual Improvements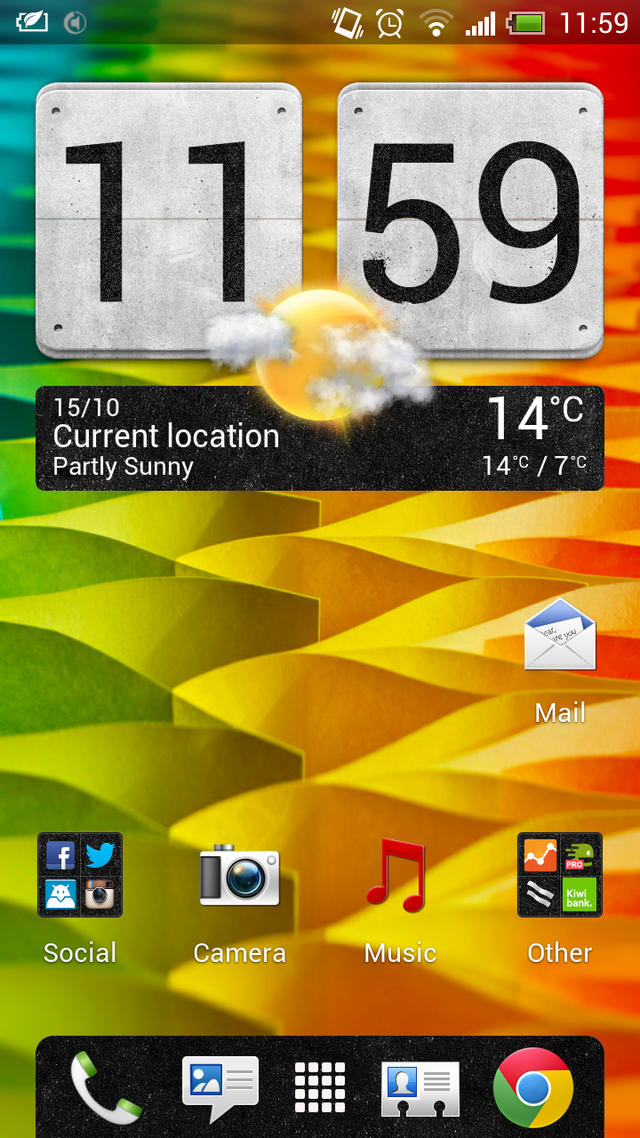 In HTC Sense 4+, the company has included new themes, including one that tries to look like the pencil version of their company logo. I actually quite like it. Additionally, the home screens can now loop from end to end (like most modern launchers). HTC has also replaced the default green color around the OS with blue.
They've added a ton of new customization options, too. The messaging application can now be tweaked, and you can choose your own color/background combo. The torch application UI has been improved, too.
Messaging
There's a few small tweaks here, you can password protect your SMS inbox, and they've also added options to move SMS' to the "secure inbox" and the "block inbox" respectively. You can also forward SMS automatically to an email address or to another phone number.
HTC's also added a built-in SMS backup and restore tool, which will be extremely useful we're sure.
Camera / Gallery
The gallery application now includes social integration, and shows Facebook, Picasa, Flickr, Skydrive and Dropbox for easy access. If you open Facebook, it shows your friends' albums. If you open Skydrive, it shows your albums on Skydrive. Great functionality for making finding photos online just that little bit easier.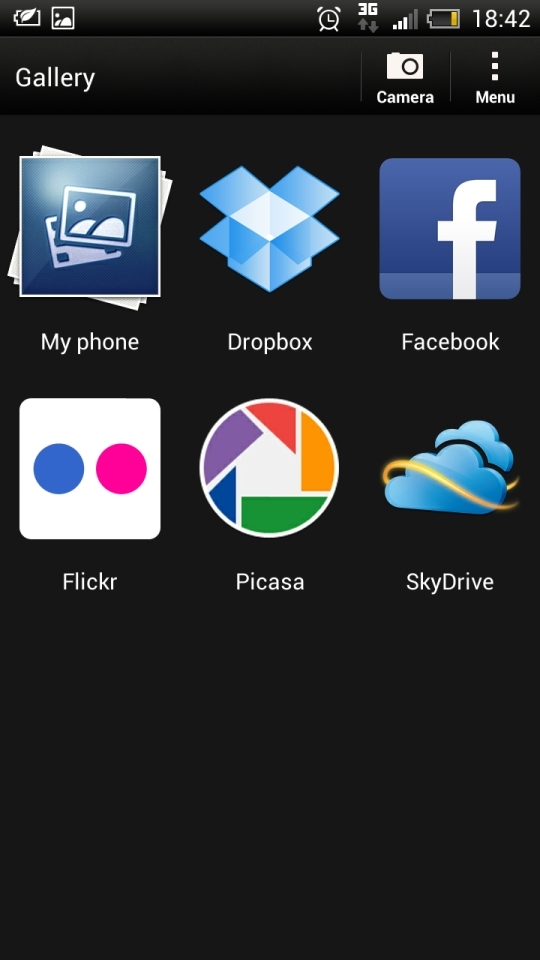 Also, the gallery now has two ways of organizing photos. The traditional "albums" method, or "events" which allow the sets of photos on a certain date to be grouped and named after what you were doing that day. Cute, but probably more annoying than good.
The camera application looks largely the same, but the changes here are huge. First off, HTC has told us that they've rebuilt the camera application from the ground up for performance, and it shows. It's fast, it's snappy, and it's almost perfect. The UI looks exactly the same but has a a few small visual tweaks: it shows you how much space is left for video/photos.
Additionally, there's a new button for quick switching between the front and back cameras (before you had to go into a buried menu). HTC's also included a new "smile to snap" feature which takes photos when it detects there's someone smiling, and it works as promised. Also, there's a new option to show where you took your photos all around the world.
Notification tray
Previous leaks suggested HTC was going to add an easy way to turn on and off the devices' peripherals, but that's not come to fruition. Unfortunately, HTC has chosen to kill Jellybean's awesome expanded notifications, and they just plain don't work. Disappointing. 
Performance
If you told us that Jellybean would significantly improve Android's performance, we wouldn't be surprised, but we were surprised by just how much. The One X scores a whopping 5594, up from the stock ICS build score of 4951. Not bad.
Left image: Sense 4.0 (ICS). Right Image: Sense 4+ (JB)
Where the performance improvement really shines, though, we can't really show you. The most noticable improvement is just in using the phone itself. Less stutter, less lag, much smaller load times. Personally, I found that Sense 4.0 was too slow, and endlessly frustrating since it was laggy. That's a thing of the past now, and Sense 4+ shows just why HTC added their own interface. It actually adds value, rather than detracting from the experience. The messaging application is no longer frustratingly slow and nor are any of the other native applications.
The thing is, the interface is still not as good as stock Jellybean in terms of smoothness. It does go a great way forward, and doesn't feel bloated, but after trying Cyanogenmod 10 on the One X, it's hard to stay using Sense since it's almost like the fat older brother.
Keyboard
This may annoy many of you, but the keyboard that shipped with the One X was one of the worst stock keyboards I've personally used. They've worked to fix it, though, and in Sense 4+ it's tolerable. The arrows are gone by default, the prediction is a little better, and there are a whole bunch of new smilies. It's not enough to stop me switching to Swiftkey, since the company has disabled Jellybeans default keyboard (which is the best in class).
Battery Life/Power Management
The HTC One X was never much of a impressive device when it came to battery life, but you might be surprised to read that we've found the update to improve our devices battery significantly. Where we got only half a day before needing a charge on ICS, we can now get through an entire day (or even two) with some to spare. Impressive, right?
It's thanks in part to a new feature in the OS called "power saver" that optimizes battery life. It does this by ramping the CPU down, reducing the default display brightness, turning off vibration feedback and putting the data connection/wifi to sleep when the screen is off. Even better? You can choose to disable each power saving option if you wish. 
The power area in the One X has been revamped, too, showing a prominent battery, but removing the power management's default view. We think that HTC might be trying to hide the poor performance of their displays, since the "usage" menu no longer shows the screen as a draining factor. That said, no complaints since there's been a big improvement.
Other minor tweaks
ICS included a backup offering from Google that auto-restores applications and settings stored in your Google Account, but HTC for some reason decided not to include it. With Sense 4+, it's now supported and works as expected. Google Now is in tow too, but the UI is stock.
The applications menu has been overhauled and doesn't freeze up the device while it loads anymore. The most notable addition here is that you can force disable applications' notifications, which is great since there's not been another way to do this before.
In Sense 4.0, when you plugged in the USB to a computer, you had to choose the mode you wanted to use. HTC Sync Manager, USB mode, charging only etc. Now, it lets you use all of them simultaneously, you don't have to select a mode. It's a small, but great improvement!
Finally, the WiFi menu now lets you force a band to connect on, 5GHz or 2.4GHz, which is a good improvement for modern wireless networks. 
Conclusion
Sense 4+ is a big step forward for the custom interface yet again, and it's good to see HTC continually improving it. It's now at the point where it might not annoy as many users and could even stop the exodus to Cyanogenmod, but it's still far from being as smooth and buttery as stock Jellybean.
That said, the interface fills many of Android's gaps, such as offering a much better Exchange client, which may be a redeeming factor for many. When the update is released later this month, we suggest you jump on it. The improvements are more than welcome, and it's great to see HTC honoring their commitments of updating their flagship devices.