Last year's Huawei P20 Pro introduced a triple-lens camera with a 40-megapixel main sensor. It was the first real lossless zoom that we've seen since the Nokia Lumia 1020's 41MP camera, and it was awesome. Over the next year, I wondered how Huawei could possibly improve on this amazing smartphone camera.
The company delivered when it announced the P30 Pro at an event in Paris last month. This camera does things that I'd never have thought possible on a smartphone. The low-light capabilities can see more at night than I can see with my eyes. Here's a quick example before we dive in:
| iPhone Xs Max | P30 Pro |
| --- | --- |
| | |

These pictures were taken in my hotel room at night, with the lights off. What I could actually see is closer to what the iPhone captured.
Huawei pulls this off with its new SuperSpectrum lens, which uses RYYB instead of RGB. It's pretty great.
Specs
| | |
| --- | --- |
| CPU | HiSilicon Kirin 980 (dual-core 2.6GHz ARM Cortex-A76, dual-core 1.92GHz ARM Cortex-A76, quad-core 1.8GHz ARM Cortex-A55) |
| GPU | Mali-G76 MP10 |
| Display | 6.47 inches, 1080x2340, 19.5:9, 398ppi, OLED |
| Body | 158x73.4x8.4mm, 192g |
| Camera | 40MP + 20MP wide-angle + 8MP 5x telephoto, Front - 32MP |
| Video | 4K - 30fps, 1080p - 60fps, Front - 1080p - 30fps |
| Aperture | f/1.6 + f/2.2 + f/2.4, Frotn - f/2.0 |
| RAM | 8GB |
| Storage | 128GB/256GB/512GB |
| Battery | 4200mAh, 40W SuperCharge, 15W fast wireless charging |
| Price | €999/€1,099/€1,249 |

Day one
Design
Let's talk a little bit about colors. It was with last year's P20 series that Huawei introduced the color Twilight, a gradient color that blended from blue to purple. It was beautiful, and what was really cool was that no one was doing it. If you were tired of yet another black phone, the P20 was a great option. Then the Mate 20 came along with a different version of Twilight, a gradient from black to purple to blue.
This time around, there's no Twilight. When asked why, we were told in a group interview session that when Huawei did Twilight, everyone copied it, and now the firm is doing something new. Along with Pearl White and Black, the sexy new colors include Aurora, Breathing Crystal, and Amber Sunrise.
I'm lucky to say that I've got my hands on all three of them, including an Aurora P30, a Breathing Crystal P30 Pro, and an Amber Sunrise P30 Pro. Aurora is different shades of green and blue with a wavy pattern, and it's my favorite one. Breathing Crystal can look completely white or baby blue from an angle, but from another angle it looks like a gradient from light purple to baby blue. Amber Sunrise combines shades of red, orange, and yellow to look like a sunrise.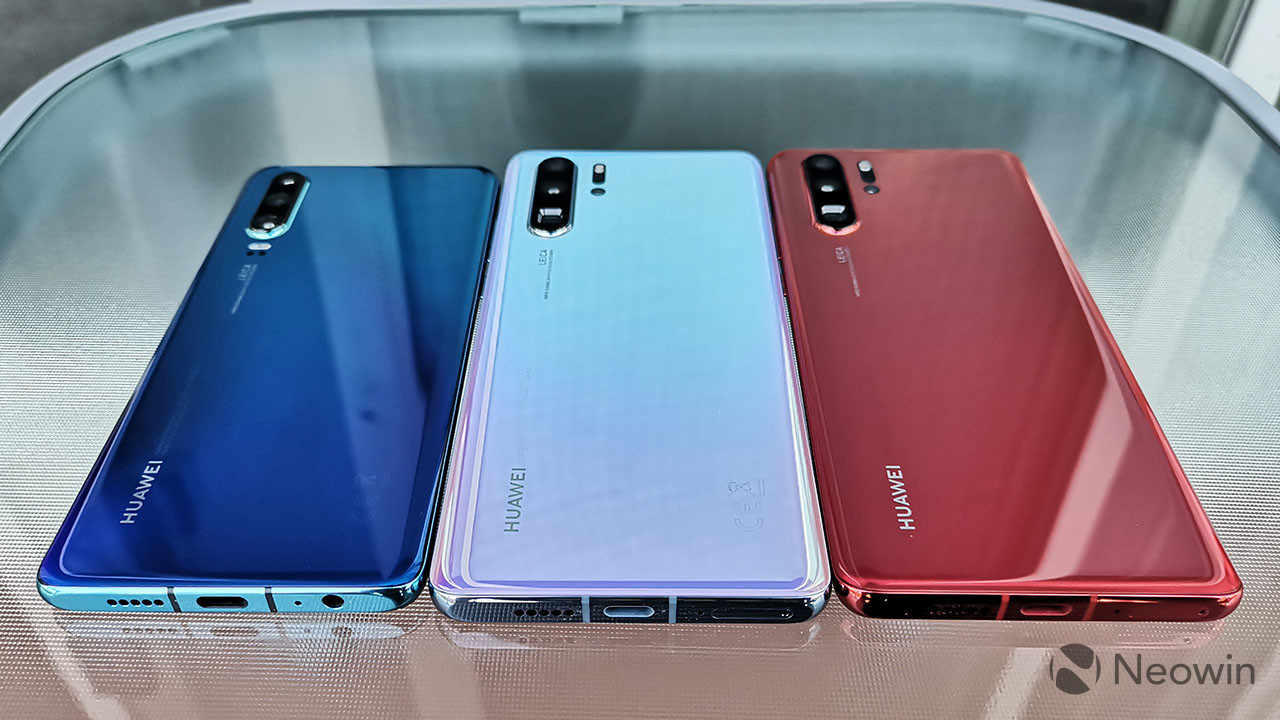 Aside from the camera, this is my favorite thing about Huawei phones. It seems like every phone I review is a standard black or maybe white. Sometimes it's even that dark blue color that's most other companies' version of a colorful phone.
The device has a vertical camera module on the back, and the bottom of the three lenses is square. That's the new periscope zoom lens that we'll talk about later. To the right of that is an LED flash and below that, a time-of-flight sensor.
On the bottom of the device, there's a slot for dual nano-SIM cards, a USB Type-C port, and a speaker grille. On the right side, there's a power button and above that, a volume rocker. Other than that, there are just two antenna lines on the top and bottom of the phone.
I'm a big fan of this design, where things are kept to one side of the device. It really just keeps things easier.
Another thing is that the phone doesn't actually have an earpiece. Sound for calls actually comes through the screen, and you'll see an image indicating where your ear should go during a call. Surprisingly, this didn't cause any issues for me, and call quality seemed fine.
Display
The Huawei P30 Pro has a 6.47-inch 19.5:9 display, with a resolution of 2340x1080. It seems that 1440p is reserved for the Mate lineup, and I don't think it makes a difference. I don't think many people can actually see a difference between 1080p and 1440p on a screen this size.
I also want to point out that this screen isn't particularly large, something that people love to point out when they hear that it's 6.47 inches. That doesn't mean what it used to. The screen is measured diagonally, so with the particularly small aspect ratio of 19.5:9, the surface area of the screen is smaller than a six-inch screen with the 16:9 aspect ratio that everyone was using a couple of years ago. It also means that the phone is narrow, so you can comfortable fit it in your hand.
It's an OLED display, which means that you get vibrant colors and deep blacks. The key to this is that pixels can be turned off with OLED, providing for the true black that can't be done with an LCD, which is entirely backlit. Rendering colors on top of that true black causes them to look more vibrant, rather than washed out.
My only real gripe with the screen is that it's curved on the left and right sides, something that Samsung also does. This can make the phone a pain to hold without accidentally touching the sides of the screen. This can be helped by using a case, and a case does come in the box, but if you have to use a case to properly use a device, then there's a design flaw there.
Also, the display has a teardrop notch in the center. Naturally, that means that it doesn't have the additional sensors that were found in the Mate 20 Pro, although the notch isn't as intrusive.
Battery and charging
Huawei's P30 Pro packs a 4,200mAh battery. This was the only phone I used since it launched, and I never had trouble getting through a full day.
There's more though, because this device supports 40W SuperCharge, and it charges wildly fast. It will even show you how fast it's charging to the hundredth of a percent. One day, I was down to about 40%, and it was at a full charge after about a half hour. I know that's anecdotal, but it's the perfect example of a time that I needed a quick charge, and I got what I needed.
The 40W charger that comes in the box is set for European outlets though, as this phone isn't sold in the U.S. You can get one on Amazon though, and you totally should. I actually used a travel adapter for charging this phone instead of another USB-C adapter, since SuperCharge is just so good.
Unfortunately, it doesn't work with Huawei's 65W charger that ships with the MateBook X Pro. That charger is meant to scale for phones, and it does, but it doesn't charge as fast as the 40W charger that's included in the box.
This device also supports 15W wireless charging, so you get a faster Qi charge than you would otherwise. Also, like the Mate 20 Pro, it supports reverse wireless charging. That means that you can turn the feature on, place a Qi-enabled phone on the back, and charge it.
The bad news is that the output is only 2.5W, so whatever phone you're trying to charge charges very slowly. In other words, showing this off to your friends doesn't really work out that well. It's not a technical limitation, as Samsung does 9W reverse wireless charging on the Galaxy S10, but it's really meant more for charging accessories like earbuds.
Camera
OK, here's the meat of the review. While the P30 Pro is a wonderful phone on its own, the thing that stands out is obviously the camera, and for a number of reasons.
Last year's P20 Pro introduced a 40MP main sensor, and to be honest, I had no idea how Huawei could improve on it. But the company delivered. Rather than using the traditional RGB, this camera uses RYYB, replacing green pixels with yellow. Huawei says that this allows in 40% more light, something that's also helped by the f/1.6 aperture.
That means better low light performance, allowing for the samples that you saw in the introduction to this review. It's a really big deal, because now a phone can see better in the dark than the human eye can, something that I never thought would happen.
Those last two images really do it, as no other phone will so easily capture the night sky like that, even seeing the stars. The second of those two images was taken using night mode.
Let's talk about lossless zoom though, a concept I've been a fan of since Nokia introduced my beloved Lumia 1020 back in 2013. That had a 41MP sensor, and I loved the idea of getting close-up pictures without having to actually get close to the subject. Last year's P20 Pro has a 40MP main sensor and an 8MP 3x zoom sensor, and now the P30 Pro has an 8MP 5x zoom sensor.
Digital zoom works by degrading an image. A camera sensor can see a certain amount; that's called the field of view. The field of view is made up of a bunch of dots called pixels. When you zoom, you're simply cutting out pixels. Lossless digital zoom just works by providing a high-resolution sensor. A 4K display is about 8.3 megapixels, and a 1080p display is about 2.1 megapixels, so with a 40MP image, you can chop it down a bit before losing noticeable quality.
But then you add to that a 5x zoom lens. This works by providing a sensor with a smaller field of view, and Huawei created a new periscope system that combines a bunch of lenses so that it zooms in on an image. Combined with the 40MP sensor, the P30 Pro is capable of 10x hybrid lossless zoom, which is just insane.
Moreover, the camera will let you zoom in up to 50x, not that you'd really want to. The quality is pretty bad, as you'd expect, but it's way better than any other phone at 50x.
The third sensor on the P30 Pro is a 20MP wide-angle lens. This replaces the monochrome lens that was found in the P20 Pro. It also allows for macro shots from 2.5cm, and you can actually see some of those in the first gallery.
One of my biggest issues with the wide-angle sensor is that, like the telephoto lens, it does not use RYYB. You don't get the low-light improvements that you get with the main sensor, so this needs to be compensated for with night mode. It's not a big deal, but I feel like an end user would be confused as to why certain pictures come out a certain way and others don't.
Next, we have portrait mode and aperture mode, both of which can be used to create a bokeh effect. Portrait mode is for taking pictures of people, and aperture mode if for everything else.
The P30 Pro has a time-of-flight (TOF) sensor, which basically sends out light and records the amount of time it takes for the light to bounce back. This improves portrait mode greatly, as it allows the camera to see how far behnd you something is. In lesser devices, you'll find that everything behind the subject is blurred.
Finally, I don't focus on the front camera much, but I wanted to make a quick note. It's a 32MP sensor, and it's not great in low light settings.
| Front sensor | Rear sensor |
| --- | --- |
| | |

You can see that the front camera also supports portrait mode, from the samples in the portrait mode section, but there's not much else to talk about there.
My one complaint is that the camera doesn't support 4K 60fps video capture, a limitation of the Kirin 980 chipset. This is something that most other flagship smartphones now have.
Performance
I always save performance for last because I feel like it's the least important thing. Any flagship phone in 2019 has all of the performance that you need for all of your tasks (except 4K 60fps video capture). It's top-end hardware, and no sane developer would build an app that can't run well on the best chipsets available.
The P30 Pro uses Huawei's in-house HiSilicon Kirin 980 chipset, the same that was included in the Mate 20 series. Along with that, it has 8GB RAM and at least 128GB of storage, so you're good.
For benchmarks, I used Geekbench 4, AnTuTu, and GFXBench. First up is Geekbench 4, which does a CPU test.
You can compare this to the iPhone Xs Max's single-core score of 4,798 and multi-core score of 10,731, and the Galaxy S10+'s single-core score of 3,520 and multi-core score of 11,177. It's worth noting that Qualcomm's new chips show up in new handsets in the spring, while Huawei and Apple refresh in the fall. That's why Qualcomm was able to jump ahead by a bit.
Next up is AnTuTu, which has an all-in-one test.
This can be compared to the iPhone's score of 312,678 and Samsung's score of 357,611. Finally, GFXBench tests the GPU.
Conclusion
If you care about the camera on your phone, then the Huawei P30 Pro is for you, hands down. When I got married last summer, I used the P20 Pro to take all of the pictures on my honeymoon, and I couldn't be happier that that's the device I used to preserve those memories. I really couldn't imagine at the time that Huawei would be able to provide a meaningful upgrade on that camera, but it did just that.
For me, the camera is the most important part of a smartphone. It's how we capture our memories. I do understand that there are people that would rather use dedicated hardware for that, and there are people that just don't take pictures. That's OK. Those people won't be as interested in the P30 Pro.
Unfortunately, this device isn't sold in the United States, at least by any major carriers. As I mentioned earlier, you can get it from Amazon, and you totally should.
Make no mistake, Huawei is the company that's setting the bar. This is the company that was the first to use an in-display fingerprint sensor, the first to use a hole-punch display, it has the best cameras, and the design is just plain sexy. Over the past year, I've found myself comparing devices I review to those from Huawei, rather than those from Apple or Samsung.
Pros
Low-light performance Lossless zoom General camera quality Colorful design OLED display
Cons
No 4K 60fps video capture Curved screen