When Apple announced the iPhone 8, 8 Plus, and X last month, I wrote an article about the differences between the three phones. The iPhone X will have an OLED display, Face ID instead of Touch ID, a better secondary rear camera, and a better front camera.
What all three phones have though, is Apple's new A11 Bionic chip, which happens to be the most powerful mobile processor on the market right now by far. They also have fast charging, wireless charging, the ability to record 4K video at 60fps, and to record 1080p Slo Mo at 240fps.
Ultimately, the iPhone 8 and 8 Plus are the ones that you'd get if you don't like change. The iPhone X doesn't have a home button anymore, which means that the entire way that you use your phone will be different.
So if you're looking for an iPhone that works mostly like it always has, then the iPhone 8 or 8 Plus is for you, depending on your preference. Here's our full review of the device.
Specs
| | |
| --- | --- |
| CPU | 2.23GHz hexa-core A11 Bionic, dual-core Monsoon, quad-core Mistral, M11 motion co-processor, tri-core Apple GPU |
| Display | 5.5 inches, 1080p, 401ppi, IPS LCD |
| Body | 158.4x78.1x7.5 mm (6.24x3.07x0.30in), 202g (7.13oz) |
| Camera | Dual 12MP, Front 7MP |
| Aperture | f/1.8, f/2.8, Front f/2.2 |
| Video | 4K - 60fps, Front 1080p - 30fps |
| Camera features | PDAF, 1080p Slo Mo @ 240fps, OIS, Portrait Mode and Lighting, quad-LED dual-tone flash, 2X optical zoom, Front 720p Slo Mo @ 240fps, LCD flash |
| RAM | 3GB |
| Storage | 64/256GB |
| Battery | 2,691mAh |
| Colors | Silver/Gold/Space Gray |
| Price | $799/$949 |

Day one:
Unboxing the phone was similar to previous iPhones, other than that they don't all come in a white box anymore. Just like last year, there's a phone, Lightning headphones, a 3.5mm to Lightning adapter, a USB Type-A to Lightning cable, and a 5W USB Type-A power adapter.
As I noted in my review of the 10.5-inch iPad Pro, Apple is really getting in the habit of not giving you everything that you need for a great experience out of the box. There was a time when you could buy a new iPhone (or iPad) and the only accessory you'd really need is maybe a case and/or a screen protector.
This pattern started last year with the launch of the iPhone 7 and 7 Plus, when the company removed the headphone jack in an effort to move users toward Bluetooth, but continued to ship wired headphones in the box that used the Lightning port, along with an adapter.
While AirPods in the box would be nice, I certainly wasn't expecting it, and the firm took the issue a step further this year by adding fast charging support to the device, but not including a fast charger in the box, just like with the new iPads. In fact, you'll need to replace both the Lightning cable and the power adapter that come with the phone, which will cost you a minimum of $74 plus tax.
Design and display
As you've probably noticed from the images, the design of the iPhone hasn't changed much since last year, or the year before that, or the year before that. With the iPhone 7, Apple changed the look of the camera bump and added some new colors.
Now, the iPhone 8 and 8 Plus have glass backs, rather than an aluminum unibody. When telling friends about this, their general response was usually, "Great, so now I have something else to crack." I'm not going to test out how durable the rear panel is, but if you're worried about breaking it, you probably already know what kind of precautions you can use. I always recommend AppleCare+, but you can't go wrong with a solid case.
I have to say though, the glass panel on the back looks quite nice. I went with Space Gray, and when looking from far away, it looks nearly identical to my Jet Black iPhone 7 Plus. But the gray aluminum frame is a different shade from the color of the back panel, and I find it pleasing to the eye. If you're the type of person that wants to carry the newest iPhone just so your friends can ask you about it, I'd recommend getting Silver or Gold, since they look more different from the 7, but who are we kidding? Those folks are waiting for the iPhone X.
As usual, the bottom of the device is where you'll find the Lightning port and two speaker grilles, on the right is the power button and nano-SIM slot, and on the left is the volume rocker and switch for silencing the phone. Beneath the display is the Home button, which hasn't been an actual button for a couple of generations now.
The resolution of the 5.5-inch display is the same, but this time it's True Tone, which means that the device automatically adjusts it based on the lighting of the room that you're in. It's a feature that you can turn on and off as you see fit, and you'll be able to see what it looks like with and without it during the out-of-box experience, as you can see from the unboxing video above.
Honestly, the display isn't all that different from last year's iPhone 7 Plus, and that's not really a bad thing, as the display is quite nice. Like many iPhones, this year's is a marginal improvement on last year's, but it's a significant improvement over the one from two years ago.
Video recording...and 4K 60fps
Be careful what you wish for. That's advice that I've been given, but never listened to, especially when I said time and time again that it's time that we had a phone that can record 4K 60fps video.
Announced in August 2013, the Acer Liquid S2 was the first phone to support recording 4K video. It was 24fps, but since then, 4K at 30fps has been a standard in high-end smartphones, and I've often wondered why we don't have anything better than that; four years is a very long time in technology years.
Back in February, Samsung finally unveiled a mobile processor that can support 4K at up to 120fps, but since the company uses Qualcomm chips in its U.S. variants - the Snapdragon 835 only supports 4K at 30fps - the feature never actually showed up in any of the company's phones.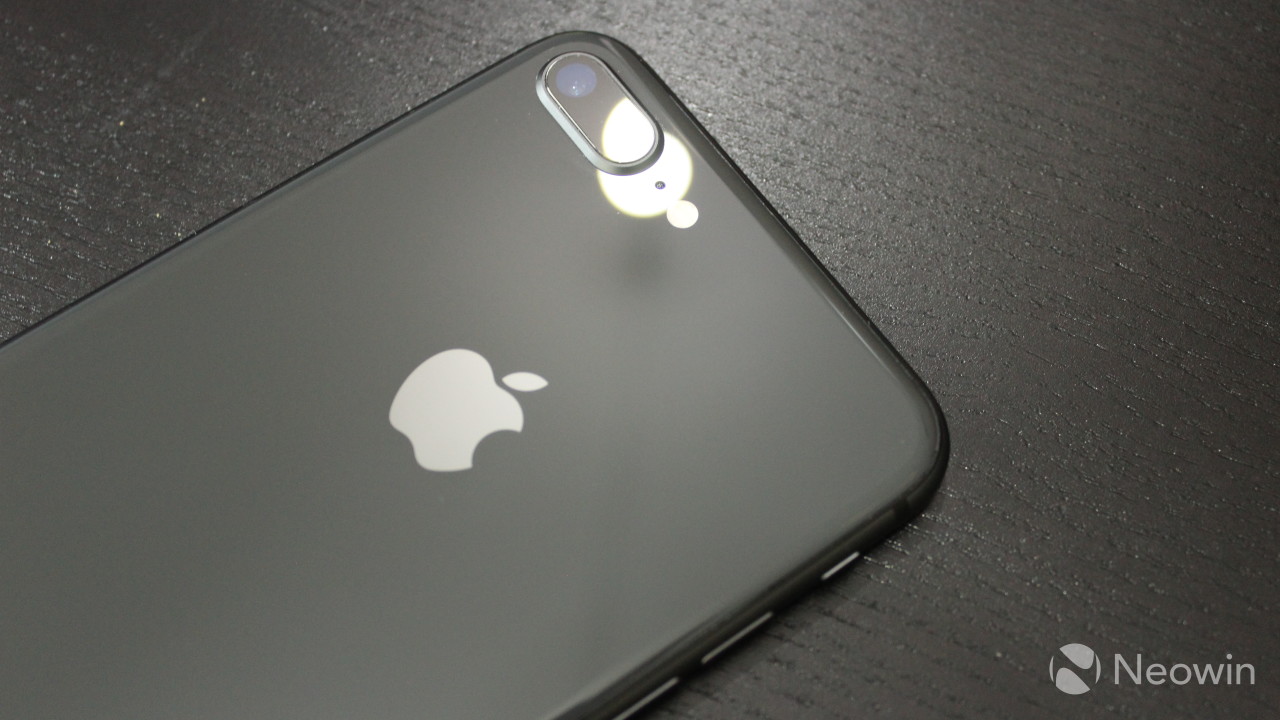 And then Apple announced the iPhone 8, 8 Plus, and X, all of which will support recording 4K video at 60fps. Historically, I've recorded videos at 1080p 60fps, because I prefer the smoothness of the additional framerate over the higher resolution of 4K 30fps. Naturally, I was very excited.
Then I used the feature, and while it's excellent, it has a long way to go and there's no reason that you need this right now. You see, iOS 11 has a new feature that allows you to choose the format that your images and videos are saved in.
You get two choices: Most Compatible and High Efficiency. The former is JPEG for images and H.264 for videos, and the latter is HEIF and HEVC. And then the setting says "Most Compatible", it means it. JPEG images and H.264 videos are accepted by just about any media player imaginable.
HEIF and HEVC are new, so there's a good chance that if you select this option, you might try to use the files in an app that doesn't properly support them.
Do you see where this is going? Right, 4K video can only be recorded at 60fps using HEVC, and this caused a nightmare for me, because I couldn't find video editing software that natively supports it. Normally, I use Adobe Premiere Pro CC, and that actually converted them to audio-only clips. They work in iMovie, but the project will be compiled at 30fps. You also can use a separate converter to make them into a standard format, but the one I used brought the framerate down to 24fps.
In other words, I was unable to edit these videos and end up with a 4K 60fps product.
I don't really blame Apple for this, although I now understand why the company didn't spend time bragging about being the first phone to have 4K 60fps capture while announcing it. The fact is that HEVC is still young, and it's up to companies like Adobe to actually adopt it in their products. The point here is that if you're running to the store to buy the new iPhone because you want this, you can probably wait a little while.
For now, though, I'm back to recording 1080p at 60fps.
Battery life, fast charging, and not so fast wireless charging
While Google has been improving battery life on Android devices for a couple of years now, iOS has been steadily getting worse. Still, I find the Plus model of the iPhone to be one of the most reliable devices in terms of battery life.
I've been using this phone as a daily driver for a couple of weeks, and since I submitted my review of the Galaxy Note8, it's been the only phone that I carry (that's actually a big deal, considering how many phones I usually carry). The battery never failed me, including after a full day at NYC Comic Con, even though the Comic Con app kept giving me these really annoying GPS-based locations depending on where I was in the building. But still, after leaving my house at 8am, arriving home at 10pm, and frequent use during that time, I was only down to 24% when I got in my car.
The issue that I described about how the fast charger doesn't come in the box really bothers me. If you're like many other iPhone users, you've got a ton of chargers lying around the house, which is probably from the accumulation of various iOS devices. Don't expect this effect with fast chargers, because those are all sold separately.
Remember, it's not just the power adapter or the Lightning cable that you'll need to replace; it's both. The 5W USB Type-A power adapter needs to be swapped out for the 29W USB Type-C adapter ($49), and then a USB-C to Lightning cable will run you $25 or $35, depending on if you choose a length of 1m or 2m.
It's also a necessary feature in 2017. I can't tell you how many times I've charged an Android phone and an iPhone at the same time, and when the Android phone reaches 100%, the iPhone is still around 60%. You don't have to live like that anymore, but it's unfortunate that Apple is making customers shell out extra cash to do it.
Fast
Regular
Wireless
0 mins
0%
0 mins
0%
0 mins
0%
15 mins
23%
15 mins
9%
15 mins
8%
35 mins
52%
45 mins
29%
30 mins
15%
50 mins
72%
1 hr
39%
50 mins
26%
1 hr
80%
1 hr 15 mins
48%
1 hr 15 mins
38%
1 hr 15 mins
89%
1 hr 45 mins
68%
1 hr 45 mins
53%
1 hr 30 mins
95%
2 hr 15 mins
86%
2 hr 30 mins
74%
1 hr 45 mins
98%
2 hr 30 mins
93%
2 hr 45 mins
82%
1 hr 55 mins
100%
2 hr 45 mins
96%
3 hr
87%
3 hr
99%
3 hr 15 mins
94%
3 hr 5 mins
100%
The feature works like any other form of fast charging, rapidly powering the device from 0-80%, and then slowing it down from 80-100%. This is because lithium-ion batteries can explode if they're overcharged, so it needs to be slowed down before it reaches 100%.
The iPhone 8 and 8 Plus also support wireless charging. Just like fast charging, this is was an area where fans muttered "finally" under their breath. The good news is that it uses Qi, just like most other devices that have wireless charging. The bad news is that it charges even slower than when you're using the standard 5W charger.
It actually works quite well though. I've had experiences with many devices that sort of connect and disconnect from a wireless charger, but I've not had that issue with the iPhone 8 Plus.
I enjoy the wireless charging feature particularly because I can finally use a single charger for all of my phones, or at least all of the phones that I'm currently using.
iOS 11 and stability
In terms of stability, this is by far the worst iPhone I have ever owned. iOS 11 is a huge part of that, but the device itself is a factor as well. For example, for the first few days, Skype would crash upon launch, and that was an iPhone 8 bug, rather than iOS 11.
But it seems like there's some issue every day. Some days, it refuses to act as a mobile hotspot; other times, it's another app that refuses to open. Sometimes, it's just general iOS 11 bugs.
This is mostly stuff that Apple will fix through software updates, but it's the roughest beginning that I can think of. Rough beginnings aren't abnormal for a new iPhone; last year, I had a bunch of Bluetooth issues with the 7 Plus for about a month. This just feels like I can't go a full day without having some kind of issue.
At the time of writing this, Apple is up to iOS 11.0.3 with iOS 11.1 in the pipeline. Things are getting better, but I'd expect it to be at least a few more weeks before all of the kinks are worked out.
Performance
It's worth noting that stability and performance are two different things. The iPhone 8 Plus is quite powerful, and the A11 Bionic chip is by far the most powerful on the market. Apple is designing its own GPUs now, so it's not PowerVR anymore.
It's also worth pointing out that this is almost the case. Apple's custom-designed processors always outperform Qualcomm's current offering, at least at the time of launch. The A11 offers far more than the Snapdragon 835.
For benchmarks, I used AnTuTu, Geekbench 4, and GFXBench. First up is AnTuTu, which tests a bit of everything.
For comparison, the Samsung Galaxy Note8 scored 173,562. Next up is Geekbench 4, which is for CPU benchmarks.
Again, for reference, the Snapdragon 835-powered Note8 for 1,866 in single-core and 6,539 in multi-core. Finally, GFXBench tests the GPU.
The best thing to do here would be to compare it to the iPhone 7 Plus, which already had a GPU that outperforms anything offered by Qualcomm. That device got 2,559.47 frames in the Manhattan test, 1,772.7 on ALU, 5,237.22 on 1080p ALU 2 offscreen, and so on. You can check the full results in the link above, but the new GPU is better all-around.
If you're unfamiliar, the offscreen tests are meant to simulate a 1080p screen. For example, if you're comparing a device with a 1440p display to one with a 1080p screen, the 1440p one would be harder on the GPU if both tests are run at their native resolutions. A 1080p offscreen test is meant to put both devices on the same playing field to test the GPU performance.
Rear camera
The specs of the rear camera really haven't changed since the iPhone 7 Plus. It's still a dual-lens setup at 12MP, with the primary lens having an f/1.8 aperture and optical image stabilization and the secondary lens having an f/2.8 aperture.
There's a new feature called Portrait Lighting, which expands on last year's Portrait Mode. This basically lets you take the area that's blurred by Portrait Mode and adjust the lighting for added effect. It works about as well as Portrait Mode works, which is to say, not great.
Let's look at some Portrait Lighting samples:
Here are some other camera samples:

Ultimately, I think that the camera experience on the iPhone 8 Plus is pretty disappointing, which isn't usually the case for Apple's devices. For me, the main selling point of the secondary lens is that it provides a lossless 2X zoom, not some artificial depth effect that only works under the most perfect of conditions and therefore can't be counted on.
And if you scroll through the photos, that 2X zoom just sucks. I wish I used the main lens for my Comic Con pictures and just cropped them. Anything that's taken in even slightly dim lighting appears to be really grainy.
But I tried to capture all lighting conditions, and in standard daylight it does fine. Indoor shots are a little worse, and under an overhang at Comic Con at dusk is just terrible, but you can see that the main lens does fine.
You can also see that in the nighttime shots, lights tend to look blown out, and while you can tone down the exposure to fix that, the whole image comes out looking really dark.
Again, I'm walking away from the iPhone 8 Plus camera feeling disappointed, as I feel like the LG V30, Moto Z2 Force, and Samsung Galaxy Note8 are much better for those that want a solid camera.
By the way, the camera is decent, like it will be from any high-end phone, and perhaps I'm being too hard on it. But to be honest, I'm just not happy with it.
Front camera
The specs on the front camera haven't changed much either, with a 7MP, f/2.2 lens that can record 1080p video at 30fps. It's still pretty poor in low-light situations, and that's still remedied by lighting up the screen with a blinding flash.

As you can see, the performance of the front camera is about the same as it was last year.
Audio
As we all know by now, the iPhone 8 Plus does not have a 3.5mm headphone jack, nor do any of the other phones that the company announced this year. It is what it is; I usually use PowerBeats3 Bluetooth headphones, and I'm OK with that. You can, of course, use the Lightning headphones that come in the box, or use your own headphones with the adapter that ships with the phone.
The audio quality that comes from the built-in speaker always impresses me, since it's still only one speaker with two speaker grilles. This is pretty easy to test out, if you don't believe me. Just play some music, cover one speaker with your thumb, and then cover the other one. You'll find that the volume is clearly lower when covering one, but is unaffected when covering the other.
Conclusion
OK, so here's the deal. If you've got an iPhone 6s or earlier, you should totally upgrade. If you're on the iPhone Upgrade Program or some other plan where you swap out your phone every year, you're good to go. If you bought an iPhone 7 Plus, well, probably not.
But then there's the question of which one you should upgrade to, since Apple's lineup is more confusing than ever, and one of the three phones released won't even be out for another few weeks. The iPhone X will definitely be better, and that secondary camera will have a wider aperture which will probably result in better low light performance.
But if it's time for you to upgrade and you don't like change, you should probably go for the 8 Plus. You could probably go for the 8, since the secondary lens on the camera isn't that great, but battery life won't be as good.
And I don't blame you if you don't like change. I've never used a phone that properly implemented facial recognition, so the idea of giving up Touch ID in favor of Face ID is a little scary. Of course, I'm a psycho, so I'll be buying the iPhone X anyway. I do have this odd feeling though, that I'll be returning it for an iPhone 8 Plus.
Ultimately though, aside from some bugs and some issues with the camera, the iPhone 8 Plus is a pretty great phone. If you're not all in on the iPhone X, you'll be pretty happy with it.
Pros
Performance Design Wireless charging 4K 60fps video capture Battery life