Earlier this week, we brought you the first hands-on look at Itsdagram, one of the first semi-featured Instagram clients to come to Windows Phone. The app, while impressive, was missing some key features, such as the ability to add filters to your photos. Instagram hasn't become available on Windows Phone yet, despite the prevalence of devices with excellent cameras. 
Instagram clients do exist on Windows Phone, but none have the ability to browse your timeline and interact with Instagram in the way the official app can on other platforms. That's what sets Itsdagram apart from the rest, and is why I can now say that Instagram has finally come to Windows Phone. Here's my review. 
Design 
Microsoft has done something that I love with Windows Phone: introduce a clear design language that all developers can use as inspiration. On iOS and Android - but especially iOS - there are no clear design ideas that can be mirrored throughout the majority of apps. Windows Phone developers are lucky in the sense that they have something to base their ideas on, and that is what Daniel Gary, the man behind Itsdagram, did. 
The design of Itsdagram is similar to that of Instagram on iOS and Android, but with Modern UI tweaks. There is a "Popular" tab, which is accessed via a swipe across the screen. The typography within the app is also similar to that of Microsoft's native apps, with large text navigation links atop the screen. 
The app is very well designed, and seamlessly manages to combine both look of Instagram on iOS/Android with nods to Modern UI. 
Experience 
Itsdagram integrates with Instagram, meaning users can use Instagram on their Windows Phone like those on iOS and Android do. Scrolling through the timeline is fluid and includes the double-tap-to-like ability. 
When you first open the app, it prompts you to either sign into Instagram, or create a new account. From here, all of your Instagram data is downloaded and you're good to go. The app is quick to load all of your photos and activity information (likes, etc.) with the only slowdown coming from the "Authentication" which Gary explains is down to Silverlight and is a "well known problem on Windows Phone." 
Aside from the authentication issue, Itsdagram runs smoothly and is definitely on-par with the native apps on iOS and Android. Photos load quickly when tapped, as do user profiles, and almost every other aspect of the app. Throughout my week of use, I found no slow down at all. 
Photos and filters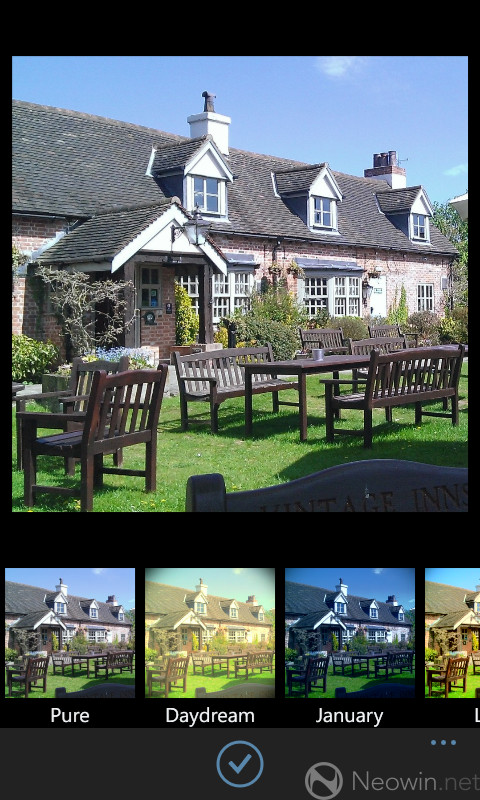 One of the main drawbacks in the leaked version of Itsdagram was the lack of photo filters. Instagram has become famous not only for its vibrant social network, but also for the ability to stick filters on photos you take with just a few taps. Without photo filters, Instagram loses some of its sparkle. 
This latest version of Itsdagram includes photo filters, something the developer has worked hard at creating. While the filters are not the same as Instagram's, they follow a similar design. The filers that are included are as follows: Pure, the non-filtered photo; Daydream; January; Lofi; Earp; Times; Grace; Jack; Hobbes; Graffiti; Gorlini; Da Vinci and Van Gogh.
Photos upload in the same square format as those on iOS and Android, with everyone I asked reporting that they could see the image (with filter) perfectly. The addition of filters is something that Gary worked hard to achieve, and it shows; they are of a equivalent quality to those that Instagram produce themselves. 
Settings and Miscellaneous 
Itsdagram allows sharing of your uploaded pictures to Facebook and Twitter through sign-ins in the app. Doing this earns you a little tick box when uploading a photo, similar to that on iOS or Android. The app can also update in the background, allowing Itsdagram to fetch new photos periodically; background updates is needed for the live tile (which shows photos in your feed) and notifications. The live tile works in both small and large (square) mode, and displays photos from your feed, similar to the People tile. 
Filters can also be updated via the settings pane, with Gary telling me that new filters are downloaded when the app starts. He adds that he is working on new filters and will push them out when they're done; he will also be adding borders, overlays, and more image editing features "in the near future." 
Overview 
Since Instagram has made no move to introduce an official app on Windows Phone, we should all be grateful to developers for creating some genuinely viable alternatives. Of all of those, Itsdagram is the best. It's by no means perfect, but the developer says he will make improvements to the app over time, which can only make Itsdagram better. 
Itsdagram costs $1.49 in the U.S and £1.29 in the U.K. A free trial is available that gives one upload.