A few weeks ago, I reviewed the 17-inch model of the Lenovo Legion Y740, a powerful gaming laptop with an Nvidia GeForce RTX 2080 GPU. It was also massive. Now, I've got my hands on the 15-inch model, which is slimmer and lighter, but also has some big design changes from its larger sibling.
For one thing, it's got narrow bezels all around the display. That's something not found in the 17-inch model, something it certainly could have used to shrink down the footprint a bit. Unfortunately, that means that the webcam is now placed below the screen.
This model includes an Intel Core i7-8750H CPU and an Nvidia GeForce RTX 2070 GPU. That means that it supports features like ray tracing and deep learning super sampling. Naturally, I was excited to play some games on it.
Specs
CPU
Intel Core i7-8750H (2.2GHz)
GPU
Nvidia GeForce RTX 2070 with Max-Q
Display
15.6" FHD (1920x1080) IPS, 300 nits, 144Hz, G-Sync compatible
Body
267x361.42x19.95-22.45mm (10.5 x14.23x0.78-0.88" Starting at 2.2kg (4.8lbs)
RAM
16GB (8x2) DDR4-2666
Storage
256GB PCIe NVMe (Samsung MZVLB256HAHQ)
1TB 7200RPM (Seagate ST1000LM049-2GH172)
Ports
(2) USB 3.1 Gen 1 (one Always On)
(1) USB 3.1 Gen 2
(1) USB 3.1 Type-C Gen 2 / Thunderbolt 3
(1) HDMI 2.0
(1) Mini DisplayPort 1.4a
(1) Ethernet (RJ-45)
(1) Headphone / microphone combo jack
Battery
57Wh, supports Rapid Charge (charge up to 80% in 1 hour)
Keyboard and trackpad
6-row, multimedia Fn keys, RGB LED backlight with CORSAIR iCUE, anti-ghost
2-button Mylar surface multi-touch touchpad
Audio
2W x 2, Dolby Atmos speaker system for gaming certification, dual-array microphones
WLAN
Killer 1550ac, Bluetooth 4.1
Material
Display cover: Aluminum
Bottom: Aluminum
Color: Black
OS
Windows 10 Home
Price
$1,729.99

Day one
Design
The design of the Lenovo Legion Y740 is exactly like last year's Y730. In fact, the two PCs were announced just six months apart. Lenovo had originally said that it would offer the Legion Y730 in configurations with Nvidia's new GPUs, but it seems that the firm opted to just call it a new model instead. To be fair, the difference in performance is not negligible.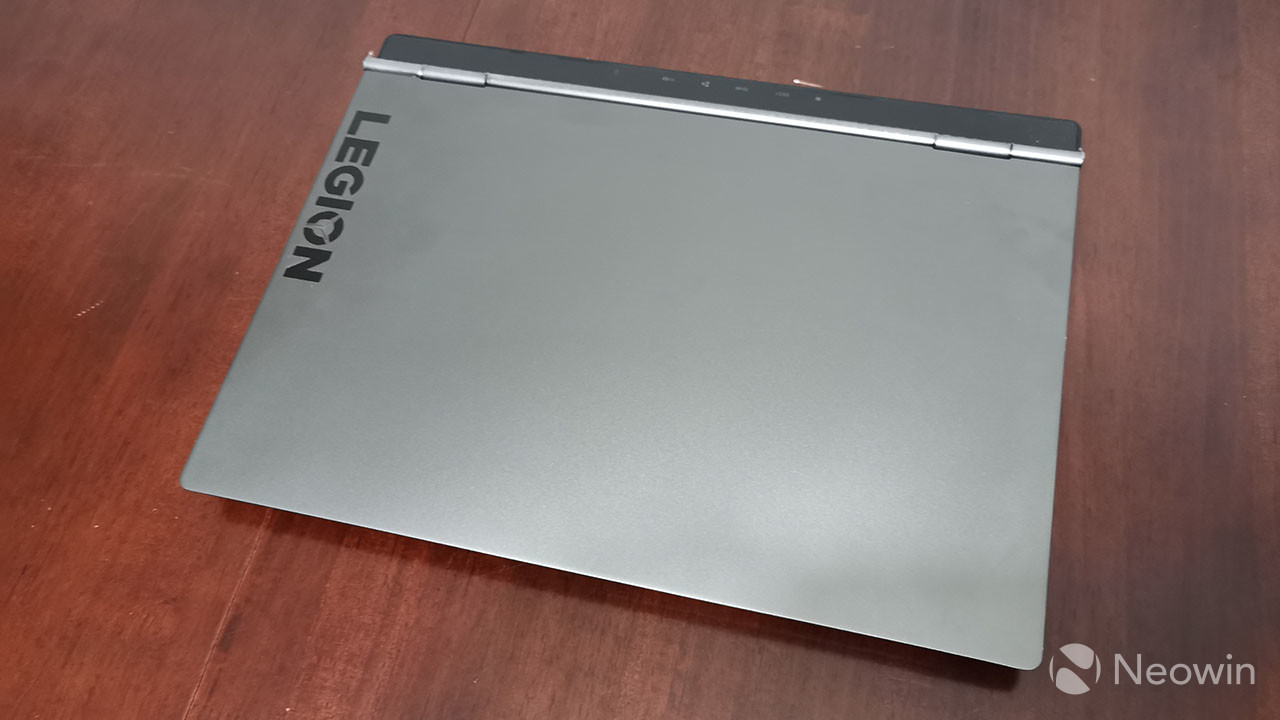 Lenovo's design language in its gaming laptops aims for a "sophisticated" design, something that's not as flashy as other gaming laptops. This comes through with the dark gray aluminum body, the Legion branding along the side, and its sleek look. There are no bright-colored accents, alien logos, or snake logos.
I really do like Lenovo's design language on its newer gaming PCs. There's something about it that says gaming without screaming it. You can take it to work with you without standing out, and then you can take it home and play some games.
One key difference between the 15- and the 17-inch model is that this is much smaller than its larger sibling. I find 15-inch laptops to be much more manageable than 17-inch laptops, especially when they're of the thicker and heavier variant.
While it's easier to put in a bag, it's also much lighter. Coming in at 0.88 inches thick at its thickest point, it only weighs 4.8 pounds (2.1kg). As far as gaming laptops go, that's pretty thin and light.
I do think that portability is important, even on machines that are built to be powerful. After all, if you're not taking a gaming laptop to different places, you'd probably just buy a gaming desktop. If you ask me, Lenovo's 15-inch Legion Y740 checks all of the right boxes.
As far as ports go, you've got plenty of options, and it's another part of Lenovo's new industrial design. Most of the ports are in the back, which makes cable management a lot easier. On the left side of the device, there's a Thunderbolt 3 port and a 3.5mm combo audio jack. On the right side, there's a USB Type-A port, which is great for plugging in peripherals.
And for the stuff that's plugged in all of the time, there are the ports on the back. There, you'll find Mini DisplayPort, HDMI 2.0, two USB Type-A ports, Ethernet, and Lenovo's proprietary power port. You can't use USB Type-C for charging, as this thing uses a 230W power adapter.
Here's the fun part: two of the USB Type-A ports are USB 3.1 Gen 1, supporting speeds of 5Gbps. One of them is USB 3.1 Gen 2, which means it supports 10Gbps. You'd probably think that it's the one that stands on its own on the right side of the PC, but you'd be wrong. It's actually one of the ones on the back, recognizable only by the logo above it.
The Legion logo on the lid has Corsair RGB lighting in the O, and it's also included in the vents, which are on both sides of the back corners. Putting dual fans in the corners allows for better thermals, since air can be pushed out from both sides.
Display
The Lenovo Legion Y740 includes a 15.6-inch 1080p display with a 144Hz refresh rate. There's no touch, not that that's something you'd want in a gaming laptop. After all, a false touch can seriously screw up your game.
It's a matte, anti-glare screen that definitely gets the job done. The high frame rate and the lack of glare lets you catch things in a moment, when even a couple of milliseconds could make all of the difference in the world.
This laptop also has very narrow bezels, which creates a pretty immersive experience. Unfortunately, that means that it comes with a major compromise, which is that the webcam is actually located on the bottom bezel, rather than the top one.
Normally, I'd say that it's not a big deal, as most consumers are using their smartphone for video chat these days. But for gaming, you might be streaming, something that's built into Windows 10 with Mixer now. If you're streaming, you just might be including a video feed, and sadly, that's a poor experience on this machine.
Naturally, if 1080p isn't enough for you, you can easily output to another monitor. The Legion Y740 does have Thunderbolt 3, which can power two 4K monitors, or you have HDMI 2.0 and Mini DisplayPort. The really good thing is that the RTX 2070 GPU can easily handle it.
Generally, when it comes to gaming laptops, you get a choice between 1080p at a high frame rate like 144Hz, or 4K at a lower frame rate like 60Hz. It's one of the only areas where I actually prefer 1080p, as the frame rate makes it worth it. There's no option for 4K on the Legion Y740, so if that's something that you want, you'll have to go elsewhere.
Keyboard and trackpad
The Legion Y740 has a standard Lenovo laptop keyboard. And when I say a Lenovo laptop keyboard, I mean it has the curved edges on the keys, which I think is great. It's not a mechanical keyboard like you'll find in some premium gaming laptops, but it gets the job done. Personally, I think it's a perfect combination of the ability to work and the ability to play.
One thing that I've always enjoyed about Lenovo's Legion laptops is that they offer that balance. I'm not going to buy a laptop that's exclusively for gaming. Most of us need to work on it as well.
Unlike the 17-inch model, there's no number pad. It does, however, have macro keys placed vertically to the left of the main keyboard. The keyboard ends up feeling shifted to the right as a result of this.
That row of keys also includes a screen recording button, which is great. I wish all PCs came with a screen recording button. Unlike previous generations of Legion though, it's using the Windows 10 Game Bar. Lenovo used to pack its own screen recording app, and that seems to be gone now. I do miss it, as I don't care for the limitations of the Game Bar screen recorder.
Interestingly, you can program the macro keys through the Lenovo Vantage app, but you need to use Corsair's iCUE software to control lighting. This is one thing I don't love about Corsair lighting. On top of the Lenovo Vantage app (required for most driver updates) and Nvidia's GeForce Experience (required for GeForce driver updates), there's now an additional piece of software that you have to use.
The trackpad below the keyboard is not clickable, just as you'd expect on a gaming laptop. You don't want a false click when you're using it. Naturally, there are two buttons underneath it. The trackpad isn't large by any means, and I think it would have been nice if it was a bit bigger for actual use in games.
Performance
Here's the meat of the matter. All of the design features and RGB lighting won't help if you don't have the performance. And this is the biggest improvement over the Legion Y730, which was only available with up to an Nvidia GeForce GTX 1050 Ti. The jump to RTX is significant, and this machine is available with up to a GeForce RTX 2070. It's one of the downsides of the 15-inch model, since the 17-inch one comes with a 2080.
Still, the RTX 2070 is pretty amazing. It supports the key features like ray tracing and deep learning super sampling (DLSS). Ray tracing is what it sounds like; it's tracing rays of light. This results in realistic shadows and reflections. DLSS uses machine learning for smoother graphics.
Unfortunately, there aren't a lot of games that support these features. My pick is always Battlefield V, since I'm not made of money and I can't just keep buying games to test out in hardware reviews. There are about a dozen games that support either feature, while there are others like Shadow of the Tomb Raider that are still waiting for them via a software update.
Here's some footage:
In short, graphics performance is awesome, and you'll see a noticeable difference in quality between this and a PC with Nvidia's previous flagship from the GeForce lineup, the GTX 1080.
While the RTX 2070 is certainly the headline, it also uses an Intel Core i7-8750H CPU, a 45W hexa-core chip with 12 threads. It's the same CPU that you'll find in most mainstream gaming laptops, and it's also the same that was in the Legion Y730. Again, this is all about the RTX refresh.
Along with games, I also used it for editing video. I've noticed - and it's the same as previous machines with RTX graphics - that rendering time really isn't improved in Adobe Premiere Pro. Nvidia has a new Creator Ready driver though which does seem to improve performance. Sadly, you do have to choose between Game Ready and Creator Ready, and you can't have the best of both worlds.
For benchmarks, I used PCMark 8 and PCMark 10. PCMark 8 provides three tests: Home, Creative, and Work. First up is Home, which checks common tasks like video chat, web browsing, and casual gaming.
As you can see, the numbers are quite good, beating 98% of other results. Next up is the Creative test, which checks GPU-intensive tasks like video editing and mainstream gaming.
Once again, the Legion Y740 smokes the competition. Of course, there aren't that many RTX PCs out in the wild yet, so this makes complete sense. Finally, the Work test focuses on productivity-related tasks like writing and spreadsheets.
Once again, the Legion Y740 did quite well. I also ran PCMark 10, which has an all-in-one test.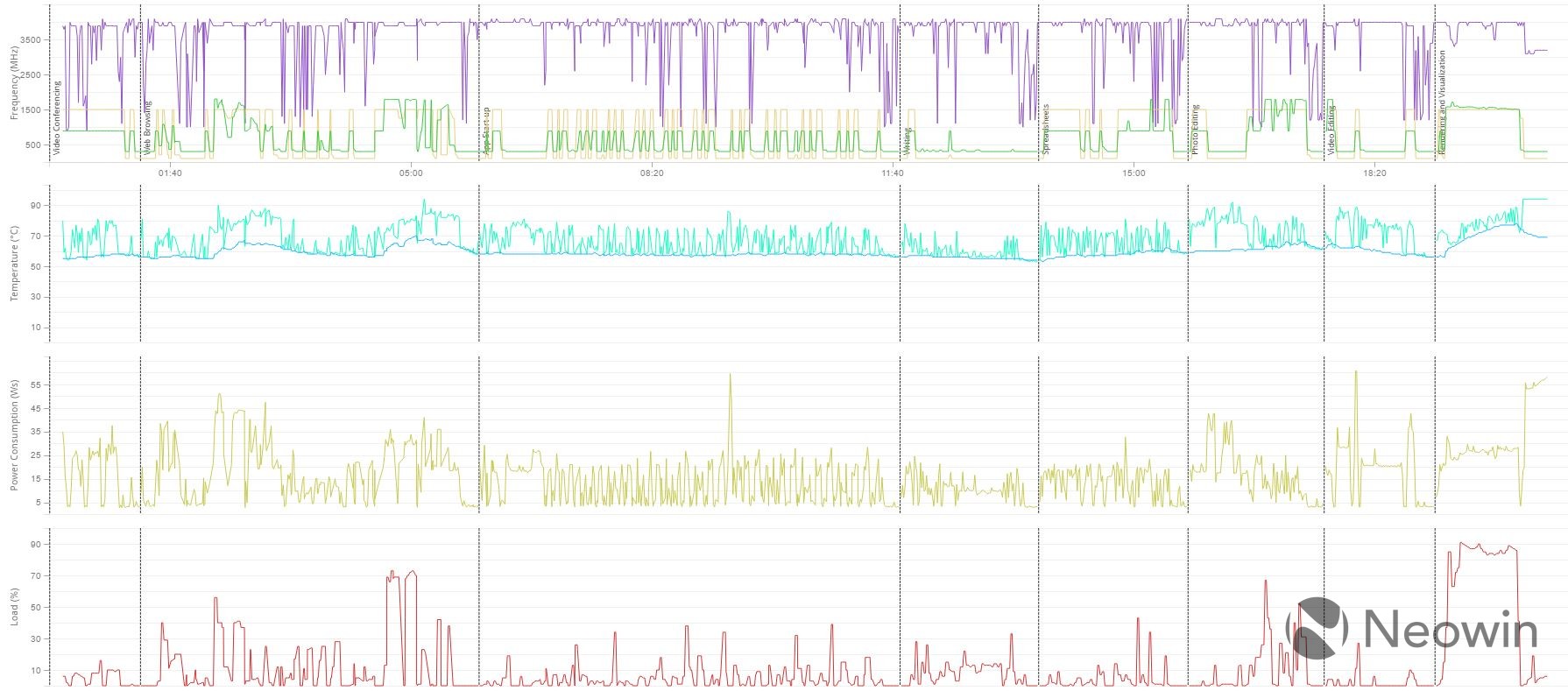 To be honest, if you're surprised at how well this machine did on benchmarks, then you weren't paying attention.
Conclusion
When I think of gaming PCs, I think of three categories: casual, mainstream, and premium. Casual gaming PCs are built for the person that doesn't game much, but wants to be able to if they want to. These people don't care about things like ray tracing and DLSS. Premium would be the best of the best, like the Alienware Area-51m, which actually has desktop parts. Premium gaming PCs also tend to include things like mechanical keyboards. They're built for those that care about gaming and nothing else.
The Lenovo Legion Y740 fits in the mainstream category, and to be clear, I would have put the Y730 in the casual category. It has the powerful internals that you want and need to be able to play high-end, graphics-intensive games. And what's really cool about RTX graphics is that we're seeing these incredible new features fall lower into the mainstream world.
There's a fair selection of gaming PCs with RTX graphics on the market now. What makes the Legion Y740 different is the design, which is something that I love. It's a stylish gaming PC that weighs in at less than five pounds. As far as powerful machines go, it's really easy to take on the go.
And at $1,729.99, you really can't beat it. For work and for play, the Lenovo Legion Y740 really has the potential to be your one device for everything.
Lenovo Legion Y740 15-inch
Pros
Performance Design RGB lighting 144Hz display Thin and light