Last year, I reviewed the second-generation Lenovo ThinkPad X1 Tablet. I gave it an 8/10, but while I loved the machine as a whole, it definitely had its shortcomings. Most notably, the performance of the Y-series processor was subpar, and the kickstand wasn't intuitive.
With the third-gen model, those things have been fixed, and it's been improved overall. The Tablet now uses full U-series processors, which puts it on par with an ultrabook. Lenovo has also enlarged the display, boosting it from last year's 2160x1440 12-inch screen to a 3000x2000 13-inch display.
All-in-all, Lenovo took one of the best Windows 10 tablets on the market and made it even better. Here's our review:
Specs
CPU
Intel Core i7-8650U (1.9 GHz)
GPU
Intel UHD Graphics 620
Display
13.0" QHD+ (3000 x 2000) IPS w/ Gorilla Glass 4
Body
Tablet only: 11.97" x 8.9"x 0.35"; 304.1 x 226 x 8.9mm, starting at 1.96lb (0.89kg)
Tablet + keyboard: 11.97" x 8.9" x 0.59"; 304.1 x 226 x 15.1mm, starting at 2.8lb (1.27kg)
Ports
(2) Thunderbolt 3, Type-C
(1) Microphone / Headphone Combo Jack
(1) Micro-SD Card Reader + Nano-SIM Card Slot
Storage
512GB SAMSUNG PM981 NVMe v1.2
RAM
8GB/16GB Soldered
Material
Magnesium/Aluminum
Battery
42Wh
Keyboard
Black Pogo Keyboard, Mylar surface touchpad, multi-touch, backlit
Price
Starting price: $1,269, this model: $1,754.10

Day one
Design
Not much has changed from last year in the ThinkPad X1 Tablet's design, except for pretty much everything. Indeed, at first glance, the tablet looks exactly the same, but when you look closer, quite a bit is different.
While last year's model was black, this one is blacker than black. That's right; Lenovo has darkened the shade of black that's used on its ThinkPad X1 models. There's also new branding that you'll find across the lineup. Instead of Lenovo branding, there's an X1 logo, and the ThinkPad logo is now a glossy black color instead of the old grayish-silver.
Probably the most notable change though, is the kickstand. Last year's kickstand was definitely a pain point, as it actually flipped down to stand up. This left the user with limited viewing angles, and it wasn't very lappable. The new kickstand is more similar to a Surface Pro, flipping out from the device.
The pen placement has changed as well. Rather than integrating a pen loop in the keyboard, there's now a holster that plugs into its own dedicated port on the left side of the device. This is one of very few pain points of the device for me, and the pen frequently falls out of its holster, and it blocks the volume rocker.
On the right side of the device, you'll find two Thunderbolt 3 ports toward the top, both of which can be used for charging. This is also different from last year's model, which had only one USB Type-C port, and a USB Type-A port. And on the very bottom of that side, there's a 3.5mm audio jack. Above the USB Type-C ports is a slot for a micro-SD card and a nano-SIM.
The SD/SIM card slot has its quirks as well. For one thing, you need a SIM tool to remove the tray, so you can't just pop micro-SD cards in there as you need to. Also, the SIM card part of it exists on all models, even if you didn't order the one with cellular connectivity. This is common for ThinkPads, as it's just part of the chassis.
Display
This year's display is both larger and has a higher pixel density than last year. It comes in at 13 inches with a 3000x2000 resolution, and if it's not obvious, that means that it has a 3:2 aspect ratio.
Personally, I prefer the wider 16:9 aspect ratio, as it makes it a little more comfortable for split view apps, but 3:2 does make sense for a tablet, since it might be used in a portrait orientation. Still, for someone like me, I'd take the convertible form factor of the ThinkPad X1 Yoga, but of course, everyone has different needs.
It's much sharper than last year's 2160x1440 model, and it supports HDR. That means that when you stream video, the color and contrast will change dynamically according to the file's metadata.
There's really not much else to say about the screen. Obviously, it supports 10-point multitouch (after all, it's a tablet), and it has pen support.
Keyboard
With the exception of the pen loop, the keyboard is just like last year's, and it's wonderful. Personally, I'd say that it's the best tablet keyboard out there. The only issue, which is commonly noted when it comes to ThinkPad keyboards, is that the Ctrl and Fn keys are reversed from where they'd be on any other keyboard.
But it's a full keyboard, and the keys travel a full 1.5mm, which is pretty standard. It also feels sturdier than the average keyboard that attaches to a tablet, such as Microsoft's Type Cover for the Surface Pro.
It always seems to be that ThinkPad keyboards are the most comfortable to type on, and this is one of few tablets that I can actually deal with for typing articles. The palm rest area is comfortable, and the keys are quiet, rather than having that rattly feeling that you get from other attachable keyboards.
And of course, there's a TrackPoint between the G, H, and B keys, which is common in ThinkPads and some other business laptops. There's a full ThinkPad trackpad too, which has three physical buttons above it. The left and the right are for left- and right-clicks, while the center is for scrolling. These are particularly useful if you make use of the TrackPoint.
One small thing that's notable about the keyboard cover is that it magnetically attaches to the device. That means that it won't just flop open like a Type Cover does. And this is one of my favorite things about ThinkPads. There are these minor pain points about other devices that Lenovo takes the time to solve.
The keyboard attachment is definitely one of the value propositions of the Lenovo ThinkPad X1 Tablet. It's one of the things that makes it stand out above the rest.
ThinkPad Pen Pro
Just as you'd expect from any premium Windows 10 tablet, it does have pen support, and it does come with the pen, called the ThinkPad Pen Pro. It supports tilt and 4,096 levels of pressure sensitivity.
Ever since mid-2016, Microsoft has been adding pen features to Windows 10. Called Windows Ink, you can use the pen to draw, take handwritten notes, mark up PDFs, draw on photos, map out routes in Maps, and more. If any of these things sound appealing to you, then you might want to be looking at this tablet form factor.
Personally, I like to take handwritten notes at events, so tablets are perfect. 360-degree convertibles work for this as well, but they're usually heavier and bulkier. For this, you really want to take a look at what your primary purpose for buying the device is. If it's drawing first and laptop second, then get a tablet. If it's the opposite, then get a convertible.
Another thing that's nice about the pen is that it's rechargeable. Some pens require a AAAA battery, and that's a real pain when they run out. It's not like AAAA batteries are as common as AA or AAA batteries. Also, with a Bluetooth connection, there's an LED light to let you know when the pen is far away from the X1 Tablet.
This is a great feature, because it is so easy to lose this pen. As I mentioned earlier, I'm not a fan of the device's new pen holster, as it frequently falls out in my bag.
Alexa support
Earlier this year alongside of three other OEMs, Lenovo announced that it's bringing Alexa support to some of its new PCs. Since then, I've reviewed three Lenovo PCs that promise the feature: the ThinkPad X1 Carbon, ThinkPad X1 Yoga, and Yoga 730. Sadly though, Lenovo hadn't released Alexa for those devices at the time that I reviewed them, and that's still the case with the X1 Tablet.
However, Alexa is rolling out to the X1 Carbon now, so other devices like the X1 Tablet should get it soon enough. But sadly, I've still not been able to test Amazon's voice assistant on a Windows 10 PC.
What's worth noting is that the Lenovo ThinkPad X1 Tablet does have far-field voice microphones, which can be used for either Alexa or Microsoft's own Cortana. You'll be able to call the wake word for the one you want, and that's the one that will launch.
Once it's available, you'll be able to download Alexa through the Lenovo Vantage application.
Performance
Performance is the single greatest improvement over last year's ThinkPad X1 Tablet. Last year, we saw Intel's 4.5W Y-series processors, which is the rebranded Core M lineup. This year, the device includes 15W U-series processors, bringing it up to par with an ultrabook.
This year's U-series processors are quad-core for the first time; previous generations were dual-core. This results in between 30% and 44% performance increases, depending on your workload. For example, the extra cores/threads are great for running virtual machines in Hyper-V. This also puts it far above Microsoft's own Surface Pro, which is still running the dual-core seventh-gen CPUs.
Obviously, there are no dedicated graphics in it, so you're getting the integrated Intel UHD Graphics 620. This shares system memory instead of having its own dedicated memory. Of course, this is all pretty standard for a tablet.
This all means that this PC is engineered for productivity. If it's not entirely obvious, this isn't a gaming rig, and if you're looking to do video editing, you'll want to check out something with a dedicated GPU. If your work mainly goes through Microsoft Office, a web browser, and software that uses similar resources, this is the type of hardware that will work for you.
For benchmarks, I used PCMark 8, which offers three tests: Home, Creative, and Work. First up is Home, which checks common tasks like web browsing, video chat, casual gaming, and more.
As you can see, the ThinkPad X1 Tablet is pretty standard on the Home test, and that's good. Remember that this is a tablet form factor that's performing on par with a laptop. Next up is Creative, which tests more GPU-intensive tasks like video editing, mainstream gaming, and more.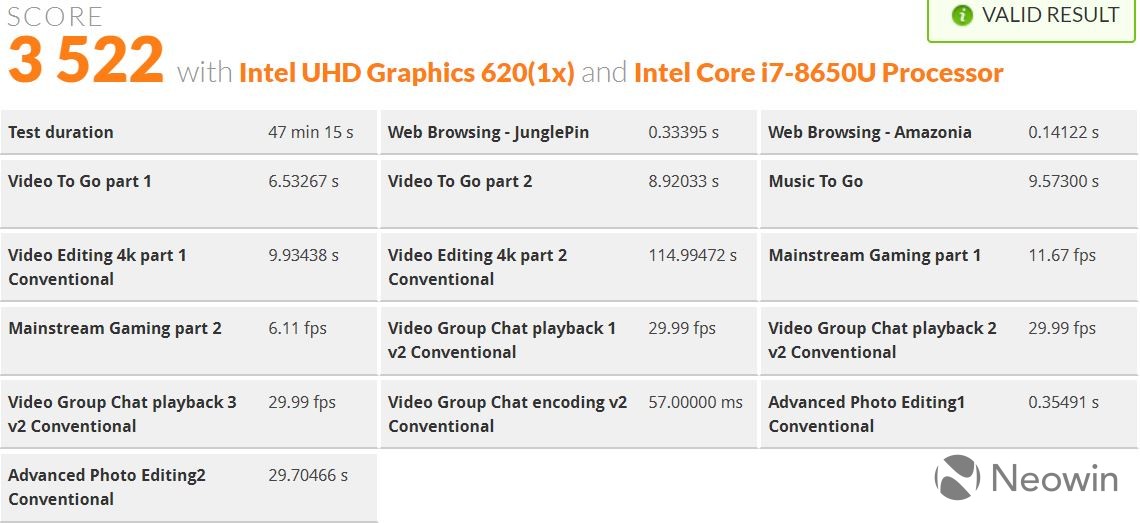 The ThinkPad X1 Tablet scored better than 64% of other machines, which is much better than I'd have expected. The final test is Work, which tests productivity-related tasks like writing and spreadsheets.
As you can see, the ThinkPad X1 Tablet comes in at better than 80% of all results. As I mentioned earlier, this machine is engineered with productivity in mind, so it was no surprise to me.
Conclusion
As is always the case with a ThinkPad X1 PC, I think that the Tablet is best in its class. It finally has a proper kickstand and a proper CPU for it to compete with the big boys. The most notable Windows 10 tablet on the market is probably Microsoft's Surface Pro, and the ThinkPad X1 Tablet outperforms that, and it has a better keyboard too. I can't even think of a reason to get a Surface over this machine.
The only real downsides are pretty minor. The pen holster doesn't work that well (although it gets a point for not using up a port), and the Ctrl and Fn keys are reversed from other keyboards.
But while I consider the ThinkPad X1 PCs to be best in class, you have to decide which class is for you. The ThinkPad X1 Carbon is a clamshell laptop, and it's super thin and light. Slightly heavier than an X1 Carbon, the X1 Yoga is a 360-degree convertible with retractable keys and a pen that's built into the device. For my personal use case, that's the perfect machine, but it's a laptop first.
If you want a tablet first, then you have the X1 Tablet, and I really think it's the best you can buy. It also works if you want the functionality of the X1 Yoga, but you want something that's much lighter.
ThinkPad X1 PCs tend to be a bit on the expensive side, but they're worth it. The Lenovo ThinkPad X1 Tablet is definitely worth the price.
Pros
Larger HDR display U-series processor Design, new kickstand Performance Keyboard
Cons
Pen holster Reversed Ctrl + Fn keys