When Lenovo announced its new Yoga C940 at IFA this year, it was a sure winner. It takes the best of last year's Yoga C930 and combines it with the best of this year's S940 clamshell.
It keeps those features that I really loved last year, like the rotating Dolby Atmos soundbar in the hinge, and the built-in pen. And it shares the design language of the IdeaPad S940, packing the reverse notch, which doesn't really serve a purpose anymore other than to provide an easier way of lifting the lid.
This is also the first 15-inch convertible to come out of the Yoga 900 series, and it packs a punch. This machine has a 45W Intel H-series processor, along with an Nvidia GeForce GTX 1650 GPU. Indeed, it's the rare powerful convertible, something that's also seen in the HP Spectre x360 15, and in very few other places.
Specs
CPU
Intel Core i7-9750H (6C / 12T, 2.6 / 4.5GHz, 12MB)
GPU
NVIDIA GeForce GTX 1650 Max-Q 4GB GDDR5
Body
355.5x238.5x17.5-19.7mm (13.99x9.39x0.69-0.78"), 2.04kg (4.41lbs)
Display
15.6" FHD (1920x1080) IPS, HDR400, 500 nits
Memory
16GB soldered DDR4-2666
Storage
32GB Optane Memory integrated with 512GB SSD M.2 2280
Ports
(2) USB Type-C (Thunderbolt 3, Power Delivery, DisplayPort)
(1) USB 3.1 Type-A Gen 1
Headphone/Mic combo
Wi-Fi and Bluetooth
802.11ax, 2x2, Wi-Fi + Bluetooth 5.0, M.2 Card
Camera
720p HD Fixed-Focus CMOS Camera
Audio
Four speakers with Dolby Atmos certification, 2W x 4, dual-array microphone
Battery
69Wh
Material
Aluminum
Color
Iron Gray
OS
Windows 10 Home
Price
$1,824.99

It's worth noting that you can actually configure this PC with a Core i9-9880H, which is kind of wild. Even HP's Spectre x360 15 doesn't have that kind of offering, and I'm not sure there are any convertibles that do.
Day one
Design
The Lenovo Yoga C940 looks pretty much the same as the C930 did, being built out of aluminum and coming in the Iron Gray color. Of course, the 15-inch model is a bit bigger, a bit thicker, and a bit heavier. This thing weighs 4.41 pounds, and that's what you get with powerful internals like this, which also require better thermals and a bigger battery. Note that the 14-inch model is almost a pound and a half lighter, although it has a 15W quad-core processor and no discrete graphics.
The lid has a black Yoga logo stamped on the top-left, and there isn't anything else, even a Lenovo logo. Not that this matters at all, but I'd rather see at least a silver Yoga logo, something to add a bit of sexy to it. I also really like the design of the ThinkPad X1 Yoga, so Lenovo can do aluminum laptops that look pretty on the outside. I just feel like the design could use a bit more spice.
On the back of the device, you'll see the rotating soundbar on the hinge. The other sides are flat with angled edges.
On the left side, there's a power port, a 3.5mm audio jack, and two Thunderbolt 3 ports. Indeed, it does not come with a USB Type-C charger. Being that this is a powerful machine, it takes a 135W charger, and that's too much for USB Type-C. Dell does make a 130W USB Type-C charger, but it's the only one that does it. Luckily, if you buy that charger from Dell, you can use it to charge the C940.
On the other side, you'll find the power button all the way toward the back, and a single USB 3.1 Gen 1 Type-A port. It's a bit strange that it uses the 5Gbps USB 3.1 Gen 1, as the 14-inch model has a USB 3.1 Gen 2 Type-A port, which gets 10Gbps. What's also strange is that Lenovo.com lists this machine as using USB 3.1 Gen 2; however, both the reviewer's guide and the marking on the port itself show it as Gen 1.
Another thing that you'll find on the right side of the PC is the pen garage. Yes, like last year's C930, this year's model has a pen that's built right into the device. There's no worrying about a magnetically attached pen falling off in your bag, or a pen loop getting in your way. It's just there when you need it, and it charges while you're not using it. Naturally, this does mean that the pen will be a bit smaller than a standard one, but you can always pick up a Wacom pen if you need to.
Display and audio
The model that Lenovo sent me includes a 15.6-inch 1080p display, although it's offered at 4K resolution. Other than the resolution, the screens are the same, both supporting Dolby Vision HDR400 at 500 nits.
Dolby Vision is one of those things that you want in a display. In fact, with any screen, HDR, color, and contrast are way more important then the resolution. Dolby Vision decodes the 12-bit PQ signal from a supported video, producing the content in the widest range of color possible, providing the most accurate colors, as long as you're playing supported content.
But while that's all more important than the resolution, I do think that you'll want the 4K model. 1080p just doesn't cut it for me on a 15.6-inch laptop. There's definitely a fair bit of pixelation when using it. Naturally, that means that you'll be sacrificing battery life.
I'm also a bit disappointed that there's no OLED option. 15.6-inch OLED panels are becoming increasingly common, and they've recently been introduced in Lenovo's entire range of 15.6-inch ThinkPads. The main reason I point this out though is because this PC is pretty much the ultimate media machine.
Aside from the Dolby Vision display, it has a Dolby Atmos soundbar. If this isn't the best audio on a laptop, it's easily close. It's a rare combination of a speaker that gets super loud, but it's also crystal clear. If you're streaming media on it, you get a great display and killer speakers, and it makes for a phenomenal experience.
As mentioned above, it follows the same design as the Yoga S940 (IdeaPad S940 in the U.S.), and it has a reverse notch above the screen. What's strange here is that it only seems to serve as a way to more easily open the lid. The Yoga S940 had that area packed with sensors and an IR camera. Those aren't included in this PC. And I don't think that the top bezel is small enough to where that reverse notch is needed to fit it.
Another thing that the C940 doesn't borrow from the S940 is the curved-edge glass. This was a really nice touch on the S940, so I was sad to see it omitted from the C940.
Keyboard and trackpad
Like many 15.6-inch laptops, the Yoga C940 includes a number pad to the right of the alphabetical keys. The keys are shallower than what you'd find on a ThinkPad. Indeed, Lenovo's consumer laptop keyboards are a more modern approach.
I really think that this is the best approach these days. The keyboard feels very comfortable to type on, and it's comfortable to type on. Lenovo is really good at making keyboards, and I've never had a truly bad experience with one as I have with pretty much every other manufacturer.
I've typed a lot of articles on this machine, and I never got tired of it. Aside from the great keyboard, the big screen makes it great for productivity. And of course, it's a convertible with pen support, so there's a wide range of use cases.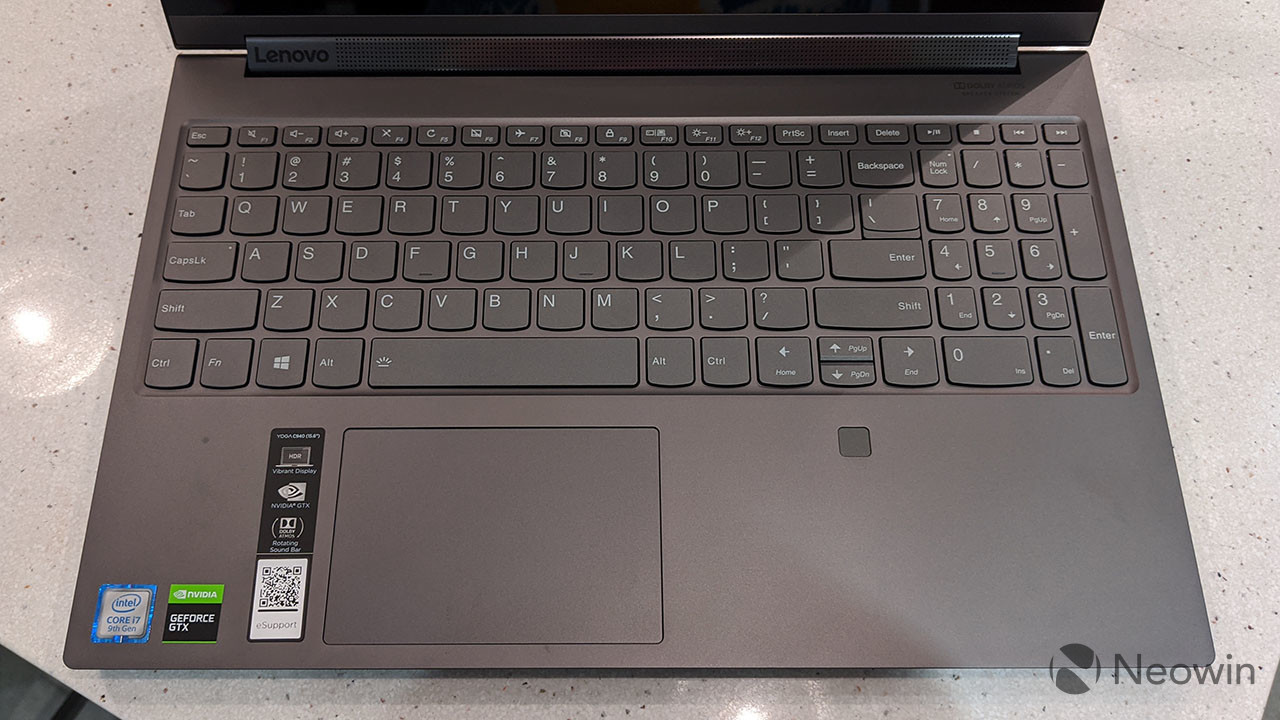 The trackpad uses Microsoft Precision drivers, so it's responsive and accurate. It's aligned to the left, rather than in the center. Again, this is common for devices like this. You'll also find a fingerprint sensor to the right of it, and that's your only method for Windows Hello biometric authentication, since there's no IR camera.
Performance and battery life
The performance on the Lenovo Yoga C940 15 is awesome, possibly the best of any consumer convertible. As I noted above, it's the only one I know of that offers a Core i9-9880H, a vPro chip with a 45W TDP, eight cores, and 16 threads.
This one includes a Core i7-9750H, also a 45W chip but with six cores and 12 threads. The H-series is what you'll find in gaming laptops and mobile workstations, so it's pretty powerful. And of course, there's the dedicated GPU, the Nvidia GeForce GTX 1650, which is built on the Turing architecture.
You can use the Lenovo Yoga C940 15 for just about anything. You can play games on it, edit video on it, or use it for general productivity tasks. Since it's a convertible, you can use it as a tablet, and use the pen to draw, take handwritten notes, and so on. It's powerful enough to handle Adobe CC, using tablet-centric interfaces in the various apps that support it.
That power affects the battery life, of course, but the battery life on this machine was weirdly good. I got a solid six hours of general use out of it, and in some cases, I could stretch it to eight hours. Lenovo lists the 4K UHD model as getting about three quarters the battery life of this, which is still pretty good. But make no mistake, the higher resolution will affect battery life.
I did have a few strange software issues, which I assume will eventually be fixed with software updates. I was completely unable to install Nvidia GeForce driver updates. Lenovo ended up sending me a new model because I had a touchscreen issue with the first one, and I still couldn't install an Nvidia update on the new one. Windows 10 cumulative updates wouldn't install either, oddly enough.
For benchmarks, I ran PCMark 8, PCMark 10, 3DMark, and VRMark. There's only one VRMark test since it didn't hit the minimum frame rate, so there wasn't much sense in running the more advanced tests.
| | |
| --- | --- |
| PCMark 8: Home | PCMark 8: Creative |
| | |
| | |
| PCMark 8: Work | PCMark 10 |
| | |
| | |
| 3DMark: Time Spy | VRMark: Orange Room |
| | |
| | |

As I noted above, this is a powerful machine. That's why I ran 3DMark and VRMark, which I don't run on ultrabooks as they always come in at the 1% mark. It's not a VR machine though. If you're serious about gaming, you'll still want a gaming PC. If you're serious about video editing, you should look for more powerful dedicated graphics. This is better for an all-around solution.
Conclusion
The Lenovo Yoga C940 15 is sort of the ultimate PC. It's great for streaming media, with a solid display and amazing speakers. It has the power to do what you need to do, from productivity, to editing video, to gaming. And it's a convertible, meaning that you can use it in a wide range of form factors, such as as a tablet, where you can use the pen to draw, take handwritten notes, mark up photos, and more.
That's not to say that I don't have any issues with it though. Software issues were one thing, but I look at that as a temporary problem. I do find it irritating that a premium PC in 2019 could ship without an IR camera for facial recognition, and of course, I'm disappointed that there's no OLED option in a market where 15.6-inch OLED displays are becoming common and when this is already such an amazing media consumption machine. When something gets to be so good at consuming media, the lack of an OLED option becomes a blemish.
But again, this PC is amazing all-around. Just the sheer versatility of it is fantastic. It has this diversity of things that it's good at that make it a delight to use. It gets the job done, no matter what the job is.
If you want to check out the Yoga C940 15, you can find it on Lenovo.com here.
Pros
Core i9 option Dolby Atmos audio Dolby Vision screen Built-in pen Performance and versatility
Cons
No IR camera Software issues No OLED option