Typically, LG refreshes its G-series in the spring and its V-series in the fall, but the Korean firm switched it up this year. At Mobile World Congress, the company announced both the G8 ThinQ and the V50 ThinQ. This left LG's lineup in an awkward position, as neither handset was a superset of the other.
But I'm here to tell you that the V50 ThinQ is the better device, and it's a real shame since it's a lot more limited. The V50 is a 5G smartphone, so it's limited to where you can get 5G. Interestingly, it's also the only 5G smartphone that isn't just a variant of an existing 4G handset. It's a shame too, because this is what the G8 should have been. If LG had stripped the Snapdragon X50 5G modem out of it and made a non-5G model, this would be a great mass-market device.
It also has a great triple-camera system, a glass design with no camera bump, and a solid OLED display. I kind of love it.
Specs
| | |
| --- | --- |
| CPU | Qualcomm Snapdragon 855, 2.84GHz Kryo 485, tri-core 2.42GHz Kryo 485, 4x 1.78GHz Kryo 485 |
| GPU | Adreno 640 |
| Body | 159.2x76.1x8.3mm (6.27x3.00x0.33in), 183g (6.46oz) |
| Display | 6.4 inches, 1440x3120, 19.5:9, 538ppi, P-OLED |
| Camera | 12MP + 12MP + 16MP, Front - 8MP + 5MP |
| Aperture | f/1.5 + f/2.4 + f/1.9, Front - f/1.9 + f/2.2 |
| Video | 4K - 60fps, Front - 1080p - 60fps |
| Camera features | Ultra-wide lens, 2x zoom lens, HDR10 video, portrait mode video |
| Storage | 128GB, microSD expansion |
| RAM | 6GB |
| Battery | 4,000mAh |
| Color | Aurora Black |
| OS | Android 9.0 Pie |
| Price | $999.99 |

Day one
Design
One thing that I really want to give LG credit for here is that there's no camera bump, just like on the G8 ThinQ. Five years ago when Apple made the iPhone 6, everyone was upset about camera bumps, and it seems like those same people forgot about that battle. The back of the LG V50 ThinQ is completely smooth over the camera, and that's appreciated.
Of course, if you put a case on it, the whole point is moot anyway. and the downside to not using a case is that it's a particularly slippery phone, being a glossy glass sandwich, and being smooth on the entire back except for slight depressions for the flash and fingerprint sensor. One thing I'd like to see in the next generation is a matte glass back, which still retains the smooth finish for the camera.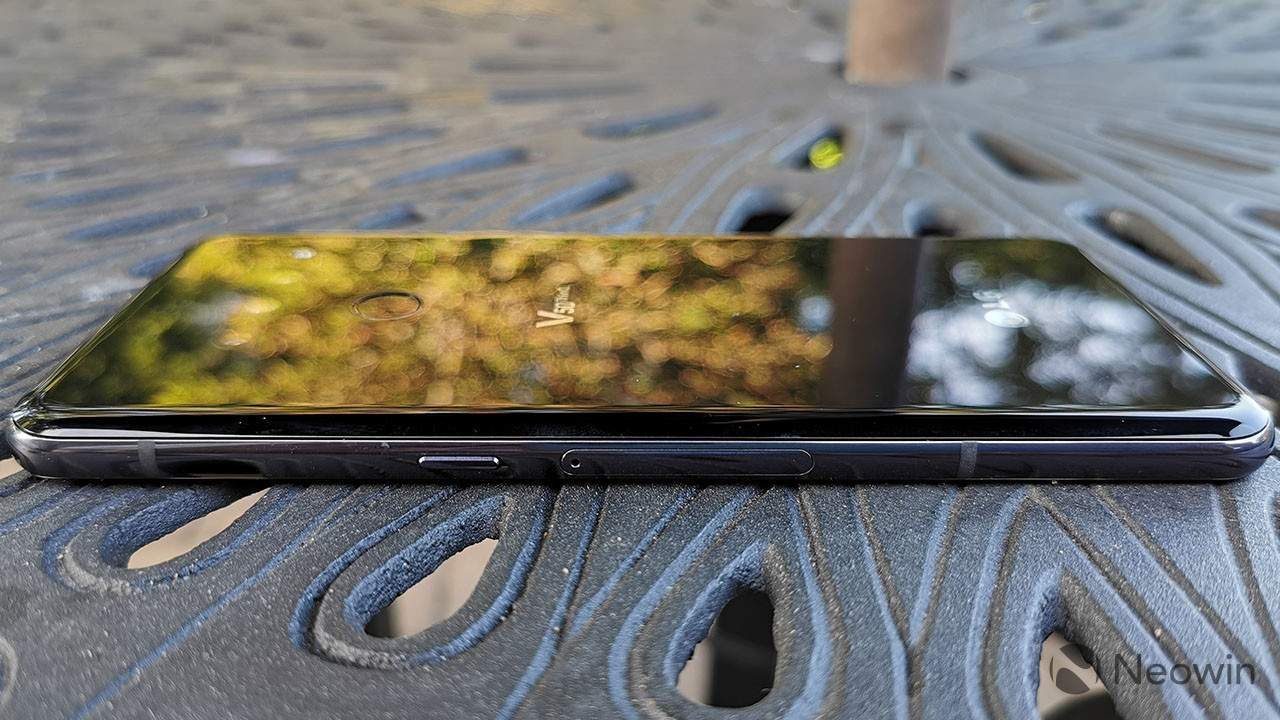 Underneath the camera module is a dedicated fingerprint sensor, which is in the same spot that it's been in for years. Actually, it's in the same spot it's been in since before LG used fingerprint sensors, and there was a power button back there. The power button was moved to the right side of the phone a few years ago, with LG opting to add a button rather than have the fingerprint sensor double as a button.
On the left side of the handset, you'll find a volume rocker, and below that, a dedicated Google Assistant button. Indeed, this is another button that's entirely unnecessary, but adding a dedicated digital assistant button seems to be the trend. I have to wonder if these companies have telemetry showing that people are actually using these buttons.
On the bottom, you'll find a USB Type-C port for charging, along with a 3.5mm audio jack. Not only is LG one of the last companies to still offer a headphone jack, but it's the best headphone jack around in a smartphone. LG uses a 32-bit Hi-Fi Quad DAC (digital to analog converter), and you can hear the difference. It doesn't even matter what kind of headphones you use; you'll hear a difference between the V50 ThinQ and another headphone jack. You can also toggle the feature on and off to hear the difference.
One other thing about the design of the phone is that there's a 5G logo on the back that glows while the handset is unlocked or while it's charging. It seems somewhat unnecessary to me, but this was one of the first 5G phones to ever be available to the general public, so it's still cool to see.
Display
The LG V50 ThinQ includes a 6.4-inch 1440p P-OLED display, and it's pretty sweet. The colors are accurate, but they're also more vibrant than they'd be on an LCD. Being OLED, you get true blacks, and colors rendered on top of that aren't as washed out as they'd be on top of a backlight. If you don't like the color temperature though, LG gives you the option to change it with various "comfort view" settings.
Also, 5G branding is all over this device. It's not just the glowing logo on the back. By default, the always-on display has a big 5G logo in Sprint yellow, and there's also a 5G logo animation that you'll see when you unlock the phone, before it goes to the actual wallpaper. Naturally, you can change all of this.
The always-on display is pretty nice though. For one thing, it's actually always-on. Some devices have the ambient display go on and off periodically, or they only show it when you raise the device.
The V50 ThinQ uses curved glass on the side bezels, but not on the display itself. The actual display is flat, so if you're like me and you don't like curved-edge displays, you're good with this handset. The bezels are still narrow, in an age when even thin bezels will be criticized. There's a bit more of a chin, and of course, there's a notch on top that houses the two front-facing cameras and the speaker.
I think the notch is fine, with companies like Apple and Google using much more intrusive notches. It's worth noting that other companies like Samsung, Huawei, and OnePlus have found ways of eliminating it altogether. For example, Huawei started using hole-punch cut-outs in its displays, and Samsung followed suit. OnePlus has a pop-up camera in the 7 Pro, and plenty of devices have smaller, tear-drop notches.
Camera
The LG V50 ThinQ has three camera lenses: a 12MP f/1.5 standard lens, a 12MP f/2.4 2x zoom lens, and a 16MP f/1.9 wide-angle lens. It's worth noting that the G8 ThinQ only has two lenses, unless you have the Korean model. It's a shame too, in a world where three lenses is the standard for a premium smartphone.
The camera has a lot of key features that some other phones don't have. For example, it has 4K 60fps video capture, something that Huawei's flagships have been lacking until now. Apple and Qualcomm-based phones have supported it for a couple of years now. It also supports portrait mode video capture. That, I think, still requires a bit of work to get just right. Portrait mode video works fine unless the subject is moving around a lot, something that tends to happen in videos.
LG's AI Cam feature is still there, although it's not enabled by default anymore. That's the feature that's meant to detect what the camera is looking at, and adjust settings accordingly. For example, it will see that you're taking a picture of food, of your pet, and so on.
Let's look at some samples:
There's also a night mode, something that's becoming increasingly popular in smartphone cameras. It works a bit differently though. Rather than having you sit in one spot for a few seconds while it collects light, it seems to adjust things like shutter speed and ISO sensitivity. Unlike other night modes, you can adjust the brightness of the image before you take it, and it adjusts the viewfinder accordingly.
Video stabilization is pretty good, and you can swap between lenses while recording. Here's a sample at 1080p.
You'll see that the stabilization isn't as good with 4K video recording, and you also don't have the option to switch between lenses. Here's a sample at 4K 60fps:
I do appreciate the ability to record 4K 60fps video though, as I like not having to choose between a high resolution and a high frame rate. But of course, the higher up you go, the fewer features you get. Stabilization is always better at lower resolutions because EIS just works with the pixels it has, and portrait mode video doesn't work at 4K or 60fps. HDR, however, does work with all resolutions and frame rates.
Sprint's 5G
The reason that I'm testing out the LG V50 ThinQ now is because Sprint recently launched its 5G network in New York City, so I finally have a place to test out 5G. And my impressions are, well, it's OK. It's faster than what we had before, and that's what matters. This is more of a beginning of something bigger.
Sprint is using Massive MIMO for a Sub-6GHz rollout. What that means for users is that it's not as fast as Verizon's millimeter wave (mmWave) rollout, but it's more widespread. The main thing about mmWave is that it's super-fast, with gigabit speeds, but it can be blocked with something as simple as a piece of paper or a leaf from a tree. Millimeter waves will probably never work indoors.
That's where Sub-6 5G comes in. I didn't find that I'd lose my 5G signal if I walked a few feet; in fact, it was pretty good. The best speed I got in my walk from the World Trade Center up to Bryant Park on 40th St was 235Mbps, right outside of Penn Station.
Ultimately, the goal is to have a network with both Sub-6 and mmWave, and a modem that supports different bands. 5G just isn't there yet. T-Mobile is currently doing a mmWave rollout though, so if the two carriers merge like they're supposed to, it could make for a pretty robust 5G service.
But like when I reviewed the OnePlus 7 Pro 5G, my general impression is that it's a service that's faster than it was last year, and not as fast as it will be next year. And to be honest, that's almost always true.
Performance and battery life
Both the performance and the battery life are just fine on the LG V50 ThinQ. The V50 uses Qualcomm's latest flagship chipset, the Snapdragon 855. That means that it gets the job done. After all, a flagship chipset means it's the top of the line; there's nothing above this. And 6GB of RAM is plenty in the real world.
It has a 4,000mAh battery, which will get you through the day and then some. I'm the kind of guy that starts looking for a charger around 50% (yes, real-world battery tests kill me), and at the end of the day, I'd almost always still be around 35%. The only time that I really blew through the battery was in my walk through NYC testing 5G, but I was also running a speed test every five or 10 minutes. And when I say I blew through the battery, I mean that it was around 40% after a few hours of testing.
In real-world usage, you'll do just fine with the V50 ThinQ. The only thing that's absolutely terrible is LG's software. It seems to just keep getting worse. There's constantly a pop-up that's trying to tell you to do something, or there's a notification to let you know about some feature or another. I got it LG, I know how to use a smartphone.
The nice thing about Android is that most of these problems are pretty easily solved by installing your own launcher, keyboard, and so on. And yes, I despise LG's stock keyboard.
I'll just say this. LG has made the bottom of my list of Android skins. I'll take Samsung's One UI or Huawei's EMUI over this. EMUI might be bloated, but at least it works.
For benchmarks, I used Geekbench 4, Geekbench 5, AnTuTu, and GFXBench. For now, I'm using both Geekbench 4 and 5 just to compare to previous devices. Eventually, I'll phase out the older version in my reviews. First up is Geekbench 4, which tests the CPU.
The results are on par with any Snapdragon 855 device. The Galaxy S10+ got 3,520 on single-core and 11,177 on multi-core. The iPhone XS Max, on the other hand, got 4,798 on single-core and 10,731 on multi-core. Next up is Geekbench 5, which is a newer version of the same test.
It feels like new versions of Geekbench just exist to lower the scores as new hardware gets faster and faster. Anyway, for comparison, the iPhone 11 Pro gets 1,338 on single-core and 3,567 on multi-core. That's to be expected, since phones with Qualcomm's new chips launch in the spring and iPhones launch in the fall. Next spring, Qualcomm will undoubtedly jump ahead of Apple again.
Next up is AnTuTu, which is an all-in-one test.
Interestingly, the Galaxy S10+ scored 357,611, beating out the LG in the CPU, UX, and memory departments. The OnePlus 7 Pro actually scored 375,113, with its faster UFS 3.0 storage. Finally, GFXBench tests the GPU.
Conclusion
All-in-all, the LG V50 ThinQ is a pretty great phone, particularly if you're in a place that supports 5G. While it launched as a Sprint exclusive, it's available on Verizon now as well. But if you still can't get 5G, as most people can't, this is still a good phone, although I don't know if it's good enough to justify the $999 price tag.
The main thing that I absolutely hate is LG's software. Seriously, give me literally anything else. That's the biggest con to this device.
Aside from that, you've got a powerful smartphone with a solid OLED display, a great triple-lens camera with some impressive video capture capabilities, and a headphone jack. And it's not just any headphone jack; it's LG's 32-bit Hi-Fi Quad DAC, so the headphone audio experience is awesome.
If you want to check out the LG V50 ThinQ, you can find it here.
Pros
No camera bump Awesome headphone jack P-OLED display Triple-lens camera Performance/battery life
Cons
5G is still immature Terrible software