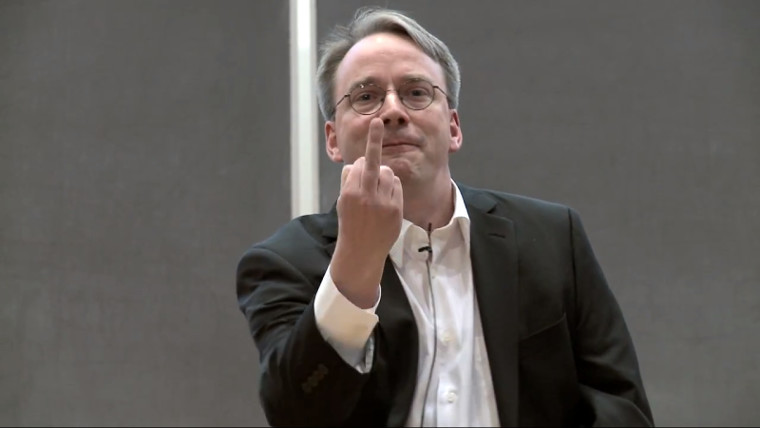 Linus Torvalds is the biggest man in the Linux community. But he is also popular for being perhaps one of the most outspoken in the entire tech landscape. To add to the feathers in his hat, Torvalds today asked a man to "SHUT THE HELL UP".
On 19th April, a thread called "Maintainers / Kernel Summit 2021 planning kick-off" was started to talk about the yearly Maintainers and Kernel Summit for 2021. When the discussion strayed towards COVID-19 vaccination, one of the posters named Enrico Weigelt alleged that the ongoing vaccination drive is, in reality, a "generic human experiment that basically creates a new humanoid race".
Here's what Enrico Weigelt wrote:
And I know *a lot* of people who will never take part in this generic human experiment that basically creates a new humanoid race (people who generate and exhaust the toxic spike proteine (sic), whose gene sequence doesn't look quote natural).
Clearly unamused by this humanoid conspiracy theory and also on its discussion in a Linux kernel topic thread, Torvalds weighed in quite heavily with some very strong language mixed with some biology lessons for the person. Here are parts of what Linus wrote:
Please keep your insane and technically incorrect anti-vax comments to yourself.

You don't know what you are talking about, you don't know what mRNA
is, and you're spreading idiotic lies. Maybe you do so unwittingly,
because of bad education. Maybe you do so because you've talked to
"experts" or watched youtube videos by charlatans that don't know what
they are talking about.

But dammit, regardless of where you have gotten your mis-information
from, any Linux kernel discussion list isn't going to have your
idiotic drivel pass uncontested from me.

[...] Get vaccinated. Stop believing the anti-vax lies.

And if you insist on believing in the crazy conspiracy theories, at
least SHUT THE HELL UP about it on Linux kernel discussion lists.
You can find Linus Torvalds' full response in the source link below.