Microsoft introduced a public beta of Office 2010 today. Neowin has taken a look at Office 2010 and we have pulled out our favourite new features. Check them out below.
Embed, edit and manage videos within PowerPoint 2010
PowerPoint 2010 now allows you to easily insert local videos and web videos. New features include video trim which allows you to cut down your video without a third party application. With video tools you can apply fades, set video effects and styles and also set a preview image for your video. PowerPoint will also compress your media for improved playback in presentations. Supported formats include:
AVI
WMV
WMA
MP3
MOV
H.264
DirectShow codecs can also be installed to extend codec support.
New text effects in Word 2010
Microsoft has improved the text effects in Word 2010. You can now apply text effects to document text, allowing you to edit and spell check text and even add text effects to paragraph, character, list, or table styles. Several different effects (similar to the WordArt in previous versions of Office) are available including glow, bevels and custom shadows.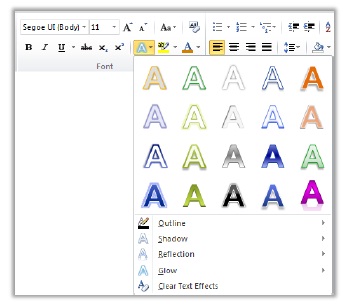 Customize the Ribbon
Microsoft is now allowing users of Office 2010 to fully customize the Ribbon, adding the ability to customize or create your own tabs on the Ribbon. The Ribbon also provides contextual tabs, for example, when you select a picture in Word a contextual tab will appear on the Ribbon allowing you to edit or format the picture.
Office Backstage
Microsoft ditched the "Orb" style from Office 2007 and decided to go back to the 'File' menu in Office 2010. The main reason behind this decision was users constantly asked IT departments and support lines "where's the file menu?" The file tab gives you access to Backstage with a variety of tools that were previously spread across different locations. Print preview is now combined into the print tab to make it easier for users to print. Businesses are able to extend Backstage and add extra options to Backstage.
Preview options before you paste
Paste options now provides a preview of what content is being pasted into Office 2010. The ability to see what you are pasting in prevents users from using the undo feature of Office which is used most frequently out of all options.
OneNote 2010 improvements
OneNote now includes improved search navigation, quick filing and linked notes. Quick filing allows users to quickly collect information whilst working on other applications. With quick filing you can send a copy of content from documents, web sites, e-mail and other applications straight into your OneNote notebook. Linked notes allows you to take notes whilst working in Word 2010, PowerPoint 2010 or Internet Explorer.
Office 2010 64-bit support
Microsoft Office 2010 will be available in both 32-bit and 64-bit architectures. The added support will allow for larger and more complex data spreadsheets. The 64-bit version of Office 2010 will allow for greater memory intensive documents.
PowerPoint broadcasting
PowerPoint 2010 makes sharing and connecting easier than before, allowing users to remote share presentations with users from anywhere in the world. PowerPoint 2010 even allows movie sharing to users, even if they don't have PowerPoint installed.
Outlook 2010 email management
Outlook 2010 comes with a new style of mail management, allowing for grouped email replies. Outlook also gives you a list of related messages when reading emails.
Outlook social connector
Microsoft has introduced a Outlook Social Connector (OSC) straight into Outlook 2010. The Connector provides a stream of content from SharePoint, Windows Live and other social networking sites. At the bottom of Outlook emails users will be provided with contacts' latest Facebook and Twitter posts.
Office Mobile 2010
Microsoft is providing mobile apps of Office 2010. The applications will be available on Windows Mobile 6.5 or above and for Nokia devices. The mobile apps provide the ability to create and edit on the go.