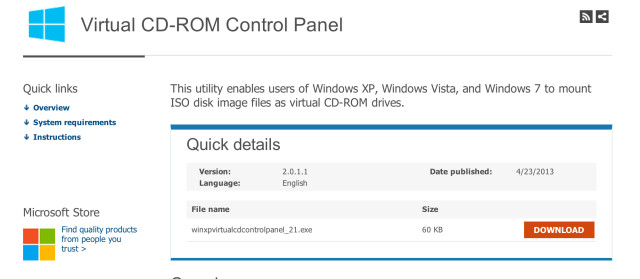 Microsoft has released a new tool today that should make quite a few folks happy who have struggled to find easy to use software to mount .ISOs in older versions of Windows. The application allows users of Windows XP, Windows Vista, and Windows 7 to mount ISO disk image files as virtual CD-ROM drive which should help with installs of Windows 8 and other software.
Microsoft notes that the application, while built by the company, will not receive support and users should install it at their own risk. In addition, those of you with Windows 8 do not need to install the application as that platform supports native ISO mounting.
The Virtual CD-ROM Control Panel utility enables users of Windows XP, Vista, and 7 to mount ISO disk image files as virtual CD-ROM drives. This can be highly useful for reading disk images to install software or recover backup files. Notes: This tool is not supported by Microsoft; use at your own risk. Windows 8 users do NOT need this tool.
This application will likely be widely used as options available for older version of Windows to mount .ISOs are either riddled with bolt-ons and are free, or are a premium product. This free application will make it easier for those user to be able to download a Windows 8 .ISO from Microsoft and install the software without having to utilize third-party software. 
Download: Virtual CD-ROM Control Panel
Thanks for the tip, @windows4live!