Back in May, Microsoft introduced the Surface Book 3. It was a product refresh that took two and a half years to appear, and I think a lot of us thought that it would be a reengineered device, like other third-generation Surfaces we've seen, such as the Surface Pro 3, Surface 3, and Surface Laptop 3. The alternative to that idea was that since it wasn't launched alongside of the Pro 7, Laptop 3, and Pro X last fall, Microsoft was waiting on some parts that weren't out yet.
Neither of those things ended up being true. The chassis on the Surface Book 3 is exactly the same as the one on the Book 2. As for the internals, some thought that Microsoft might have been waiting on Intel's Comet Lake H processors, or the 28W Ice Lake Core i7. As it turns out, the Surface Book 3 has the same Ice Lake chips as the Laptop 3.
These aren't necessarily bad things. The Surface Book design is tried and true, and it's a fan favorite. The processor is still 15W, but Microsoft actually really focused on performance improvements here, with Iris Plus Graphics, a GPU performance boost (yes, both of those matter), and offering up to 32GB RAM.
Specs
CPU
Intel Core i7-1065G7
GPU
Intel Iris Plus Graphics with screen detached
Nvidia GeForce GTX 1650 with Max-Q Design with 4GB GDDR5
Body
12.3x9.14x0.59-0.9in (312x232x15-23mm), 3.62lbs (1,642g)
Display
Screen: 13.5" PixelSense Display
Resolution: 3000 x 2000 (267 PPI)
Aspect ratio: 3:2
Contrast ratio: 1600:1
Touch: 10 point multi-touch G5
Memory
32GB 3733MHz LPDDR4x
Storage
512GB PCIe SSD
Battery life
Up to 15.5 hours
Ports
(2) USB 3.1 Gen 2 Type-A
(1) USB 3.1 Gen 2 Type-C (with Power Delivery 3.0)
(1) 3.5mm audio
(1) Surface Connect (one on base and one in display)
(1) SDXC card reader
Cameras and audio
Windows Hello face authentication camera (front-facing)
5.0MP front-facing camera with 1080p HD video
8.0MP rear-facing auto-focus camera with 1080p HD video
Dual far-field Studio Mics
Front-facing stereo speakers with Dolby Atmos
Security
TPM 2.0 chip for enterprise security
Enterprise-grade protection with Windows Hello face sign-in
Connectivity
Wi-Fi 6: 802.11ax compatible
Bluetooth Wireless 5.0 technology
Xbox Wireless built-in (15" only)
Material
Magnesium
Color
Platinum
Price
$2,499.99 (Starts at $1,599.99)

Day one
Design
If you've ever seen a Surface Book before, then you've seen the Surface Book 3. Nothing has changed, as the dimensions and weight are identical to the Surface Book 2. The original Surface Book was a bit thinner and lighter, which actually matches the Core i5 model of the Book 3, and that changed with the Performance Base model. The only real change made to the design was from the first to second generation when a USB Type-C port was added to the base.
As is almost always the case from computers to cars, the branding is one of the sexiest parts of the device. The Surface Book 3 comes with a shiny mirrored Microsoft logo stamped right in the middle of the lid. You'll also notice that it has a webcam in the top-right corner, as this thing is very much designed to be used as a tablet just as much as it is a laptop.
It's made out of magnesium, which is the traditional Surface material. Of course, newer Surface lineups like Surface Laptop and Surface Pro X use aluminum, but magnesium makes for a lighter device. It also comes in the traditional Surface color of platinum, even though the Surface Pro series now comes in black.
One thing that I really appreciate is that out of the four USB ports, they're all equal. Two of those are the USB Type-C and Surface Connect port on the right side. As you'd expect, the Surface Book 3 comes with a Surface Connect charger, but not to worry, as you can also charge via USB Type-C. The bad news is that it won't charge as fast as the 102W Surface Connect charger; USB Power Delivery just doesn't handle that much power.
On the left side, there are two USB Type-A ports, and all four are USB 3.1 Gen 2. That means that you get speeds of up to 10Gbps. It's pretty impressive, since most laptops are still shipping with at least some 5Gbps USB 3.1 Gen 1 ports. Also on that side is an SD card reader.
You'll notice that the Surface Book 3 maintains the infamous hinge gap. While it definitely looks and feels premium, it's neither a thin nor light device. 23mm and 3.62 pounds would hardly classify this as an ultrabook. You can get away with that on the models with a dedicated GPU, but for the Core i5 model that only had integrated graphics, one has to wonder why you'd buy it.
Sadly, the Surface Book 3 is no more lappable than previous generations. In fact, this was something that I was really hoping for. Third-generation Surfaces are always the ones where the product hits maturity. With the Surface Laptop 3, Microsoft clearly reengineered the weight distribution. That's not the case with the Book 3, and if you're using it on your lap, you'll probably find yourself holding it down with your palms. Since most of the guts are in the display, it's very top-heavy.
I have to wonder how many people actually use the Surface Book 3 as a tablet, and if this design is even worth it. For three generations now, Microsoft hasn't been able to work out the kinks in the chassis, all of which are directly related to the fact that it has a detachable display. If Microsoft would just make a 360-degree convertible, the internals would be in the base, you could still use it as a tablet, and the weight would be better distributed.
Display and audio
The Surface Book 3 has a 13.5-inch 3,000x2,000 display, meaning it has a 3:2 aspect ratio. I'll be honest; I think that the 15-inch is the way to go here. In fact, the 15-inch Surface Laptop 3 is the first Surface device to actually sell me on the 3:2 aspect ratio. Remember, a 13.5-inch 3:2 display isn't as wide as a 13.3-inch 16:9 display, so putting apps side-by-side can feel a little tight.
Of course, it's taller, so you do get more screen real estate. If you don't work with split-screen apps, you'll definitely enjoy the larger display.
The colors are vibrant and accurate, and Microsoft always nails this part down. You can view it from an 89 degree angle from any side without any visible distortion. Surface PCs simply always have awesome screens. The only bad news is that it's not great for outdoor use, since it's very glossy and not quite bright enough to get the job done.
Now, let's talk about audio. First up is the headphone jack placement, which is frankly terrible. I'm shocked that it hasn't changed since the original Surface Book was introduced in 2015. It's in the screen, which makes sense since it has to be there if the screen is detached, but it's at the top of the screen.
I can't tell you how many times I've been sitting in a Starbucks trying to balance this dangling wire, and there's simply no way to avoid that issue. But like I said earlier, the Surface Book 3 is very much designed to be used as a tablet just as much as it is a laptop. But this brings me back to the idea that Microsoft should just make a convertible. If it did that, it could put the headphone jack in the base while still allowing you to use it as a tablet.
The speakers are also located in the display, and being tuned with Dolby Atmos, they sound really good. They're not particularly loud, which is a shame for a PC at this price point, but they get the job done.
Yes, the display does have ports of its own. In fact, it connects to the base via a Surface Connect port, along with two additional connectors. If you wanted to, you could hook up a Surface Dock to it and use a different keyboard. Of course, if you wanted to do that all the time, you should just buy a Surface Pro.
You'll find the power button and a volume rocker on top. It's a really awkward placement for a volume rocker, and it assumes that you're using it as a tablet in portrait orientation, while using the built-in software volume adjustments when in laptop mode.
Keyboard and trackpad
The keyboard on the Surface Book 3 is definitely one of the better ones on the market, and I don't just say that from my own account. I've heard from plenty of Surface Book owners that love the keyboard. It's also my favorite of any Surface keyboard, as the Type Covers that go with the tablets feels wobbly and the Laptop keyboard feels plasticky. This feels premium with a sturdy base.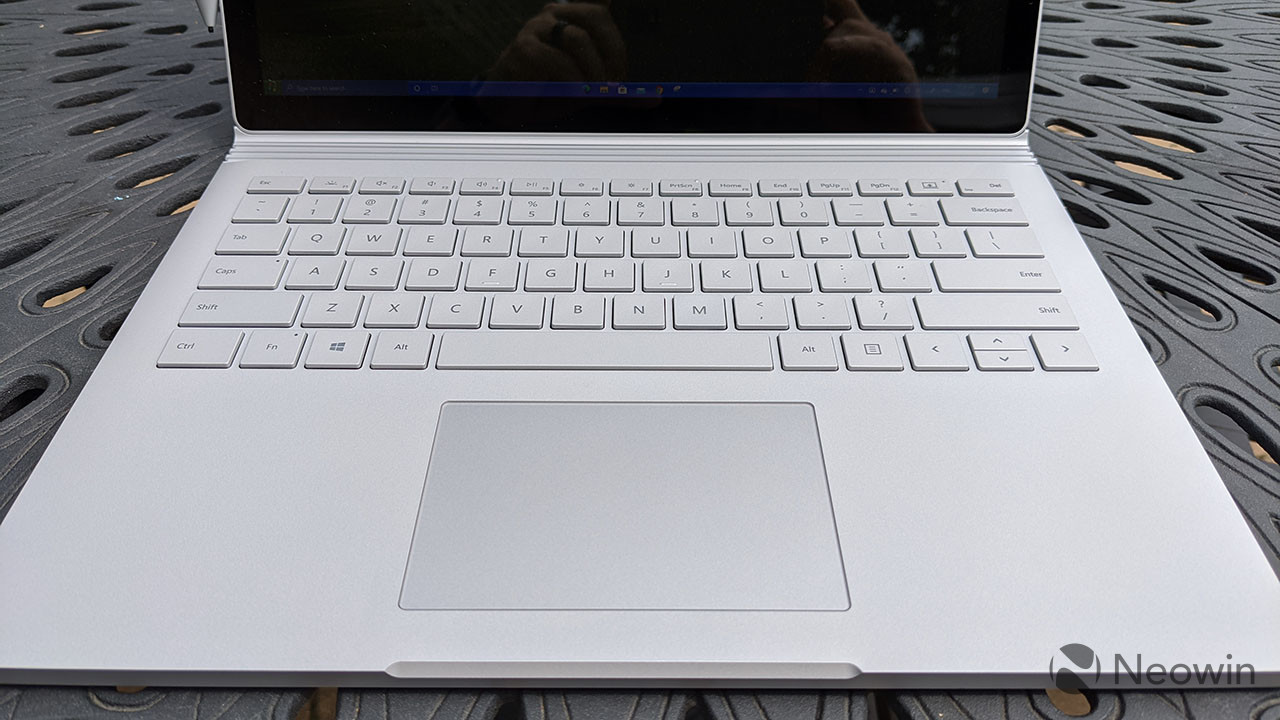 Microsoft really loves its clicks though. The Precision trackpad is great; it's fast and responsive, but it's yet another loud trackpad from Microsoft. It's not quite as loud as the Surface Keyboard that came with the Surface Pro X, but really, it's just impossible to use without making noise. You can press it with as light of a touch as you can, and it still makes a noise. I'm beginning to think that this is by design, because the Surface team really does like things that click.
The keyboard can get noisy as well, although the difference is that if you type lightly, you can at least reduce the noise enough that you won't stand out in a quiet room.
The keys aren't quite as shallow as you'd expect from a consumer laptop. That might be one of the reasons that this keyboard is so beloved by the people that use it.
One other thing that I'll draw attention to is the key to detach the screen, which is located in the top-right corner of the keyboard. After pressing the button, it will turn green after a second or two, letting you know that the screen can be detached. You'll also hear a click when that happens. It's not as instantaneous as pulling the keyboard off of a Surface Pro, and the delay can be annoying.
Also, you need to have a certain amount of battery left in order for it to even let you remove the screen. Remember, there are two batteries in this thing, one in the base and one in the screen. Detaching the screen means that you're removing one of the batteries.
Performance and battery life
The Surface Book is meant to be the powerhouse of the Surface series. Indeed, Microsoft is going all-in on the idea that there's a Surface for everyone. The Laptop is the standard clamshell for traditional work, while the Pro is for creatives that want to draw with the pen. The Pro X is for those that need an ultra-portable PC that's always connected, and the Book is for those that want power.
The 13.5-inch Surface Book 3 that I reviewed includes an Intel Core i7-1065G7, an Nvidia GeForce GTX 1650 with 4GB GDDR5, 32GB RAM, and a 512GB SSD. You can also get it with an Intel Core i5-1035G7, and just like with the Surface Book 2, the Core i5 model does not come with the dedicated GPU.
Let's start with the CPU. It comes from the Ice Lake family, which is the 10nm side of Intel's 10th-gen lineup. The alternative would be the still-14nm Comet Lake. Intel actually had to turn down the clock speed to get down to 10nm, but it made up for it with graphics power, using Gen11 Iris Plus. In other words, Comet Lake is the better CPU, but Iris Plus has better graphics.
One would think that Comet Lake would be the better choice in a machine that has a dedicated GPU; however, don't forget that you can detach the screen on the Surface Book 3, and the GPU is in the base. Having Iris Plus Graphics means much better graphics performance when using it as a tablet.
Also, Microsoft is one of few OEMs using the Core i5-1035G7 in the i5 tier. The 'G' number is for graphics power, so many OEMs are using the Core i5-1035G1, which doesn't have Iris Plus, in an effort to differentiate between their i5 and i7 SKUs. I suppose Microsoft differentiates by not offering dedicated graphics in the i5 tier.
Those dedicated graphics are in the form of an Nvidia GeForce GTX 1650 with 4GB GDDR5. It's an improvement over the Surface Book 2's GTX 1050 with 2GB GDDR5, but it's unclear why Microsoft opted for the GDDR5 version of the GTX 1650 when it's available with GDDR6. If you get the 15-inch Surface Book 3, you'll get a GTX 1660 Ti with GDDR6, so the smaller model is the only one that has GDDR5.
It seems like every year, the choice of dedicated GPU in the 13.5-inch model is a bit disappointing. If you really want the powerful Surface Book, you go with the 15-inch. In fact, the 15-inch business model comes with up to Quadro RTX graphics. RTX is not offered in the consumer model.
As usual, battery life is solid. That's one thing that I love about Surface devices, that things pretty much work the way that they're supposed to (until they don't, of course). The Windows Hello camera lights up immediately and works properly, the keyboard is accurate, battery life is good, and so on. It's those little things that end up being major annoyances on some third-party PCs.
With the screen at about 75% brightness and the power slider in the middle, I got about seven hours doing regular work, which is really good. Most PCs are good for four or five hours, so I'll take it.
For benchmarks, I used PCMark 8 and PCMark 10.
| | |
| --- | --- |
| PCMark 8: Home | PCMark 8: Creative |
| | |
| | |
| PCMark 8: Work | PCMark 10 |
| | |
| | |

The benchmark scores aren't particularly good, even when compared to a PC with integrated graphics. You'll notice that at different times, the test recognized different things. In fact, the first time I tried to install Nvidia's GeForce Experience, it said that I didn't have an Nvidia GPU on this PC.
Also, I'm not sure why this is, but GeForce Experience won't give me new drivers for this PC. All I can get is the Studio driver from February, even if I set it to Game Ready drivers.
Conclusion
The Surface Book is and always has been a very cool idea. It's a powerful laptop that lets you detach the screen. I'm just not sure that it's practical for most users looking to buy a premium PC. And if it is practical, surely the 15-inch model makes more sense with its additional power and larger screen.
The strangest issue I have with it is that Microsoft used a GPU with GDDR5 memory, and I'm not sure why. My other issue, and the biggest one, is that it's the same design as the Surface Book 2. That means that it's so top-heavy that it's hard to use on your lap without it tipping over, and it has super awkward headphone jack placement. All of these issues could be easily solved if Microsoft just made a 360-degree convertible. I supposed that if it did that, the hinge wouldn't click though.
But other than that, it's pretty great. It comes with a solid keyboard, excellent performance, a pretty display, and more. It's an all-around great PC, and it's beloved by most of the people that purchase it. I love that it has Ice Lake processors now, as it provides a more balanced amount of power between when the screen is connected and when it's not.
This generation is all about that extra Ice Lake power with its Iris Plus Graphics, along with the ability to configure it with 32GB of RAM, and the Nvidia GeForce GTX 1650 GPU. That's truly all that's new beyond what we saw a few years ago with the Surface Book 2. If that boost is what you were waiting for, then this is the laptop for you.
Pros
Ice Lake performance Battery life Display Great keyboard
Cons
Not very lappable Same design as Book 2 Headphone jack placement GDDR5