Microsoft's E3 keynote is happening as we speak and on the stage the company just unveiled its new updated console, the Xbox One S.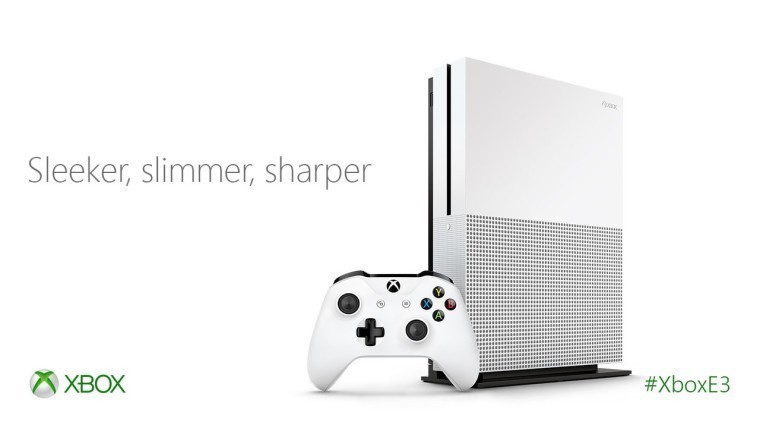 The new Xbox One S is an updated version of the Xbox One, which comes in an overall smaller package and features improved internals. Just as earlier rumors and leaks had pegged it, the Xbox One S has a TB hard drive from the get go. The Xbox One S will start at $299 for a 500GB model.
The console also supports 4K UHD video streaming as well as HDR for those of you with newer displays or TVs. But that's not all, as thanks to its new sleeker design, allows the Xbox One S to stand up vertically, saving users room and best of all, the console now has an integrated power supply. In other words say goodbye to that enormous power brick that came with the original One.
There's another big change with the Xbox One S and that's the lack of a Kinect port on the back. This change comes to ensure that the One S is a slim as possible. However, the console is compatible with Kinect and users who want it will be able to use the Xbox Kinect Adapter for USB to user their Kinects.
The new console also comes with an updated controller, that features a "streamlined" design, and a textured grip. The new controller also has improved range, as well as Bluetooth support for better pairing with Windows 10 devices. Though you'll need to be running the Anniversary Update to take advantage of those capabilities.
That being said, overall the new controller only seems to be marginally different to the existing Xbox One controllers, more of an evolution than a complete overhaul. The new controller will be included with all Xbox One S consoles, though you'll also be able to buy it separately in all markets for $59.99.
As mentioned above the new console starts off at $299 but that prices goes up based on your storage needs. According to the official announcement :
The limited quantity 2TB launch edition Xbox One S will be available in select markets starting early August for $399 USD, with the 1TB Xbox One S for $349 USD and the 500GB Xbox One S for $299 USD arriving thereafter. The Xbox One Vertical Stand will also be available for standalone purchase for $19.99 USD.
Update: The Xbox One S preorder page is now live in the US Microsoft Store, with an expected release date of August 2, 2016.
Update 2: Well, something appears to have changed - the Microsoft Store site now lists the US release date as August 31: