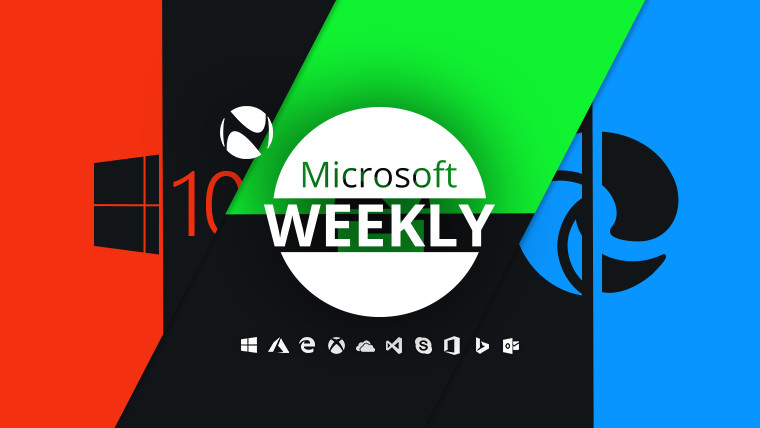 A confirmation of Windows 10X's demise, a better vertical tab experience in Edge, and an unsurprising announcement of a joint Xbox – Bethesda E3 event. You can find info about that, as well as much more below, in your Microsoft digest for the week of May 16 - 22.
No more Windows 10X
If you were expecting the arrival of Courier v2 (aka Surface Neo) and its companion OS, Windows 10X, sometime this century, that won't be happening anymore.
Microsoft has officially announced that Windows 10X is for all intents and purposes dead, but that some of its features will live on in Windows 10 proper. Among those, improvements in the voice typing experience, an enhanced touch keyboard, and much more.
What did however make it to market was the May 2021 Update, now available to everyone. It adds some Windows Defender Application Guard performance improvements, as well as enhancements to Windows Hello for systems with multiple cameras that are face-recognition capable. In other words, not much to write home about.
As was the case with previous updates, some features have been deprecated or outright removed. For example, the XDDM-based remote display driver and the legacy version of Edge have been stripped out, with the Windows Management Instrumentation Command line (WMIC) tool and personalization roaming now showing up as deprecated. What this means for the latter two is that Microsoft is no longer developing them and will most likely remove these in a future update.
Staying a little longer on the subject of updates, folks on 1909 may experience problems logging into Microsoft 365 apps following the installation KB5003169. A suggested fix for now is simply to restart the system, and if that doesn't do the trick, the firm suggests that the web-based variants or clients on other operating systems be used, as those are not affected by the bug.
Flipping over to exploits, one was released, targeting a flaw in the Windows 10 HTTP protocol - CVE-2021-31166. Luckily, this has been fixed with KB5003173 as part of the May 2021 Patch Tuesday set of updates.
Insiders got some updates too, namely build 21382.1000 which landed in the Dev channel to test the servicing pipeline, followed by build 21387, which retires the IE11 desktop app and temporarily shuts down 'Eco mode' in Task Manager.
For insiders across the Release Preview and Beta channels, Microsoft also released builds 19042.1023 and 19043.1023 with an impressive list of fixes. What needs to be highlighted here is that those on 2004, 20H2, and 21H1 will all receive these same exact fixes when the Redmond firm rolls out the next set of cumulative updates, seeing as they share the same bits.
And speaking of bits, a rather sought-after bit of news by ARM enthusiasts and, in particular, Surface Pro X owners, is the announcement of apps running natively on the platform. Well, one such announcement was made this week, as Photoshop can now run natively on Windows 10 on ARM, shedding the 'Beta' tag that's been put on it since November of last year.
Joint E3 conferences
Surprising perhaps three people, Xbox Game Studios head honcho Matt Booty has confirmed that Xbox and Bethesda will in fact be combining their E3 presentations into one big show.
Along with news about Halo Infinite and Age of Empires IV, both launching later this year, we might also get a glimpse at BGS' Starfield, which will benefit from the big improvements to the Creation Engine. Said improvements, as per BGS studio head Todd Howard, are some of the biggest in the engine's history, perhaps even dwarfing the improvements made from Morrowind to Oblivion.
Of course, let's not forget that id Software, MachineGames, Arkane, and others are also now under XGS, so it wouldn't be too unexpected for Microsoft to showcase some unannounced projects from those studios.
Until then, we have some things that are a tad more official. For example, there's a Halo: MCC Insider test which brings visual improvements to Halo: Combat Evolved, the usual array of Deals with Gold, and the reveal that the next-gen variant of GTA V will be making its debut on Xbox Series X|S and PlayStation 5 on November 11, 2021.
For fans of Paradox's grand-strategy games, the publisher has announced Victoria 3. While still early in development, the game has been confirmed to hit Steam and Xbox Game Pass for PC on launch day, mimicking the launch of Crusader Kings 3.
And speaking of Game Pass, the service is soon set to welcome in its ranks Peggle 2, Conan Exiles, MechWarrior 5: Mercenaries, SpellForce 3: Soul Harvest, Slime Rancher, and many more throughout the month of May, covering cloud, console, and PC availability.
We'll end the section with a rather interesting original Xbox Easter egg. Though Xbox's 20th anniversary is upon us (more specifically on November 15), certain aspects about the original console are still shrouded in mystery.
Among them is this rather quirky Easter egg, which for some reason involves an audio CD and the typing of the name Timmy, followed by the letter 'y' 24 more times, and an exclamation mark. It's just about as weird as it sounds, if not more so, and you can read more about it here.
Better vertical tabs
At the rate Microsoft is adding things to its Chromium Edge browser, we're bound to cover its development to some extent. This week in particular highlights some good news for fans of the vertical tabs feature.
As per Leopeva64-2 on Reddit, Edge was set to soon support the hiding of its title bar when using vertical tabs, something which perhaps should've been there from the start. This was first seen in Canary v92.0.891.0, and not long after its initial discovery, made its way to the Dev channel.
The Redmond firm also took a moment to update its password monitor and health dashboard, though the feature is expected to roll out to users starting this month, so some folks may not have it just yet.
If you're in one of the Insider channels however, you will have access to Math Solver. The experimental feature does pretty much what it says on the tin, allowing students to take a picture of a math problem, import it into Edge, and use Microsoft's AI capabilities to find out an answer and instructions on how to solve said problem.
Dev channel
Logging off
We round off this week's column with a look at the EOL of Internet Explorer. Version 11 to be more precise.
With the focus on its Chromium-based Edge browser as of late, as well as the inclusion of IE mode in its latest browser, the Redmond software giant has decided to put a firm date on the end of IE11: June 15, 2022.
While the deprecation of the feature will affect Windows 10 client and IoT versions 20H2 and later. For now, the IE platform (MSHTML/Trident), IE11 on Windows 8,.1, 7 ESU, 10 Server, 10 IoT LTSC, Server LTSC, and client LTSC are spared.
Should the time come for IE mode in Edge to be retired, the company says it will give at least a one-year notice for organizations to prepare. Beyond the all-important EOL date, Microsoft has provided additional details in regards to how businesses can get ready for the browser's end of support.
Missed any of the previous columns? Be sure to have a look right here.
---

If you'd like to get a daily digest of news from Neowin, we now have a Newsletter you can sign up to either via the 'Get our newsletter' widget in the sidebar, or this link.