With the passage of another week, it's time to look at all the Microsoft stories that happened September 12 through September 18. As usual, there were new Windows 11 builds for the Dev and Beta channels, but they came with them some bad news for users running the OS on certain VMs. Considering that this week brought the second Tuesday of the month, Microsoft also released the monthly Patch Tuesday updates for all supported Windows versions. These updates were accompanied with new apps, Office LTSC and Office 2021 release dates, and much more.
Windows 11 builds, update blocks for VMs, Patch Tuesday, more
As is the case every second Tuesday of the month, Microsoft released cumulative updates for all supported Windows versions. These included supported Windows 10 versions – including for specific SKUs, Windows 8.1 users and those on Windows 7 that opted for Extended Security Updates (ESUs). The updates fixed a Windows zero-day vulnerability discovered earlier this month and brought other quality improvements. While the improvements were welcome for most users, the firm posted an advisory acknowledging that the August patches that contained fixes for the PrintNightmare vulnerability were breaking the ability for some users to print without admin credentials. This impacts commercial customers than any other, considering end users do not have access to admin credentials.
As for Windows 11, new builds were released for both Dev and Beta channel Insiders. The Dev channel was served build 22458 that brought a few fixes. While a new 'Sign-in options' link in the power menu was mentioned, it was made available with build 22454, but missed being noted in the changelog. Beta channel users received build 22000.194 that brought a bunch of new in-box apps that Dev channel users have been testing. These include the new Clock app with Focus Sessions, Calculator, and the unified Snipping Tool experience. More are on the way, though, such as the new Paint and Photos apps.
What did come as a surprise for Insiders was the inability for those running these builds in certain VMs – including on supported hardware – to update to the new builds, thanks to the enforcement of TPM requirements for virtual machines as well. This means that those running Windows 11 preview builds on anything but VMWare Workstation Pro or Hyper-V Manager included with Pro and Enterprise editions of Windows will be blocked from receiving future updates. Currently, Oracle seems to be readying a passthrough driver for TPM for VirtualBox, making its offering suitable to run Windows 11 builds.
Additionally, there was some news concerning those that were running Windows 11 builds on M1-powered MacBooks through solutions like Parallels Desktop. The Redmond giant has said to The Register that running Windows 11 on M1 Macs is not a "supported scenario", casting doubt on whether there will be future blocks that render it difficult to run Microsoft's latest OS on M1-powered machines.
Lastly, Microsoft announced that users can now delete their Microsoft account passwords to completely rely on alternate forms of authentication, further making the case for a password-less world. While the ability is available for consumer accounts now, the company aims to bring it to accounts that use Azure Active Directory (AAD) as well.
Office 2021, Office LTSC, new apps, and app updates
The biggest news this week relating to new apps came in the way of the announcement of Office 2021's release date. The perpetual version of Microsoft's productivity suite of offerings for consumers will be made available starting October 5, coinciding with the release of Windows 11. The version for commercial customers, Office LTSC, is now generally available. The LTSC versions differs from the consumer variant in some ways, one of which includes the support lifecycle. What both have in common though, is that they will not receive new features like the Microsoft 365 versions.
The start of the week also saw the arrival of the Movies Anywhere app for Xbox Series X|S and Xbox One users, bringing a native solution for watching purchased Movies Anywhere content in addition to the Movies & TV app. Another potential app expected to make it to the Microsoft Store is the firm's own PowerToys suite, a listing for which was spotted this week. However, it seems like the listing will only introduce an installer for the app that then pulls in the suite of tools. PowerToys experimental version 0.46 also made it to testers, bringing a bunch of fixes. Another Microsoft app to receive an update was Edge, as Edge Dev users received a new build that brought a quick way to hide the extensions button from the menu from the address bar along with a bunch of bug fixes.
Talking about browsers, it was discovered that the latest version of Firefox allows users to directly change their default browser preference without going through the cumbersome steps to do so, which is a welcome change. It is not clear if this will be mirrored by more apps and browsers going forward, but the Redmond company has received backlash from browser rivals for making the process complicated and less user-friendly.
Mozilla also announced that it will begin setting Bing as the default search engine on Firefox as part of a test. This will apply to just one percent of desktop users and the test is expected to conclude in early 2022.
Xbox Game Pass additions, Remote Play on Windows, and more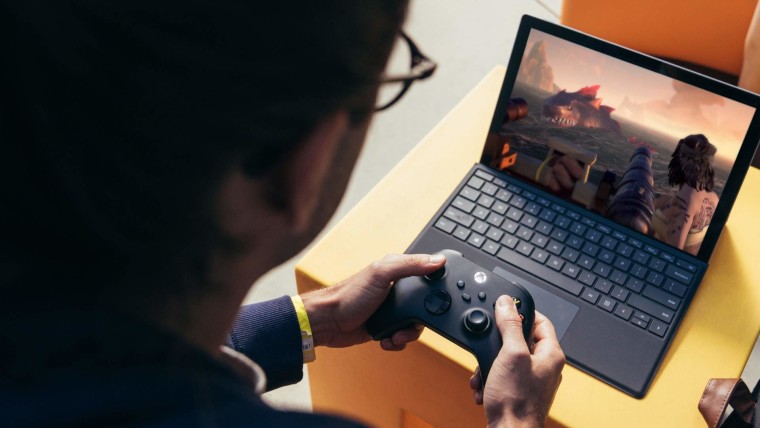 This week, Microsoft announced the titles being added for Xbox Game Pass subscribers, which is the second drop for the month. There are 13 games being added, with eight of them being day-one launches. The list includes Aragami 2, Sable, SkateBird, I Am Fish, and many more. Additionally, there are 11 more games that have touch controls enabled when they are streamed through the cloud. There are five titles leaving the service, which happens on September 31.
If those wanting to run these games on Xbox Series X|S consoles are looking for additional storage and do not want to shell upwards of $200 on an expansion card, a 500GB option might be on its way, at least if a listing spotted in France is to be believed. However, if you have one of those consoles and wish to stream it to your PC, you can now do so using the updated Xbox app on Windows. The app also brings cloud gaming, giving users another way to use the service in addition to doing so from the web.
Xbox Game Pass Ultimate and Xbox Live Gold members are also receiving a second round of games for the month, with Games with Gold bringing Mulaka for Xbox One and Samurai Shodown II for Xbox 360. Lastly, there are a bunch of discounts as part of Deals with Gold, bringing discounts for titles from the Assassin's Creed, Halo, Forza, and other franchises.
There doesn't seem a week that goes by without Halo Infinite news. While minor, this week brought leaked images of Craig the Brute, showing off some visual improvements. This also hints towards the possible arrival of new gameplay that might show off the visual improvements being made.
Moving on, Call of Duty fans might be interested to learn that Call of Duty 2022 – possible called Call of Duty Modern Warfare 2 – might launch next year. Call of Duty: Vanguard, on the other hand, is slated to launch in November this year.
Rounding off gaming news is the announcement of a new beta build of Age of Empires IV being made available this weekend. The invites for the beta included almost anyone who wished to try it out. Improvements made thanks to feedback from testers include a further zoom out distance, balance tweaks for English and Chinese civilizations, and a bunch of bug fixes.
Dev channel
Logging off
We have been taking a detailed look at the various features and options being added with Windows 11 as part of our Closer Look series. This week, we went through the Default apps settings for the OS, which has been criticized for being less user-friendly by both users and app makers alike. Here is everything you need to know.
Missed any of the previous columns? Check them all out at this link.
---
If you'd like to get a daily digest of news from Neowin, we have a Newsletter you can sign up to either via the 'Get our newsletter' widget in the sidebar, or through this link.