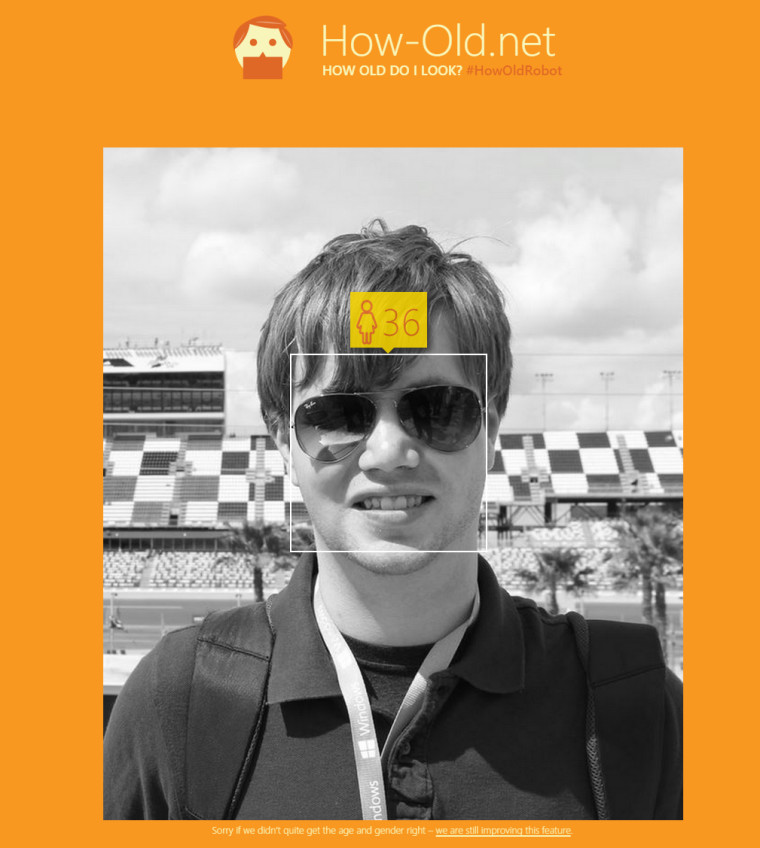 If you have ever been to the carnival or seen a movie depicting the carnival experience, there is always someone who is willing to guess your age and if they are wrong, you win a prize. Using machine learning and its newly released Project Oxford face detection API's, Microsoft is bringing this game to the browser sans prize.
If you head on over to how-old.net you can upload a picture of your face and the algorithms will attempt to guess your age. When Microsoft built the site, they were only expecting 50 people to use the tool but the webpage ended up attracting over 35,000 users when it was first launched.
The site was used as part of the Build 2015 keynote demo on day 2 to showcase how you can use the company's APIs and cloud services to create unique experiences.
I tested the site with a picture from a few years ago when I was 26 and as you can see, the guess was not all that close; likely because of the sunglasses. When using a photo without sunglasses, it showed an age of 32, which is not too far off as I am 29.
For those curious, Clippy has no age, sadly. Though that's probably because he'll always live on ..in infamy.
The site is clearly a novelty but does allow you to have a little bit of fun and experience how machine learning can be applied to new scenarios. If you do try out the site, let us know bellow if it was able to guess your age correctly.