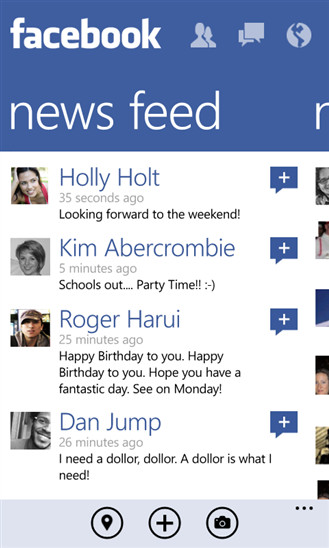 While the number of apps available for Windows Phone devices continues to grow, there are still some gaps in its library compared to competing app stores. Many other Windows Phone apps are still considered not to be up to par with their iOS and Android counterparts. One of them is the official Facebook Windows Phone app, which is actually developed by Microsoft.
The last such update of the Facebook Windows Phone app was made in December, and while the current version is an improvement compared to earlier builds, there is still a consensus that the Windows Phone version could be a lot better.
One Windows Phone owner, known as Ammar, posted word on the Maati.TV web site that he decided to take his complaints about the Facebook app to an interesting source. He emailed Nokia CEO Stephen Elop directly. Certainly Nokia and Elop would have at least some information about any plans to improve the Facebook Windows Phone app.
Elop's brief response was, "Thanks - this is definitely being worked on." That short but sweet note would indicated that Nokia and Microsoft are certainly aware of the Facebook app's shortcomings and are planning to do something about it. Exactly what will be improved is something we don't have any information on, at least not yet.
Source: Maati.TV via WMPoweruser | Image via Microsoft