There was a time a few years back when OnePlus was the new kid on the block. It seemingly came out of nowhere and actually asked users what they wanted in a smartphone. In a short time, with input from the community, it would deliver a handset with an excellent set of specifications and sell it for an unheard of price. But that was back in 2014, now the once scrawny startup that didn't even have a proper software division has slowly matured, and although prices have slowly crept up, it is still on a mission to channel its mantra, "never settle", and challenge an industry that is dominated by titans.
Despite its mantra, it has openly admitted to not being able to compete with the big dogs when it comes to certain technologies, but the firm did quite well to turn things around in the later part of the year by introducing a handset with a nearly bezel-less design that also includes a display with an 18:9 aspect ratio. In addition, it also packed it with the latest processor and offered it in a 6GB RAM or 8GB RAM variant, while also maintaining a reasonable price for its customers. OnePlus devices have never been perfect and the latest OnePlus 5T is no exception, but is it possible that its most recent device is the best Android device of 2017?
Specifications
OnePlus 5T
Product Codes
A5010
Display
6.01-inch 1080p 18:9 AMOLED display
401ppi
Processor
Qualcomm Snapdragon 835
RAM
8GB RAM
Storage
128GB internal without expansion
Connectivity
802.11 a/b/g/n/ac, 2.4 and 5GHz
Bluetooth 5.0 with support for aptX and aptX HD
GPS, GLONASS, BeiDou, Galileo
Camera
16MP Sony IMX 398 and 20MP IMX 376K rear sensor with an aperture of f/1.7
16MP IMX 371 front-facing camera sensor with aperture of f/2.0
4K at 30 fps video recording, 1080p at 60fps
Ports
USB Type-C
Sensors
Accelerometer
Gyroscope
Light sensor
Proximity sensor
Battery
3,300mAh battery
Launch OS
OxygenOS with Android 7.1.1
Launch Date
November 2017
Size & Weight
156.1 x 75 x 7.3mm
5.7 ounces / 162g
Price
$499 for the 6GB RAM model, $559 for the 8GB RAM model
Design and Display
The OnePlus 5T sees a huge design change from its predecessor with the shift to an 18:9 display. While the overall shape remains the same, the bezels are much thinner on the top and bottom of the screen. The front houses a 6.01-inch Full Optic AMOLED display with a resolution of 1080 x 2160 pixels, resulting in 401 pixels per inch. Although things already look pretty good by default, OnePlus has included the option to adjust the calibration of the display. Users will be able to choose from presets like sRGB, DCI-P3, and adaptive mode, but will also be able to make adjustments on their own by tuning the display to look warmer or colder. The exterior of the display is protected by Corning's Gorilla Glass 5 and has 2.5D edges that melt into the surrounding anodized aluminum bezel.
The top bezel houses the 16MP IMX 371 camera sensor that has an aperture of f/2.0 and can shoot videos up to 1080p at 30 frames per second. There is also an earpiece as well as proximity and ambient light sensors. Since the bottom bezel is so slim, OnePlus needed to relocate its fingerprint reader to the rear. On the bottom of the handset, there is a single speaker, a microphone, USB Type-C port, and 3.5mm headphone jack. The rear houses the dual camera configuration with a 16MP Sony IMX 398 sensor with an aperture of f/1.7, a secondary 20MP IMX 376K sensor with an aperture of f/1.7, that protrudes from the body, and a dual LED flash.
On the right side of the handset is the power button, along with a dual nano-SIM slot, with the left side incorporating a volume rocker, and an alert slider. The alert slider is probably one of the more nifty things you'll find on a OnePlus handset, giving users the ability to switch sound profiles with the flick of a switch. For the most part, the handset feels good in the hand, and if there is a minor complaint, it would be that it is a little slippery. The rear is made from metal and the sloped edges that allow it to comfortably nestle into your palm also make it hard to hold when you're initially gripping it. Again, this is a minor point and the overall aesthetic looks sleek and it feels like any other top-tier handset on the market.
Software and Performance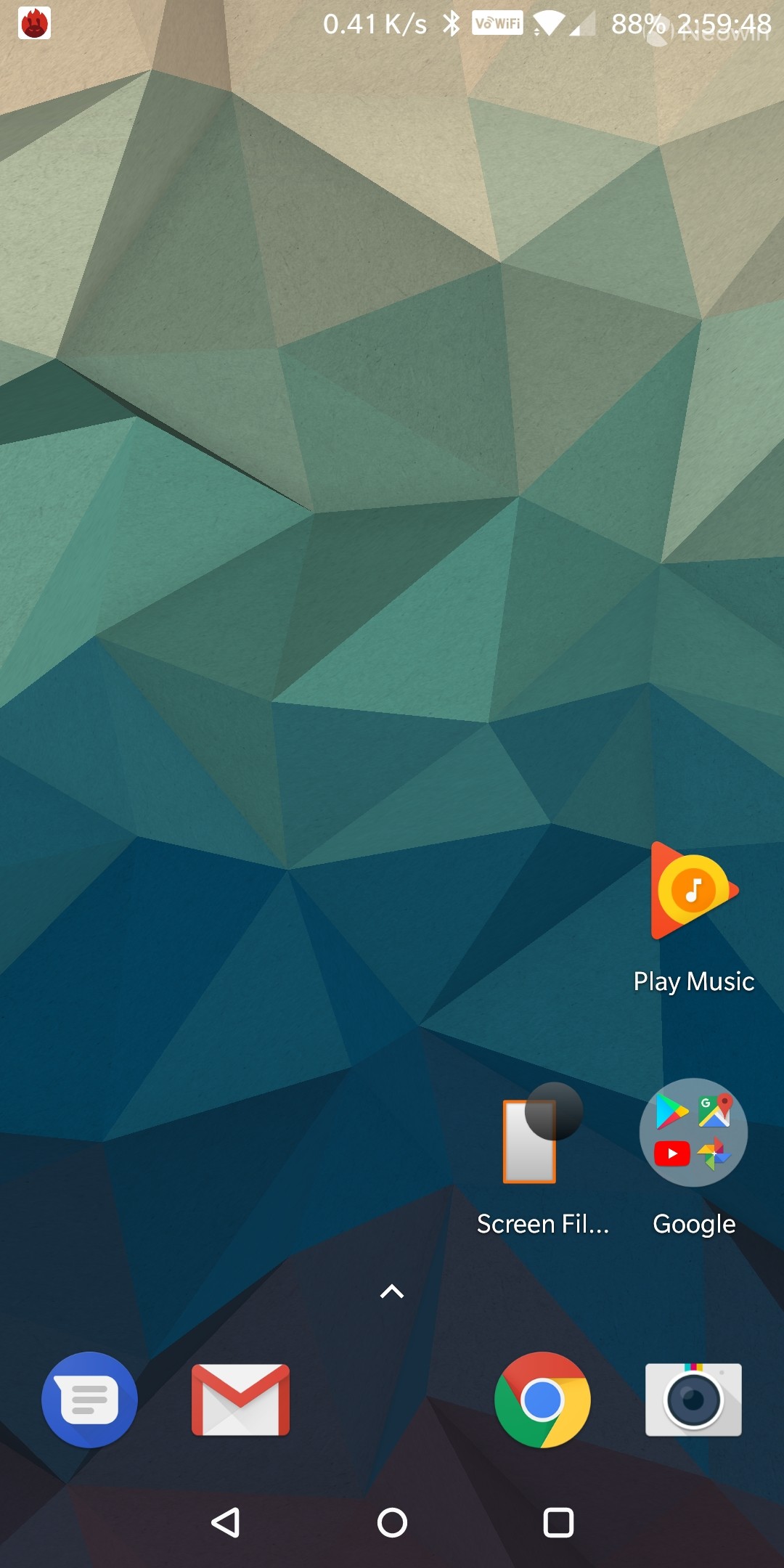 The OnePlus team is well aware that many people prefer a stock Android experience. While other handset manufacturers often add redundant apps and expand the OS with an array of different features, OnePlus' OxygenOS is different. The firm internally refers to its version of Android as Android+, with the "plus" being the simple idea of adding value. By dissecting what people like about a pure Android experience into four categories: user interactions, no bloatware, speedy performance, and power efficiency - the firm has built upon a strong base, to deliver a more efficient and thoughtful version of Android.
When you dive into the settings menu, everything is pretty straightforward. Settings are grouped into five categories, with a section for customizations. In the customizations area, users will be able to change the behavior of the alert slider, onscreen and physical buttons, gestures, the status bar, and more. If you're someone that likes to have a little fun with the UI, you'll be happy to know that the OnePlus Launcher does give you the ability to download icon packs, there are a few by default, with more available from the Google Play Store.
Those that like to take it a bit easy on their eyes will be happy to know that the Reading Mode that turns the display monochrome is still available on the OnePlus 5T. You can also utilize two different instances of supported apps by using the Parallel Apps feature. Overall, OxygenOS is a very clean and approachable OS that should satisfy most users. While it is a bit underwhelming that the 5T is running on Android 7.1.1, the firm has been clear about its upgrade path, with an update to Android Oreo slated for early 2018.
As far as performance goes, the handset review is powered by Qualcomm's Snapdragon 835 processor that is paired with 8GB RAM. As you can imagine, the response time of apps, the interface, and anything else, is almost instantaneous. Per usual, the performance numbers from benchmarking tools AnTuTu and 3DMark have been provided in the images above.
Camera
When it comes to the interface, the camera app is simple for the most part. Upon launching it, you are presented with an auto mode that will allow you to make minor adjustments like brightness, toggling HDR settings, aspect ratio, and flash. In the video mode, you'll be able to change the resolution which ranges from 720p, 1080p at 30fps, 1080p at 60fps, and 4K.
The handset also offers a dedicated portrait mode that will apply a depth of field effect to highlight the subject and blur the background. Those looking for a bit more control will be happy to know that a Pro, slow-motion capture, time-lapse, and panorama modes are available to be utilized. As you can imagine, the Pro setting offers adjustments to ISO, white balance, shutter speed, shooting RAW, and more.
Just like a lot of other handsets in 2017, the OnePlus 5T arrives with a dual camera sensor setup. As mentioned before, the rear houses a 16MP Sony IMX 398 sensor with an aperture of f/1.7 and a 20MP IMX 376K sensor with an aperture of f/1.7. The secondary sensor is meant to provide better quality images in low light scenarios. On its website, OnePlus talks about how 'Intelligent Pixel Technology' allows the handset to achieve better shots in low light environments by merging four pixels into one, allowing clarity to be enhanced.
For the most part, cameras found on smartphones are pretty good when it comes to top-tier devices. The OnePlus 5T is no different, offering a good experience all around. While it isn't the best, it isn't the worst and most times it can shoot colors fairly accurately. There were times during the day when the color wasn't so accurate, being on the cooler side, but the focus was fast and the capture speed was reasonably quick.
When it came to night time images, things look very good at first glance, but when you decide to pixel peep, you can see that there is a loss of detail, with things looking a bit muddy. When it comes to videos, things again look pretty good during the day, but could definitely be better in low light or night time scenarios.
There is also the issue of electronic image stabilization (EIS) and although Google has proven that EIS can be extremely good, OnePlus has not come close to duplicating the results. The stabilization can be pretty good at times, but you can also sometimes see small artifacts in the video wherever corrections have been made. This is very apparent in the night time sample posted above. If there is one thing that would be appreciated in the next version of the handset, it would be either better implementation of EIS or the addition of optical image stabilization. The latter is something that many users hoped to see introduced in the past couple iterations of the handset and is probably long overdue.
Battery Life and Dash Charge
The OnePlus 5T has a 3,300mAh battery and while this isn't the largest capacity battery that we have seen in a handset in 2017, when mated with a 1080p panel, the potential for multi-day use is quite high. As detailed in the first impressions post, it will naturally depend on how you use your phone day in and day out, but if you mainly text, browse the web using Chrome, listen to music while using a Bluetooth device, stream a couple hours of YouTube, and take pictures and videos here and there, it should be able to last you two days. If you're someone that uses apps that are more intensive like games or Snapchat, you can expect battery life to take a bit of a hit. But for most, this handset should be able to make it through a full day without issue.
Wireless charging has become more common in smartphones and while it used to be a niche offering, it is now considered a must-have feature if you're going to build a top-tier handset. Despite the feature's popularity, OnePlus has once again chosen to forgo it and instead rely on Dash Charge. Dash Charge was first introduced in the OnePlus 3 and is a quick charge solution that claims to be able to charge a handset faster and safer than the competition. Dash Charge uses proprietary VOOC Charging technology that requires a special cable and charger, but because of this, the handset is able to stay cool while topping up. So what does all of this mean in the real world?
In daily use, Dash Charge was able to get the 5T from zero to 19 percent in the first ten minutes. In the next ten minutes, it was able to charge the phone up to 39 percent. At the 30 minute mark, it was able to charge up the 3,300mAh battery to 59 percent. The total time we are looking at for a full charge from 0 to 100 percent stands at around an hour and 32 minutes. You can say that this is impressive but the speeds seem fairly comparable to Qualcomm's own Quick Charge rates. Using the LG V30 as an example, which also has a 3,300mAh battery, it was able to charge up to 57 percent in 30 minutes and took an hour and 38 minutes to get to 100 percent. Both of these handsets were left to charge with the display turned off and the charging speeds can vary depending on the activities being performed while charging.
Despite having good charging speeds, this is still a tethered solution and some will think that it is a necessity to have wireless charging. Personally, wireless charging hasn't been a part of my life since owning the Lumia 925. While I can appreciate the ease of use, it just isn't all that difficult to plug up a cable. Sure, it's easier to just throw a smartphone onto a charging pad, but again, this is a personal choice. Some love wireless charging and it's a must when it comes to purchasing a handset, while others will be good with plugging up. In the case of the OnePlus 5T, at least you are given an added incentive to plug in with Dash Charge.
Conclusion
It almost seems like déjà vu, but three years ago, I dubbed the OnePlus One as the year's top flagship device. Since that time, a lot has changed. The company is no longer a media darling leveraging itself as an underdog and has since done its best to mature. While it still makes mistakes here and there, it has managed to adhere to its core belief of listening to its community, while building a device that is both affordable and competitive.
With that said, the OnePlus 5T isn't a complete package. It doesn't have certified water and dust resistance, a higher resolution display, stylus, wireless charging, an amazing camera or whatever else anyone says that is missing, but in my eyes, the 5T is the best handset of 2017. It has a modern design that uses premium materials, a pretty good screen, easily provides all-day battery life, the cameras can dish out some respectable results, and its OS is clean and speedy. Perhaps best of all, it does this for $499 for the 6GB RAM model and $559 for the 8GB RAM variant. It's a handset that you can feel good about purchasing and that's something I haven't felt in quite some time.
If there is one thing that I would be wary about, it's that the T variant comes so late in the year, that its processor and possibly other specifications will be eclipsed in a matter of months with the introduction of new devices in the first couple months of 2018. But, if there is a silver lining, it's that you haven't paid an arm and a leg, so you still get great value from the handset.
I'd like to extend a big 'Thank You' to the folks at GearBest who supplied the OnePlus 5T for this review. If you would like to purchase the 5T you can head to the
OnePlus website or you can pick it up from GearBest. If you're heading to the GearBest website, be sure to use code "BJ5T" to pick up the 6GB RAM variant for $478.99 and code "T5GBBJ" for the 8GB RAM variant for $552.99.
Pros
Design Construction Display Price OxygenOS (Performance)
Cons
Camera No wireless charging No weatherproofing