When OnePlus came onto the scene in 2014 with the One, it promised a Flagship Killer. It delivered too, with a $349 Android device with top-end specs, an innovative design with different materials like bamboo, and fan-favorite Cyanogen building out the OS. The reason it was so cheap was because OnePlus really wasn't taking on any expenses. It didn't even have money for anything else.
At the time, you needed an invitation to buy the phone. Once you got one, you also got three invitations to give to your friends, and a lot of people gave those away in the OnePlus forums, helping the company to build a community around its product. In other words, OnePlus wasn't spending any money on marketing, on carrier deals, or anything like that.
The product was flawed too. Personally, I had a faulty camera on my unit, and customer service gave me the runaround. It got so bad that I ended up publishing the entire email exchange on my website at the time to show just how poor of an experience it was. That's when I was sent a new unit.
Fast forward a few years, and OnePlus has grown up. With the OnePlus 6T, the company made its first carrier deal, with T-Mobile. But in my opinion, the OnePlus 7 Pro was the first true flagship phone from the firm. OnePlus had always made great phones that could compete with the big players, but it never made the best phones, and the OnePlus 7 Pro changed that.
It had a price to match at $749, and the OnePlus 8 Pro is $899. Gone are the days of the flagship killer. The killer flagship is here.
The OnePlus 8 Pro has the best display on the market, it's fast, and the camera is solid. It's not a value deal anymore; this is a story about a premium smartphone.
Specs
| | |
| --- | --- |
| CPU | Snapdragon 865, single 2.84GHz, triple 2.42GHz, quad 1.8GHz Kryo 585 |
| GPU | Adreno 650 |
| Display | 6.78 inches, 3168x1440, 513ppi, Fluid AMOLED, 19.8:9, 120Hz |
| Body | 165.3x74.35x8.5mm, 199g |
| Camera | 48MP IMX689 (f/1.7) + 8MP (f/2.44 3x telephoto) + 48MP (f/2.2 ultra-wide) + 5MP (f/2.4 color filter), Front - 16MP IMX471 (f/2.45) |
| Video | 4K - 60fps, Front - 1080p - 30fps |
| RAM | 8GB LPDDR5 |
| Storage | 128GB UFS 3.0 |
| Battery | 4,510mAh, Warp Charge 30T, Warp Charge 30 Wireless |
| Color | Glacial Green |
| OS | OxygenOS based on Android 10 |
| Price | $899 |

This is the base model; for $999, you'll get 12GB RAM and 256GB of storage. It also comes in Ultramarine Blue and Onyx Black.
Day one
Design
The OnePlus 8 Pro is a beautiful smartphone. In fact, the design might only be bested by, well, the OnePlus 8. Seriously, it boggles my mind that the Interstellar Glow color is exclusive to the non-Pro, since it's clearly the winner.
The OnePlus 8 Pro that the company sent me is Glacial Green, and it's the same frosted glass that we've seen from several other OnePlus devices. In fact, the firm has been making glass sandwiches for years, but you can still get cases in the traditional Sandstone, which has a long history with OnePlus. There's a new Sandstone case this year, which matches the Glacial Green color.
And you'll probably want a case, which sadly, will cover up the beautiful colors that the company is using. There are two key reasons for this. One is that this is a slippery phone. If you place it on a seemingly flat surface, don't be surprised if it falls off.
The other is that the vertical camera housing bump is massive. It's particularly bad for using on any kind of flat surface. The case makes up for most of that extra space.
While the frosted glass colors are always nice, I do miss the old days. I miss when OnePlus made smartphones with bamboo or Kevlar backs, or even the old Sandstone Black. For some reason, the market has moved to glass and everyone has jumped on board. I'd love to see a company try something different, and OnePlus used to be the company to do it.
On the bottom of the device, there's a USB Type-C port for charging and a dual nano-SIM slot. The dual-SIM aspect of it is always nice, in case you're ever traveling internationally and you want one for talk and text, and the other for data. It may seem unimportant if you don't travel much, but you'll appreciate it when you need it.
On the right side, there's a power button and a switch for turning notification sounds on and off. There are three settings: on, vibrate, and silent. No other Android vendor has this switch, and it's something that I've only otherwise seen on iPhones. Other OEMs are focused on adding ridiculous dedicated Google Assistant buttons instead of something truly useful like this.
Finally, the volume rocker is on the left side of the device.
120Hz QHD Fluid OLED display
The screen is arguably the most important part of any smartphone that we use. It's the interface that we interact with on the most personal computer that exists. With last year's OnePlus 7 Pro, the company was among the first to use a 90Hz OLED display, and now, the OnePlus 8 Pro has a 6.78-inch 120Hz QHD Fluid OLED screen.
This is the best smartphone display on the market, something that OnePlus actually claimed when it announced the device. The colors are vibrant, the blacks are true black, and the motion is smooth. While Samsung put out a solid screen with the Galaxy S20+ 5G, another device with a 120Hz QHD OLED display, Samsung actually forces you to choose between QHD resolution and the 120Hz refresh rate.
By default, the OnePlus 8 Pro is set to FHD at 120Hz, but you can turn on QHD and keep the refresh rate. It's a really pleasant experience.
The bad news is that there's no always-on display. There is a sometimes-on display that shows the time, notification badges, and the icon for the fingerprint sensor. In fact, let's talk about that fingerprint sensor.
Fingerprint sensor
Yes, it has a fingerprint sensor. That's pretty much it. It's an excellent fingerprint sensor that's fast and accurate, but the most important thing is that it exists.
My favorite phones to use when I'm not reviewing anything right now are the iPhone 11 Pro, Google Pixel 4 XL, and Huawei P40 Pro. However, Apple and Google stopped using fingerprint sensors in favor of facial recognition, which doesn't work when your face is obstructed. On an average day, that's fine. But during a global pandemic, these phones are unusable.
So yes, the OnePlus 8 Pro has a fingerprint sensor, something that has suddenly become one of the most important features on a smartphone.
Zen Mode
Zen Mode is a feature of OxygenOS, and I like to mention it because it's one of my favorites, and it's incredibly simple. The app will lock your phone for a period of time to where you can't use it.
When OnePlus first introduced the feature, you could only turn on Zen Mode for 20 minutes. You can still receive calls and use the camera, but that's it. Since it debuted with the OnePlus 7 series, the company added the ability to set Zen Mode to 20, 30, 40, or 60 minutes.
Once you're in Zen Mode, there's no way to get out of it. Even rebooting your device won't get you out of it. I've noticed that wearing a smartwatch will still get you notifications, but you can only see them.
If you've ever been sitting in front of the TV and casually picked up your phone to check social media, this might be for you. Phones are addicting devices, so this can help force you to put it down for a period of time.
Camera
The camera actually feels like a real improvement over the OnePlus 7 Pro, and that's worth noting, because the camera on that device wasn't very impressive. It's not that it was a bad camera, but when you look at what companies like Apple, Huawei, and even Samsung are doing, it paled in comparison.
OnePlus says that it used a custom Sony IMX689 sensor in the 8 Pro. It's a 48MP sensor with f/1.7 aperture. There's also an eight-megapixel lens for 3x zoom, and the ultra-wide comes in at 48 megapixels as well. You'll find a fourth lens, a five-megapixel color filter camera, and frankly, I don't even think it's necessary for that to be there. I'd rather sacrifice the color filter camera and replace it with a ToF sensor.
The software is pretty straightforward, offering standard photo and video modes, Nightscape, and so on. While the low-light performance of the main sensor is pretty good on its own, Nightscape makes it even better. Low-light performance on the ultra-wide sensor is frankly awful in comparison, so Nightscape can be used to turn an ultra-wide shot into a passable one.
There's no option for shooting 8K video like there is on several Snapdragon 865 devices, but that's fine. What you can do, however, is record what OnePlus calls 4K CINE video at 4K 60fps, and that's 21:9 4K video. OnePlus has offered support for 4K CINE going all the way back to the OnePlus One, although back then we couldn't get the frame rates we can get now.
The camera has a nice natural bokeh effect for close-up shots, although you'll notice that some of those close-up shots at night have trouble focusing. You can also see in the pictures of the woods behind my apartment how much of a difference there is between the main sensor and the ultra-wide sensor, and how much of a difference Nightscape makes.
Performance and battery life
One thing that OnePlus has always been great at is making fast phones. Last year, it was the first to use UFS 3.0 storage. With the Snapdragon 865, the OnePlus 8 Pro is as fast as it gets on an Android smartphone. This unit has 8GB of RAM, which is plenty, but the top-end model comes with 12GB RAM.
And of course, like any Snapdragon 865 smartphone, it supports 5G. Unfortunately, it's only sub6 5G. As far as I know, the only U.S. smartphones that support both mmWave and sub6 5G outside of Verizon are the Samsung Galaxy S20+ and the Galaxy S20 Ultra. Other 5G phones that are sub6-only are also getting mmWave on their Verizon variants, and OnePlus has an 8 for that; however, it's the non-Pro. If you want the Pro, you get sub6-only.
The battery is 4,510mAh, and battery life is what you make of it. If you set the screen to QHD 120Hz, you very well might have trouble getting through the day. If you leave it as the default FHD 120Hz, you won't. It's too bad that there isn't a 90Hz option in Settings.
The good news is that if you need a top-up, charging is super-fast. Wired charging is Warp Charge 30T, and for the first time, OnePlus is finally supporting wireless charging, and that's also 30W. You need a OnePlus wireless charger to get that though; otherwise, it will be 10W.
Wireless charging is the most important feature that the company added, to me. It's one of those features that I can't live without. I leave the phone on a wireless charger on my desk throughout the day, and when the workday is over, my phone is charged for the remaining hours of the evening. With 30W wireless charging, it charges freakishly fast, and I can just leave it on there for a half hour or so for plenty of juice.
For benchmarks, I used Geekbench 5, AnTuTu, and GFXBench. First up is Geekbench 5, which tests the CPU.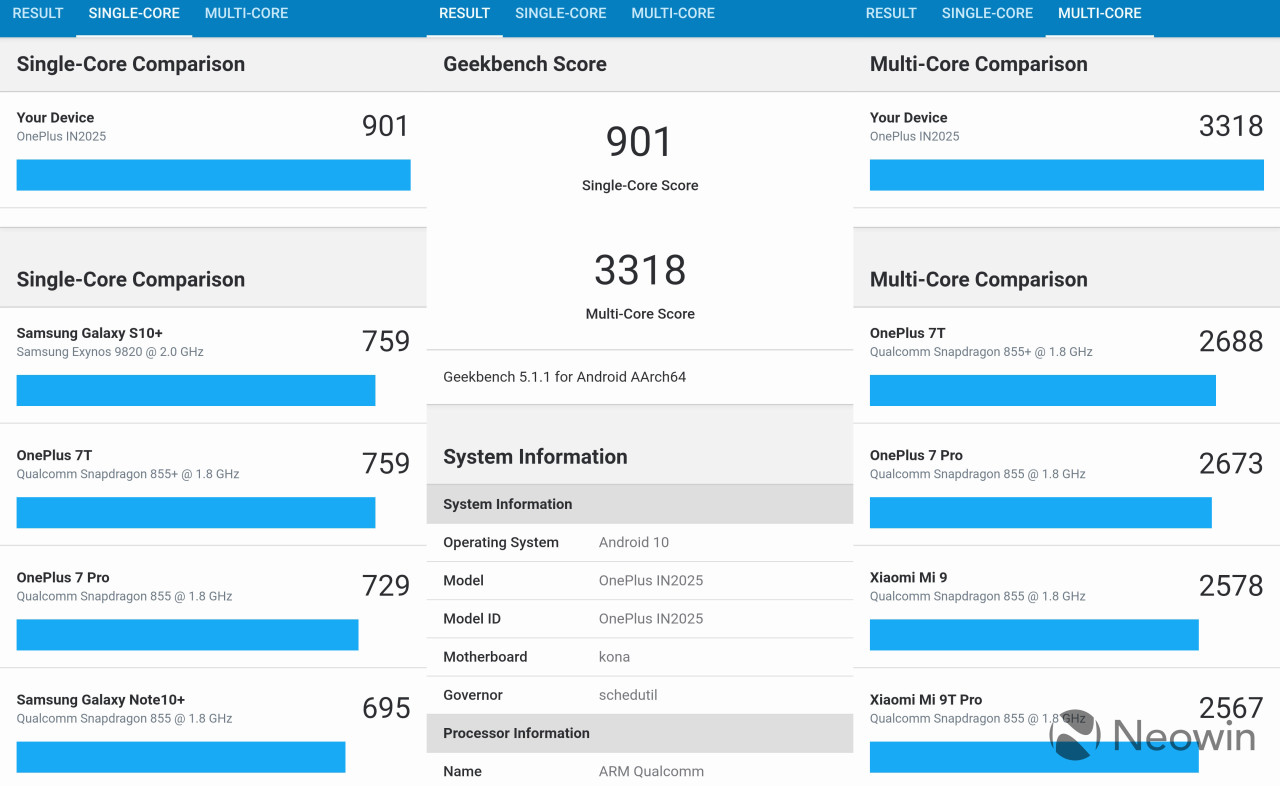 This is about on par with any Snapdragon 865 device. For example, the Galaxy S20+ got 909 on single-core and 3,160 on multi-core. For comparison, the iPhone 11 Pro scored 1,338 and 3,567, respectively. Next up is AnTuTu, which checks a bit of everything.
This test is notable because it doesn't just test the CPU, which is the same across many devices. It tests other parts that are used. The Galaxy S20+ scored 538,626 on this test, scoring only 78,121 in the memory section but beating the OnePlus 8 Pro with 89,248 in the UX section. Apple's iPhone 11 Pro only scores 505,792, with the OnePlus 8 Pro beating it in every category.
Finally, GFXBench tests the GPU.
Conclusion
The OnePlus 8 Pro is a lovely device. I would go so far as to say that it's the best smartphone on the market right now. In this reviewer's opinion, the iPhone 11 series and Pixel 4 series are non-starters without a fingerprint sensor or a software update to make facial recognition work with a mask on. Samsung's Galaxy S20 series was something that I didn't care for on account of poor camera software and, well, poor software overall. Huawei's P40 Pro is awesome, but unfortunately, you can't buy it in the U.S.
I was really waiting for this vacuum to be filled with a device that I can actually recommend to people. The OnePlus 8 Pro is absolutely it, with its sexy design, beautifully pleasant 120Hz QHD Fluid OLED display, and solid camera.
The only real cons to the OnePlus 8 Pro are that it only supports sub6 5G and there's no always-on display. The good news is that an always-on display is coming, although there's no telling when that's happening. Sub6 5G is fine, to be honest. You don't get those blazing fast mmWave speeds, but in my experience with mmWave 5G, it's not tremendously useful. You need to be in line of sight of a mmWave antenna, and it can be blocked by the slightest thing, like a window. It's still a con to the OnePlus 8 Pro though, because mmWave 5G could become useful during the lifetime of the device.
But I want to reiterate that I do think this is the best smartphone out there, even if there's no Interstellar Glow option. And I'll address the elephant in the room, as I know many have complained about the price, something that wouldn't be an issue is OnePlus wasn't known for making inexpensive yet premium devices. Let's be fair here. $899 is still at the lower end of Snapdragon 865 devices, which are more expensive due to the need for OEMs to purchase separate 5G modems. This isn't the age of the thousand-dollar smartphone anymore. This is the age of the $1,500 smartphone, and $899 isn't bad.
If you want to pick up a OnePlus 8 Pro, you can find it on the company's website here.