Several weeks ago I tried out the HTC Titan, which at the time I thought was simply massive. A 4.7" display is really pushing the limits of mobile phone size, but somehow HTC managed to still make the phone comfortable to use. It was great for gaming and really good for watching videos, but sometimes the size was inconvenient and people often joked about how large it was.
You can imagine that they laughed even more when I pulled out the Samsung Galaxy Note from my pocket. With a 5.3" Super AMOLED HD display, the Note is blurring the lines between large phone and small tablet. It's simply enormous, and looks ridiculous when taking calls. Of course the display is fantastic, but is 5.3" too big to be useful?
Many thanks again to Mobicity.com.au, who provided the Galaxy Note for review today. Check them out if you feel like purchasing a Note for yourself; their shipping times are very good to the Asia-Pacific region.
Specifications
Like the Samsung Galaxy S II, the Galaxy Note is powered by Samsung's ARM Cortex-A9 based Exynos 4210 chipset and comes in at a blazing 1.4 GHz. You also get the top-notch Mali-400MP graphics processor, which as you'll see in the performance section is very good. The 1280 x 800 Super AMOLED display is also worthy of a mention.
 
Samsung Galaxy Note
Product Codes
GT-N7000
GSM Bands
850 / 900 / 1800 / 1900
3G/4G Bands
HSPA 850 / 900 / 1900 / 2100
LTE 4G (depending on region)
Display
5.3-inch 800 x 1280 Super AMOLED HD
285 ppi pixel density
8-point capacitive multi-touch
Gorilla Glass
"S Pen" stylus included
Processor
Samsung Exynos 4120 chipset
1.4 GHz dual-core CPU
ARM Cortex-A9 based
Graphics
Mali-400 MP
RAM
1 GB
Storage
16 or 32 GB internal user storage
2 GB app storage
microSD expansion
Connectivity
WiFi 802.11 a/b/g/n (dual-band)
Bluetooth 3.0 with HS
A-GPS and Glonass
DLNA
Wi-Fi Direct
FM Radio
Camera
8 MP rear camera with autofocus and LED flash
2 MP front camera
1080p video recording (rear)
Ports
MicroUSB (charging, data)
3.5mm audio jack
Stylus slot
Sensors
Accelerometer
Magnetometer
Gyroscope
Light sensor
Proximity sensor
Barometer
Battery
Li-ion 2,500 mAh removable
Launch OS
Android 2.3.5 "Gingerbread"
TouchWiz 4.0
Launch Date
November 2011
Size & Weight
146.9 x 83 x 9.7 mm
178 g
This device seems rounded and without missing features. You get enough storage (and it's expandable), you get an 8 MP camera and all the usual connectivity features.
Contents
Introduction, Specifications
Video Overview
Design, Display
Software
Performance
Camera
Media Playback & Call Quality
Battery, Conclusion
Video Overview
Don't have enough time to read through the full review? I go over some of the features of the Galaxy Note quickly in the video overview below.
Design
The sheer size of the Note came as a massive shock to me when I opened the box. It's freaking massive. It's the size of my entire hand, it's considerably bigger than my desktop computer's mouse and it's almost bigger than my original PlayStation Portable.
As with most large Samsung devices, the power button is on the side of the Note so you don't have to stretch your hand up ridiculously far to turn the display on. Alternatively you can use the physical home button to turn it on, which is the same style as the Galaxy S II. In fact, when you look at Note it pretty much is a big Galaxy S II.
The back pattern is very similar to the S II, the shape is similar and the thinness of the rear cover is pretty much identical to the smaller Samsung device. It is slightly thicker at 9.7mm, but it doesn't have a bump in the design so you can rest it more comfortably on tables and things like that. The volume rocker and power button are further up the body of the phone but still remain comfortable. The front-facing camera is also on the right hand side rather than the left.
Samsung have clearly gone into some thought to the design of such a massive phone, because all the buttons, ports and placements feel perfect and very comfortable. The power button is exactly the right height to hold it comfortably, the camera and speaker are positioned in such a way that neither are covered while holding it in a sensible way and the back cover provides grip to stop you accidentally dropping the phone.
Also included with the Note is a capacitive stylus, which helps give the device the name. The stylus is hidden in a hole in the bottom of the phone, and it fits sturdily without looking out of place. Removing it is easy while looking at the display, and the gesture button (more on that later) is positioned well if not a tad hard to find.
When not thinking about the sheer size of the Galaxy Note, it's hard to find flaws in the build quality and design of the phone. Despite it being made from mostly plastic, it doesn't feel cheap and nasty but manages instead to keep the weight down. It's a solid design that looks great and everything is well thought out for the size. The stylus also looks great and is well placed.
When you are thinking about the sheer size of the Galaxy Note, it's too damn big. It's inconveniently big; much more inconvenient than the HTC Titan. It barely fits in the pockets of my jeans and makes it very difficult to put socks on with it in my pocket, let along bend over or sit down. It's awkward to remove from pockets due to the size and looks plain stupid in your hand or up to your ear for calls.
The 5.3-inch Galaxy Note (left) beside the 4-inch Galaxy S
People I was around while using the Note exclaimed "that looks ridiculous!" and "what the hell is that?" whenever I pulled it from my pocket. It may have a great design and all, but a 5.3" display is impractically large. Using the device with one hand is essentially impossible and extremely awkward due to the amount of hand shuffling and movement required. It may enhance some applications, but for me it's a big negative and turn-off.
Display
The display on the Galaxy Note is simply amazing. Putting aside the size of the device overall, having a 5.3-inch Super AMOLED display at 1280 x 800 is genuinely fantastic for most areas of a mobile phone. Thanks to the Super AMOLED technology, colors are extremely vibrant, beautiful and saturated with color. I don't mind the fact that the image produced is not technically "natural" because it looks so damn fantastic.
The high pixel density (285 pixels per inch) of the HD display means that reading text and viewing images is crisp, sharp and easily viewable. With the naked eye it is nearly impossible to identify individual pixels, and while it's no "Retina" display it is still fantastic to look at. Unlike the Droid Razr's AMOLED, there is also no blurring when scrolling text, making it a great device for reading books with.
When it comes down to it though, the two best uses for such a large, crisp and vibrant display are gaming and watching videos. Touchscreen controls on a 5.3" display are less cramped and much easier to use, and the large area to look at makes gaming much easier than on smaller 4" and 4.3" displays. Watching videos is also fantastic: better than the HTC Titan because you get a higher pixel density and even more area to view your movies.
It's also quite wide, meaning that typing is easy as well. Once you get used to hitting keys that are slightly further apart than on a smaller display, typing becomes a breeze and the amount of mistakes you make drops considerably. Using a keyboard such as SwiftKey X also enhances how fast you can type on the Note.
Software
The Galaxy Note runs Android 2.3.5 "Gingerbread" with Samsung's own TouchWiz UI 4.0 on top as their custom skin. While I don't really like TouchWiz and I generally always prefer stock Android, Samsung have made their skin very fast and fluid to use, as well as colourful to enhance and utilize the Super AMOLED display.
You get a whole bunch of Samsung widgets including stocks, news, weather, time and so forth to use on up to seven homescreens. These widgets look nice, perform well and fit in with the rest of the theme used throughout the UI. You also get an application drawer that features customizable orders and left-right sliding panes like you get on iOS.
Most applications are skinned with some form of non-stock interface, and if you have used a Galaxy S II you pretty much know what you are in for. Some of these skins work very well, such as in the Messaging app with their colored bubbles and in the Contacts app which also adds social networking features. I also really liked the Calendar app with the slide-out tab view that gives the impression that you are using a notebook-style calendar; it's also much more user friendly than the stock Calendar.
With the Galaxy Note you also get Samsung's smattering of "Hubs" such as the Music Hub, Social Hub and Readers Hub. In the Music Hub you are able to purchase and download music to your device from Samsung's collection; in the Readers Hub there are links to the Kobo bookstore, Zinio Magazines and PressDisplay for purchasing newspapers. While these are somewhat useful you could just as easily bring music to your device from your computer, or use the Kindle app if you have books purchased through Amazon.
The Social Hub is arguably the best of the "Hubs", although I still don't really like to use it. It combines all your messages, emails and social network feeds into the one area and makes it easy to manage your accounts. It also links content into the Contacts app so you can easily view the updates that certain people have made. I still prefer to use the actual apps for Twitter and Facebook rather than using the Social Hub, and it fails to integrate Gmail very well, but it is there for people when they need to use it.
Also worthy of a mention is "Samsung Apps", and only for the reason that it includes a free copy of Gameloft's Asphalt 6: Adrenaline HD (usually $6.99 on the Market). Other than that, steer clear of the app and stick to the Market where most Android apps reside.
On the cooler side of the software are the apps that give the Galaxy Note its name. The main feature here is S Memo: a comprehensive application that allows you to take notes using the included stylus. You can draw, scribble notes, type using the keyboard, include images and maps, record voice memos and all sorts of usual note-taking things.
S Memo is really, really nice to use. Drawing and annotating with the stylus is a breeze and extremely responsive. Adding images and then drawing on them is also a nice feature for when you need to annotate something you have seen. I could really see professionals making good use of the S Memo application for whenever some quick note-taking must be done.
What's even better is that S Memo can be activated from anywhere in the device by using stylus gestures. Simply press the button on the stylus and double-tap the display in any application to bring up a mini version of S Memo. Write down what you need, click save and return to doing what you were previously doing. This is really handy in situations where you are using your phone and quickly need to take down what someone is saying. Well thought out, Samsung.
Note taking is enhanced by the other major gesture that the stylus can perform: screen captures. Say you're in Google Maps, and you need to tell someone where you need to meet up for an important meeting. Simply press and the stylus gesture button and hold it to the display; screenshot is captured ready to circle the location for the meeting with the stylus. Then click share and you can email it straight to your friend and have it all done in seconds.
To enhance the use of the stylus, you can download various apps that make use of it through the "S Choice" app. Most of these apps are drawing-related, but thanks to the stylus you can draw properly if you want to. Samsung have even included a game called "Crayon physics" on the device that uses the stylus to draw your way through levels. It's quite fun so give it a try if you get the Note.
The last thing that uses the stylus is handwriting recognition in the keyboard. It's pretty hopeless to use, as it often didn't recognize properly what I was writing, and even after tweaking the settings it was slower to use than just typing on the keyboard. Strangely auto-correction and prediction are turned off in the standard keyboard, so I suggest you turn that on and give the handwriting a miss.
Another application that needs to be mentioned is the Video Maker. This harnesses the power of the dual-core Exynos chipset inside and allows you to compile videos on your Note using images and videos you have taken or put on the device. It's surprisingly smooth and quick to use, and rendering the final product doesn't take that long thanks to actually using the full power of two processing cores.
When it comes down to it, the software available for the Galaxy Note seems quite tight. The stylus has a fantastic use in the S Memo application, reading books is great on the large display and you can game and make movies easily thanks to a combination of software and hardware.
Performance
For some reason people still believe that Android devices are plagued by some horrible, mythical lag despite having powerful dual-core hardware. When it comes to the Galaxy Note, this is simply not the case. It is actually the fastest mobile device I have ever used, and there is no lag, anywhere, ever, in any application.
The ARM Cortex-A9-based, Samsung-built dual-core Exynos 4210 makes a return in the Note after first appearing in the Galaxy S II. It receives a bump up to 1.4 GHz, possibly to compensate for the larger display, as well as packing the same Mali-400 MP graphics processor. 1 GB of RAM accompanies all this along with either 16 GB or 32 GB of internal storage plus microSD expansion.
The 1.4 GHz Exynos 4210 is currently the fastest chipset in any Android device today. The Mali-400 MP graphics processor is faster than the Adreno 220 seen in S3 Snapdragon processors (eg. HTC Sensation, HTC Rezound), and overall performance of the Exynos 4210 will beat even a 1.5 GHz Snapdragon S3 due to this graphics advantage.
In real world usage, as I mentioned, there is no lag at all. Scrolling through hundreds of messages is a smooth as butter, the interface suffers no lag whatsoever and the browser is perfectly capable of smooth real-time rendering. I only saw it slightly checkerboarding while zooming out on the full version of The Verge's website.
When it comes to gaming the Mali-400 MP will not let you down, as it's perfectly capable of chugging out 30+ FPS in intensive games at 1280x800. I tested several heavy-3D games such as Asphalt 6 and Dungeon Defenders and these games were smoother than I have ever seen them. If you are willing to carry around a 5.3" device for mobile gaming then the Galaxy Note is the fastest available.
Below are the results of the synthetic benchmarks.
In Smartbench 2011 it blitzes the dual-core competition, dominating the Galaxy S II (1.2 GHz Exynos 4210), HTC Sensation (1.2 GHz Qualcomm MSM 8260), LG Optimus 2X (1.0 GHz NVIDIA Tegra 250 AP20H) and Motorola Droid Bionic (1.0 GHz TI OMAP 4430). The only device that is possibly more powerful in terms of CPU power is the 1.5 GHz HTC Rezound, but I have yet to try that so I can't comment.
In the graphics test from GLBenchmark, again the Mali-400 MP shows itself to be the most powerful GPU available. The Galaxy S II is capable of outshining the Note purely because the Note has to push out 3D graphics to nearly three times more pixels, but manages to still do well against the other competition (HTC Sensation: Adreno 220. LG Optimus 2X: ULP GeForce. Droid Bionic: PowerVR SGX540) despite this disadvantage.
Camera
The Galaxy Note's rear camera comes in at 8 megapixels with autofocus, LED flash and 1080p video recording; it also has a front-facing 2 megapixel camera for video calling.
The Note's camera can make quite good use of focal length, focusing as close as 6.5cm away from the subject. Depth of field shots can look great, and shots of flowers are especially good. Unlike some HTC cameras, the Samsung Galaxy Note has no trouble focusing quickly or on small objects. You'll also note that individual threads of fabric on the cotton hat below are remarkably crisp.
Wide shots accurately portray the color of sky quite well, although contrast can sometimes be an issue, making things look more washed out and brighter than they appear in real life. In the 100% crop, again the camera appears to deliver really crisp images that do not suffer from blurredness or shadowing, which is surprising for a mobile phone camera.
In the usual shot below of my bookcase, greens and blues are very strong and true to life, but this is at the expense of reds which appear less powerful than the other colors. Strangely outdoor shots look much, much better than indoor shots as vibrancy can be an issue with unnatural light sources. I haven't had this issue as much with other cameras so I was surprised that indoor images of fruit and other usually vibrant pictures turned out less beautiful than I was expecting. That said the colors of outdoor images such as the mosaic below are very close to what I saw with my eyes.
I was actually surprised by the low-light performance of the Galaxy Note. Turning on "Night Mode" in the scene settings does make things slightly more visible without using the flash, and the flash actually works somewhat well. When taking photos of things around 1-2 metres away, the flash has quite good spread and illuminates objects quite well. Unfortunately beyond that distance it's pretty useless.
Video recording in 1080p, as seen below in the sample video, is really quite good. The only downside to the camcorder functionality is that it does appear to become slightly choppy in high motion scenarios, but apart from that it's quite good and very crisp for mobile Full HD recording.
Media Playback & Call Quality
As with most Samsung devices I have tried, the sound quality through external speakers is really good. The Note can push out a surprising amount of bass through the 3.5mm headphone jack and while my Galaxy S slightly out-sounds the Note, it can be commended for delivering fantastic audio. In fact the Note is one of the few phones that can make the bass slide at the start of Knights of Cydonia by Muse sound awesome.
The rear speaker is quite loud and powerful although tinny and rubbish like usual. It's strange that Samsung didn't include a second speaker on the device towards to top to provide stereo audio while playing back movies. When holding the Note in landscape mode, the audio sounds like it's coming from the far right and gives an odd sensation. It would be better to have two speakers in this circumstance, especially due to the size.
When it comes to playing back videos, the 5.3" display is amazing for this purpose. The resolution is crisp and very sharp, and the vibrant Super AMOLED helps bring life into the videos you're watching. Avatar looks especially good on this type of display because blues in AMOLED displays are particularly powerful and vibrant.
Below are the results of the usual video playback test.
Media
Result
Cordy Gameplay
SD 640x360 WMV
WMV3 video, WMA2 2ch audio
Perfect playback
The Big Bang Theory
SD 624x352 AVI
XviD video, MP3 2ch audio
Perfect playback
Epic Rap Battles of History 7
HD 1280x720 MP4
H.264 YouTube video, AAC 2ch audio
Perfect playback
TRON Legacy
HD 1280x720 MP4
H.264 video, AAC 6ch audio

Perfect playback

Black Swan
Full HD 1920x800 MKV
H.264 video, DTS 6ch audio
Surprisingly the Note plays the MKV file and displays the 1080p content without stutter, however the DTS audio is not decoded meaning there was no audio during playback
THX Amazing Life
Full HD 1920x1080 MT2S
H.264 video, AC3 6ch audio
Not recognized by the Note and wouldn't play
MysteryGuitarMan
Full HD 1920x1080 MP4
H.264 YouTube video, AAC 2ch audio
Perfect playback
This is without a doubt the best result I have ever seen on a mobile device. Everything except the MT2S was playable: the AVI worked fine without stutter, the MP4 with 6-channel audio was played with sound for once, the MKV supported and displayed (without sound) and 1080p playback is perfectly smooth. If only it supported DTS audio…
Even better is while transferring these files to the Note you have the option, at least on Windows, to convert the media to supported filetypes. It did ask to convert the MKV despite it playing back at least the video, and while the testing was conducted with the original filetypes you can actually convert all the files without issue.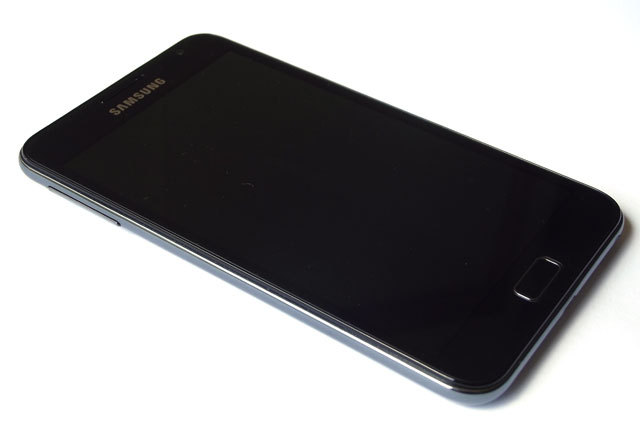 To top everything off, you can adjust the color temperature of the display from inside the video player to remove the oversaturation of the Super AMOLED display if you so choose. It also has 5.1-channel surround sound simulation for headphones that you can turn on/off as you wish.
As usual, call quality is good on the Note and I believe it does have noise cancelling technology so if you're in a noisy environment people on the other end can hear you more clearly. I honestly don't know why I still mention call quality because every device I test is fine in this respect.
Battery Life
Now this may come as a complete shock, but the Samsung Galaxy Note's battery life is astonishingly good. It's much, much better than I was expecting and much, much better than most phones on the market right now.
This is more than likely due to the whopping 2,500 mAh battery that is fitted into the phone (not that space is an issue), which delivers a fantastic three days of light-to-moderate usage. Yep: three whole days without a charge and the Note still managed to send texts and browse the web. It's simply amazing considering the gigantic display and dual-core processor.
If you really tried to conserve battery I believe the device could push through four and a half days without dying, but you would practically have to not touch it. On the other hand, you could kill it in five or so hours playing games, as the combination of using the dual-core CPU fully and massive display takes its toll on the battery.
That aside, what's cool to think is that if you packed a second battery there is a possibility that you could go on a week-long vacation and not have to use your charger at all. It simply blows away the battery life of any other device I have seen, and Samsung should definitely be commended for their efforts to make the Note last for as long as possible.
Conclusion
The Samsung Galaxy Note is perhaps the only good implementation of a stylus on a modern mobile phone. It allows you to easily take notes whenever and wherever, it adds cool functionality and it's a genuinely useful tool for note-taking and drawing. I can easily see businessmen making good use of the note functionality of the Galaxy Note.
The 5.3" display is simply gorgeous on the Note: it's Super AMOLED, it's 1280 x 800 and it's awesome for playing games and watching the many supported video formats. Not only that, the design works well with such a large screen and Samsung have gone to some effort to make sure all the placements and buttons are easy to access and well placed. Good job, Samsung.
Unfortunately there are two major downsides to the Note that really hinder the overall device. One is the sheer size and footprint of the phone, if you can call it a phone. It's inconveniently enormous, and while the 5.3" display is great, it's too big to be practical. Having the Note in your pocket hinders your movement, and holding the device to your ear to make phone calls looks ridiculous.
Somehow I think Samsung could have jammed all the same features of the Note into a more practical 4.5" or 4.7" package that would actually fit in your pockets. They could still have kept the 1280 x 800 display, the stylus, the software and the massive battery life but instead put it in a reasonably-sized package.
The other major downside to the Galaxy Note is the price. MobiCity, who kindly provided the Galaxy Note for review, have it on sale for AU$840! I wanted to make sure that this price was correct, so I looked elsewhere and found Clove UK selling it for £495.00 (excluding VAT), which is still very expensive. I'm not sure what the RRP for the Note is, but $800 for a phone outright is over the top.
To make things worse I can't figure out what makes the Note $240 more expensive than the Galaxy S II. It's pretty much the same phone, and a larger display, case, battery and stylus cannot amount to that much. Samsung seriously need to lower the price of the device if it's going to sell or people will simply buy a cheaper, but similar phone like the Galaxy S II.
It's a shame that those two things have to hinder the Note so much, because otherwise the note-taking and other features make it simply awesome.