Steam, the popular online gaming service for PC gamers around the world, was offline for several hours on Christmas Day. The outage followed threats from a hacking collective known as 'SkidNP' that they would take down Steam and Minecraft servers over Christmas.
When attempting to open the Steam client, users were presented with a message detailing that there is an issue connecting to the Steam network: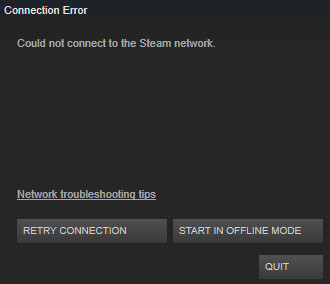 Reports of the outage began to surface earlier this morning (14:50 GMT / 6:50 PST) and continued to grow in number as more people attempted to connect.
On Reddit there have been numerous complaints of the outage. Community member komentra said:
I really hope it isn't those script kiddies DDOSing Steam. PSN, and XBL again.
At the time of writing, there has been no comment from Valve regarding the outage. While SkidNP has claimed that they would attack Steam on Christmas Day, it is also just as likely that due to it being the festive season, there's a higher than expected number of people signing in and downloading content.
As Reddit user Super_Cyan pointed out:
To be honest, it'd be rough figuring out what's an attack and what's just heavy traffic on a day like today.
The client would occasionally display 'connecting to Steam account' for awhile before throwing users back out. Our attempts to connect to Steam earlier today were unsuccessful, but the service is now back online.
Update: Some users are now reporting being able to log back into Steam, but are finding themselves logged-in to someone else's account when they do so. According to multiple user reports, if you are logged-in as another user, you are able to view their credit card information, account balance and account name. Hundreds of users have reported issues over on the Reddit post - along with an official moderator claiming that Valve are working on these issues:
I've alerted a few people (read; everyone)!

/Edit: They are working on it as we speak

Multiple readers in the comments have also reached out to us to report this issue.
According to Redditor Rupwner, if you're logged-in to someone else's account, you may also be directed to a different store - for example, the Australian store.
Valve is now recommending that you do not log-in to any Steam website, app or community system until this issue is resolved. Steam Moderator indigenousOres said:
If you know you're already logged in, do NOT visit any Steam Community or Steam Store URL.

This includes any internet browser and the Steam Desktop/Mobile Client!
On a community-run Twitter account surrounding Valve, they retweeted a statement from SteamDB telling concerned users that it is a caching issue:
Valve is having caching issues allowing users to view things such as account information of other users. Don't use Store for now.
As a precaution, Valve has now disabled access to the Steam Store and community features, to try and limit the amount of personal information that has been freely available. When visiting these areas, you will now be presented with an error such as "An error occurred while processing your request.".
If you have any concerns regarding the security and safety of your account, we advise that you contact Steam Support.
All issues now appear to be resolved and Steam is returning to normal - so far there has yet to be an official statement from Valve regarding the data leak of users.
Image: Steam