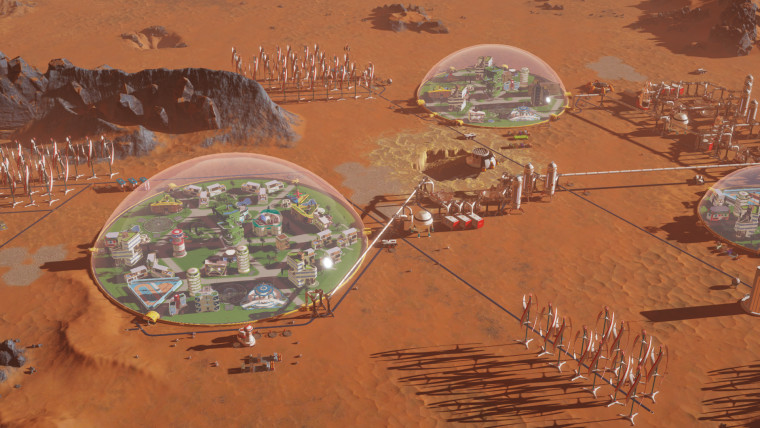 It is the Humble Store's turn to give away a game again, and this time it has brought forth a copy of Surviving Mars Deluxe Edition. The Paradox Interactive-published city-building and management title set on the Red Planet is completely free to claim over the next three days.
Originally developed by Haemimont Games, though now under Abstraction Games for future content, Surviving Mars has you building a colony on Mars. It involves utilizing drones to build habitable domes for colonists, factories, and commercial buildings while also balancing dwindling resources to ultimately become sustainable. There are also various Martian secrets to uncover during the campaign, with the title throwing things like contact with aliens, plagues, and other problems at the player to solve.
The Deluxe Edition comes with the Metropolis Building Set with chromatic skins for infrastructure, a new radio station, and three alternative housing styles. It also provides the added benefit of upgrading the base game to the Deluxe Edition if you already own a copy of Surviving Mars on Steam.
Claim the game via the Surviving Mars Deluxe Edition giveaway page on the Humble Store, where it is made available as a Steam key. Although the giveaway ends on June 14, there is a limit to the number of serial keys Humble has available for this promotion, so be sure to grab one as soon as possible. You need to subscribe to the store's newsletter to grab the freebie.