Today is the first day of the first Bug Bash for the next feature update to Windows 10, codenamed Redstone 4. This means that Insiders will have a chance to complete Quests and submit feedback based on their experiences. One of the Quests had to do with converting a PC to Windows 10 in S Mode, and it works with Windows 10 Home, Pro, and Enterprise.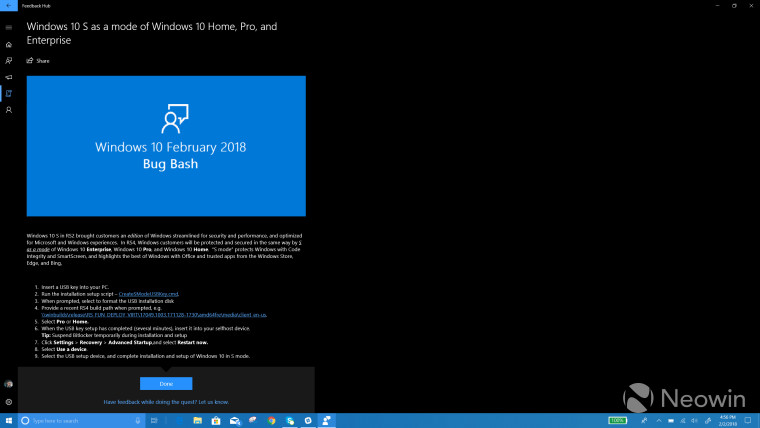 The only thing is, Microsoft never announced Windows 10 Home in S Mode. Enterprise in S Mode was announced at Ignite in September, and Windows 10 S has always been Pro in S Mode. With the standard Windows 10 S (or Pro in S Mode), all of the Pro features are there, such as Hyper-V.
Really, S Mode is just locking down a version of Windows so that it doesn't run most Win32 apps. For most, Windows 10 Home in S Mode will run just like Pro, except it won't have those features that most people don't use, like BitLocker and Remote Desktop.
One thing that's interesting is that when Microsoft first released Windows 10 S to everyone, it was offered to anyone with a SKU of Windows 10 that's not Home. Pro, Enterprise, and Education PCs were all automatically licensed, and if you tried to run the installer on a machine that was only licensed for Home, you'd be asked for $199 - the price to upgrade from Home to Pro - to activate it.
Unfortunately, the Quest itself doesn't seem to actually work, and the CMD file referenced doesn't seem to exist. It's possible that this was meant to be internal, given the reference to an RS4 build path and the fact that Microsoft hasn't announced Home in S Mode, or a conversion method like this one.
It does seem like a natural progression of events though. With Microsoft's continued push toward a locked down environment, many have wondered why Home was left out. As S Mode matures, Home is the next natural step.
Anything beyond that would purely be speculation. One would assume that if a PC comes with Windows 10 Home in S Mode, it would be the same $49 upgrade fee to upgrade to Home as it is to upgrade from Pro in S Mode to Pro. Even with the installer, we won't know the answer to that, as any machine it gets installed on will already be licensed for Windows 10 Home.
Of course, we've reached out to Microsoft to find out more information, and we should learn more soon.