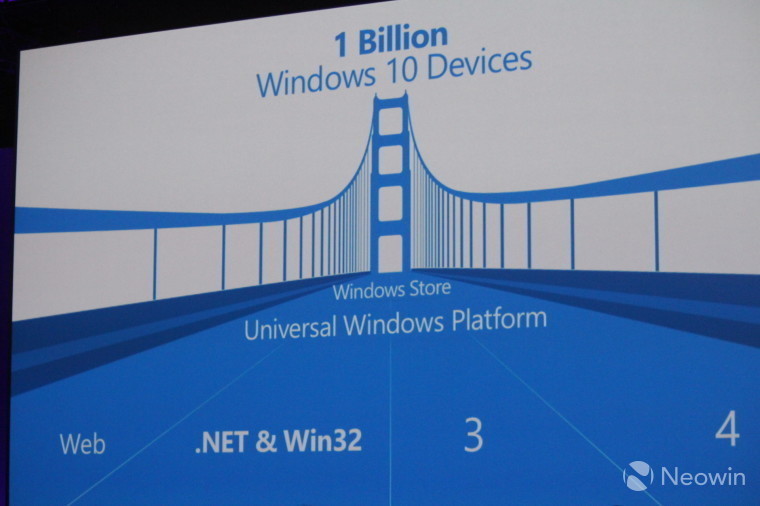 When Windows 10 arrives later this year, the company will be introducing its 'One Store' model that will help make the distribution of apps easier for developers. At Build 2015 today, Microsoft talked about new features that will also arrive with this new store model.
The company is making it possible to bring Win32 apps into the Store using a new SDK. This feature had been rumored for a long time but it's now finally being released. By doing this, developers can bring classic apps to the Store which increases visibility for their product but also makes consumers' lives easier as the install/update/removal process is streamlined like any other modern app.
There are four other new features that Microsoft discussed including carrier billing across all Windows 10 devices, a new Windows 10 Advertising SDK with support for video ads, in-app purchase subscription support and of course, a new Windows Store Affiliate Program.
These new developer tools are aimed at making it easier for app creators to distribute and monetize their products. With Universal apps now becoming a key component to Microsoft's ecosystem, these additional features with be another small step in making the lives of Windows developers a tiny bit easier.
Microsoft says that for the consumer, their new carrier billing model supports over 90 mobile operators which will make it easier for individuals who have a cell phone but not a credit card to purchase apps. The company believes this will help drive forward the purchasing of apps from the Store which will increase revenue to developers.
On the business side, the Windows Store allows administrators will be able to highlight apps for their employees, distribute select apps and deliver private line-of-business apps inside of the company..
All of these updates create a better Store experience for all involved and Microsoft is hoping that these features will be one more push to getting developers to build for its ecosystem.