Call of Duty: Vanguard is this year's entry in the popular first-person shooter franchise and it brings with it a number of modes, including a bombastic campaign filled with stunning set pieces and plenty of explosions. Back in October 2021, Call of Duty: Vanguard writers said that they wanted to create iconic heroes like Halo's Master Chief with this game. Did they succeed in doing so? Read on to find out.
Story
Call of Duty: Vanguard's story is an action blockbuster with somewhat stereotypical soldiers, but it also touches upon issues like discrimination and racism in the Allied countries. The plot focuses on a mysterious, but fictional, Nazi plan called Project Phoenix. There's an overarching tale that homes in on taking down a despicable commander, but you also play through flashbacks that explain how the heroes of the story started working together, and their reasons for fighting.
You'll get a chance to experience the game from different points of view, and hopefully learn more about the team. The flashbacks give a glimpse as to who Call of Duty: Vanguard's playable heroes are, but they mostly focus on their leadership and fighting styles instead of giving us a deeper look into Arthur Kingsley, Polina Petrova, Lucas Riggs, and Wade Jackson.
In my opinion, Call of Duty: Vanguard doesn't spend enough time fleshing out these individuals. There are some truly horrifying moments in the campaign, but all of the heroes end up coming across as caricatures or stereotypes. Their reactions to the deaths of fellow soldiers and even family members are unrealistic. Had developer Sledgehammer Games added a little more dialogue — maybe a monologue or two about how certain tragic events affected each character — it would've elevated the story.
For example, early in the campaign, a subordinate's head explodes due to a round from a sniper rifle. The newly promoted Kingsley just stands there without saying a word or discussing this traumatic event later. Fast forward a few missions, Petrova witnesses the massacre of her entire city, but seems to move past this tragedy in the blink of an eye because the vaporized bodies are never mentioned again. On one hand, Call of Duty: Vanguard wants us to identify with the game's heroes, while on the other it doesn't explore their humanity. It's during moments like these that the story feels rushed and the characters unrealistic.
As mentioned earlier, Sledgehammer Games said that it wanted to create characters in Call of Duty: Vanguard that would be on the level of icons like Master Chief from Halo. In my opinion, the game fails to do a good job of character building. Kingsley, Petrova, Riggs, and Jackson aren't distinctive enough from individuals in other military shooters out there.
The voice acting is excellent, and you can't fault the title there. But when you're going out and trying to create new faces for a franchise, you have to have more heart. This is a standard World War II story that's interesting, but it's no Battlefield Bad Company 2 or Halo 4.
Performance and visuals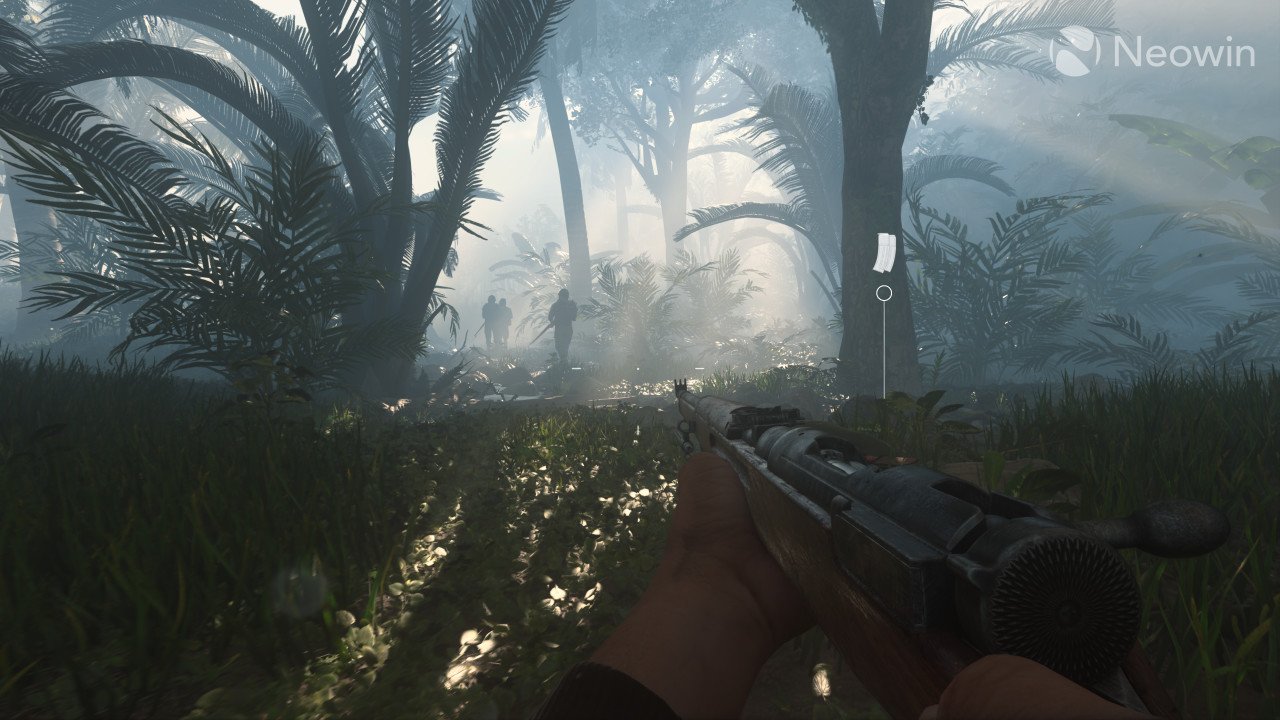 Call of Duty: Vanguard's campaign looks incredibly sharp on Xbox Series X despite the use of dynamic resolution scaling, and remains locked at 60 frames per second (FPS) for the most part. It also appears to render at 4K resolution most of the time. However, every 10 minutes, I encountered random slowdowns for a couple of seconds where the frame rate dropped to around 15 FPS.
The performance issues don't appear to be related to any in-game event, like extreme weather, because they occur during hurricanes and starry nights, sometimes even when you're inside small buildings. There are even hiccups during the 30 FPS cutscenes, which are jarring to witness after 60 FPS gameplay in and of themselves. It's clear that the Xbox Series X version of Call of Duty: Vanguard needs further optimization.
Aside from the performance problems, Call of Duty: Vanguard suffers from a number of odd bugs in its campaign. While the majority of them revolve around weapons clipping through teammates or dead soldiers dying in strange positions similar to poisoned cockroaches, some of the most severe ones are related to the user interface.
For example, the game's campaign allows you to control your allies' actions during certain moments. A giant banner that says how to do that stays on the center of your screen, right next to the reticle, for an entire level. It's unclear how this wasn't caught during quality-control testing. The Call of Duty series has always been multiplayer-focused, but that doesn't mean annoying bugs should be part of the story mode.
As is the case almost every year, Call of Duty: Vanguard is one of the best-looking games when it comes to its linear campaign on Xbox Series X. The lighting is spectacular — explosions illuminate every surface — and the atmospheric fog is a sight to behold. Animations, faces, materials, reflections, textures, weather effects, and wet surfaces are also of the highest quality. Even when you're piloting an aircraft in one of the earlier missions, the details in the cockpit are remarkable.
Call of Duty: Vanguard features two performance modes on Xbox Series X. By default, the title renders at 4K 60 FPS, but you can enable 120 FPS from settings if you have a compatible display. The game does not use ray tracing on Xbox Series X unlike Call of Duty: Black Ops - Cold War.
Environments and missions
The environments are diverse as well. During the 10 hours I spent playing the campaign — some gamers beat it in 5 hours — I fought my way through burning villages, cities, deserts, flower-covered fields, and treacherous trenches. The visual design offers an excellent contrast because you witness how a quaint day can be destroyed in an instance.
The third mission in Call of Duty: Vanguard takes you to the Eastern Front of World War II. There, you're able to explore limited areas of the city and interact with the locals. You can even watch a violin performance on a rooftop. Minutes later, it's all laid to waste by invading forces, with bombs exploding not only buildings, but also disintegrating your friends and neighbors. The campaign shines when the game utilizes this stark contrast to demonstrate the horrors of war.
Also, why are dogs so overpowered during the campaign? They can kill you with one bite. I'm not sure if that's realistic, but it makes playing through the story somewhat frustrating because it's hard to spot them if it's raining and there are tons of explosions going on around you. Luckily, the precise shooting mechanics redeem the title as a whole.
Conclusion
Two missions stood out for me the most. My favorite levels have to be the one that focuses on surviving an airplane raid in Russia and one where you pilot an aircraft. Petrova has the most reason to hate the Nazi invaders, and stepping into her shoes was a blast. Additionally, who doesn't love flying an easily-controllable fighter plane and shooting down targets?
Overall, Call of Duty: Vanguard's campaign adds to the package that includes robust multiplayer offerings, but it feels a little rushed. There are major story and technical missteps this year. If you're a fan of previous Call of Duty campaigns, you should definitely play it. However, if you're thinking about picking up Call of Duty: Vanguard for its story, you should probably wait until there's a sale down the line.
---
Call of Duty: Vanguard is available for purchase through the Microsoft Store, or the platform of your choice, for $59.99. The game launched for PC, PlayStation 4, PlayStation 5, Xbox One, and Xbox Series X|S on November 9, 2021.
If you're curious about the multiplayer portions of the game, check out my colleague Pulasthi Ariyasinghe's review for PC. The campaign was reviewed on Xbox Series X with a review code provided by Activision Blizzard.
---
Pros
• Visually stunning • Standout missions • Excellent voice acting • Good story
Cons
• Performance issues • Poor character development • Stereotypical heroes • Short length