For as long as I can remember, I've always wanted a small projector that I can take on the go and use for a bit of fun. As technology has progressed, so have the options that are now available when it comes to projecting an image or video. Google's Chromecast was and is still one of the most affordable ($35 USD) options that comes to mind that literally changed the way we share content.
Although Google's solution is optimal, it also requires a display and while most offices and homes are equipped, it really isn't a device that can work in a less connected environment. Although projectors are still available, they aren't quite the go-to solution as they were in their prime during the 90's and early 2000's. Luckily projectors have evolved, offering wireless connectivity and more importantly portability over the years.
The iDea 'Pico' is a lightweight (6.4 ounces) projector that offers plenty of power in a small package. The projector is encased in a white plastic shell and has hints of matte silver and chrome. While the projector should be able to withstand most forms of abuse, the top panel does flex when pressed and the lens is exposed. The design isn't a "showstopper" by any means, but its simple look should appeal to, fit, and blend well with most environments.
The projector comes in a travel case that offers some protection and a way to organize all the parts that come included with the device. The main unit offers a power button and controls (volume up and down, back button), but also can be controlled via the IR remote. The remote will probably be the preferred method of control as it offers the same buttons as what can be found on the unit, but also offers shortcuts to sources.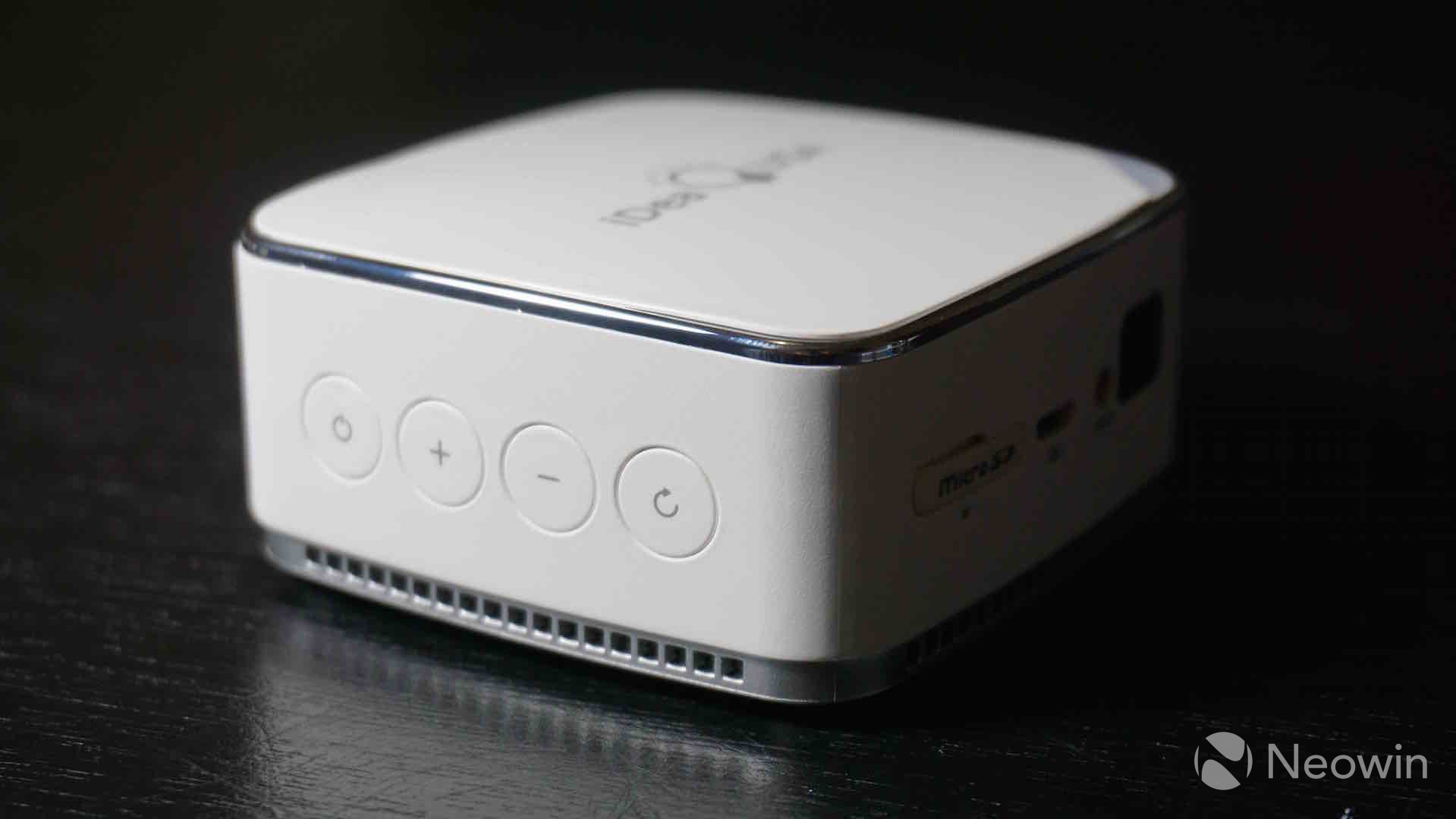 Naturally, when you are miniaturizing, there are a few things that tend to get lost in translation. For the Pico, this means that it only offers an output resolution of 480p and does not offer standard connections like AV and HDMI. Instead it relies on wireless standards (Miracast, AirPlay, DLNA and microSD) and being able to connect to a computer, smartphone and any other device that connects via the supported methods. I tested the device via PC and smartphone and although both methods worked well, I did experience some hiccups when running from a smartphone. While nothing major, there were instances when the stream would stutter for a couple seconds, but would work normally for the duration of the film (over two hours).
Naturally, you might not be capable of streaming wirelessly (supports a/b/g/n) and although this will be the best way to push content to the projector, you will also have the option of using the microSD slot. The microSD slot does support a wide variety (avi, mp4, ts, rmvb, mpeg, wmv, mov, flv, rm, 3gp, mpg, vob, mkv) of video formats, but I would recommend testing your media file to make sure the file is compatible. If you intend to use the projector for simpler tasks like presentations, the unit also supports images (jpg, png, jpeg) and also a few different audio (mp3, wma, wav) formats as well.
In my testing, the 5000 mAh battery in the projector is able to supply power for a little over two hours and 30 minutes, although this number will fluctuate depending on the volume and brightness settings (80 lumens max). For the most part, it should be able to get you through most movies and if in a pinch and extra power is required, you can charge the device via the microUSB port.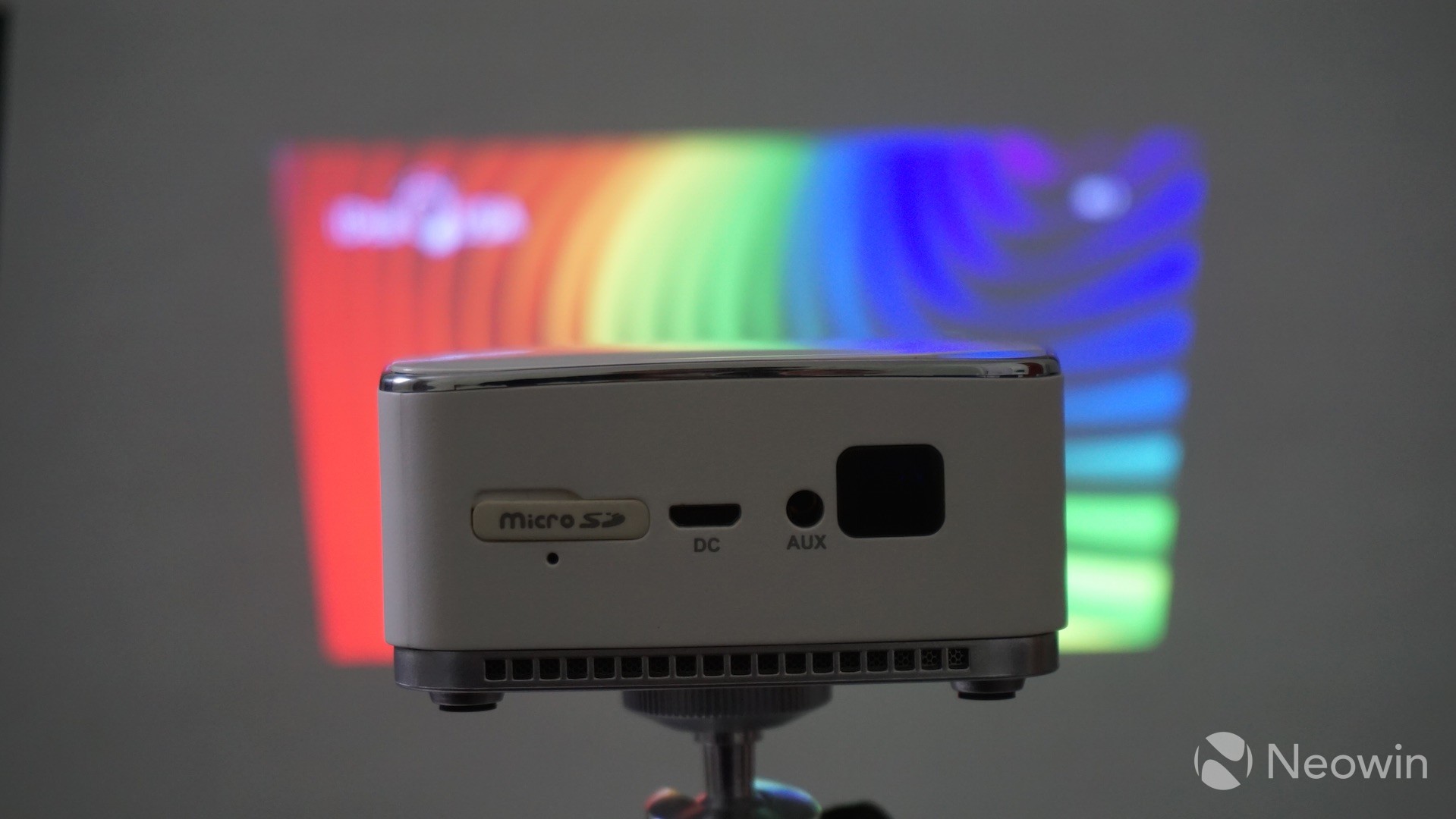 Although the Pico offers a lot of basic features that you might accept from a projector, it doesn't offer the ability to fine tune the image to keep things usable in every environment. Perhaps one of the biggest pitfalls of the portable projector is that it cannot adjust the size or shape of the projected image without physically moving the device. This means that you will always have to place the projector on a level surface and have it at the appropriate distance. Although the projector does come with a mini tripod with ball head, it really doesn't help to project the image, as the angled path will always result in "keystoning".
Overall, this is a fairly neat product that offers the ability to project a video or image fairly easily. It requires minimal setup and can be very convenient depending on location. Although I do wish that there were more features in regards to image optimization, I really can't complain about a projector that cost $300 USD. While this won't replace a home projector or Chromecast setup anytime soon, it should be handy for those that want to have something on the go or a have a fun spontaneous movie night.
But, as mentioned previously, a lot has changed since projectors hit their peak and there are now many options available to watch media on the go. While most solutions won't be able to offer large screen viewing, neither can the Pico without some assistance from a large flat surface or a projector screen. While the Pico is a fun device, it won't be for everyone and will most certainly will be for a niche crowd.
Pros
portable / compact wireless streaming included accessories
Cons
no HDMI or AV no detailed image adjustment