Lenovo first announced the ThinkPad X1 Extreme Gen 2 back in May, and while I received one back in October, I've been sitting on the review for a while. It's so similar to the ThinkPad P1 that I really wanted to wait until I had the OLED model, providing a bit of differentiation between the models that I reviewed. If unfamiliar, the ThinkPad P1 has the same chassis, but with Quadro graphics instead of GTX, and an option for a Xeon processor.
And man, is this a great PC. The new ThinkPad X1 Extreme doesn't look much different than it did last year, and it comes with the internal upgrades that you'd expect. It now has ninth-generation Intel H-series processors, and an Nvidia GeForce GTX 1650 instead of a 1050Ti. And of course, there's an option for a 4K OLED display now.
The original X1 Extreme that was introduced last year included a lot of firsts for the ThinkPad lineup. It was the first X1 with a 15.6-inch screen, the first with dedicated graphics, and the first with a 45W H-series processor. If you want power and portability from a premium ThinkPad, this is where you go.
Specs
CPU
Intel Core i9-9880H with vPro (2.30GHz, up to 4.80GHz with Turbo Boost, 8 cores, 16MB cache)
GPU
NVIDIA GeForce GTX 1650 4GB GDDR5
Body
361.8x245.7x18.7mm (14.2x 9.7x0.7″), Starting at 1.7kg (3.76 pounds)
Display
15.6" UHD (3840 x 2160) OLED, anti-reflection/anti-smudge, touchscreen with Dolby Vision HDR 500, 400 nits
Memory
2 x 16GB DIMM DDR4-2666
Storage
1TB SSD M.2 2280 PCIe NVMe Opal2
Ports
(2) USB 3.1 Gen 1 (one always on)
(2) Thunderbolt 3 (w/function of Power Delivery and DisplayPort)
(1) Ethernet extension connector
(1) HDMI 2.0
(1) SD Card Reader (SD, SDHC, SDXC), supports UHS-II SD card
(1) Microphone / headphone combo jack
WLAN and Bluetooth
Intel AX200 11ax 2+2 + Bluetooth 5.0
Camera
IR camera and HD720p camera, fixed focus
Keyboard
6-row, spill-resistant, multimedia Fn keys, LED backlight
TrackPoint pointing device and buttonless glass surface multi-touch touchpad
Security
Power-on password, hard disk password, supervisor password, security keyhole
Discrete TPM 2.0, TCG Certified, Intel vPro technology
Battery
80 Wh, supports Rapid Charge
Windows Hello
IR camera, fingerprint sensor
Material
Display cover: Carbon Fiber/Graphite hybrid
Bottom: Aluminum alloy
OS
Windows 10 Pro
Price
$2,866.80

Note that this price is after discounts on Lenovo.com, and without the discounts, this unit is $4,778. There are always discounts on ThinkPads, and they vary, so this price will vary. The other model that Lenovo sent me was the Core i7-9850H one, with a 4K non-touch display. That model will run you $2,628.
The X1 Extreme actually starts at $1,349.10, including a Core i7-9750H, 16GB RAM, a 512GB SSD, and an FHD display.
Day one
Design
The best way to think about the design of the X1 Extreme is as an oversized X1 Carbon, because that's pretty much what it is. It's black, and it has the carbon fiber weave look that's also new to the X1 Carbon this year, and therefore new to the X1 Extreme. And of course, it's a clamshell laptop that opens to 180 degrees.
On the lid, there's a premium ThinkPad logo and the X1 logo, neither of which are used on non-premium PCs. The premium ThinkPad logo is black and glossy, while other ThinkPads use a gray logo. The only non-X1 to have it is the P1, and as you'd expect, the only PCs with the X1 logo are X1 ThinkPads.
Lenovo also provided a fair amount of ports, at least in comparison with other modern PCs. Remember, this is a business PC, and it's one that's meant for power, so it's not crazy that you might want to plug in some peripherals.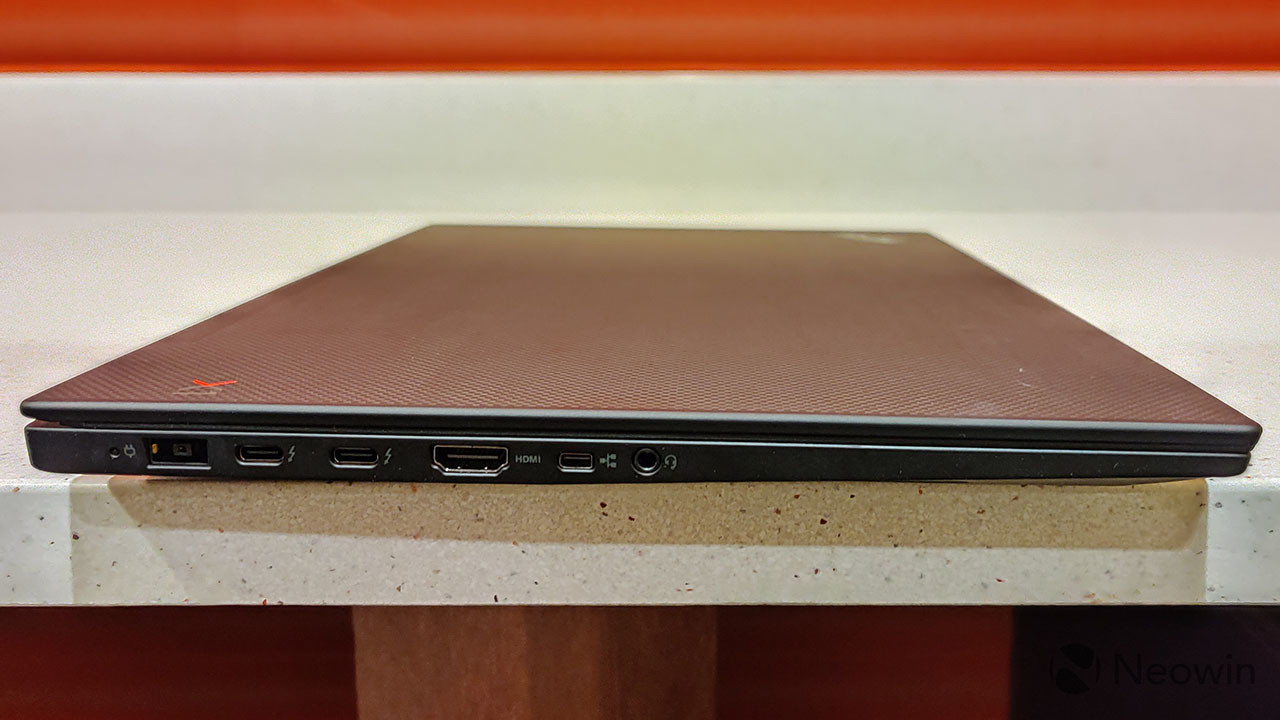 On the left side of the device, you'll find a power port, two Thunderbolt 3 ports, HDMI 2.0, an Ethernet connector, and a 3.5mm combo audio jack. Yes, it does use Lenovo's proprietary power port, but it has to. This laptop comes with a 135W charger, and there aren't any 135W USB Type-C chargers on the market.
Naturally, you can plug in a bunch of external monitors. Each of the two Thunderbolt 3 ports supports up to two 4K monitors or one 5K monitor, and then you can also use the HDMI 2.0 port for a 4K monitor. Those Thunderbolt 3 ports are also good for 40Gbps data transfer speeds.
On the right side, there are two USB 3.1 Gen 1 Type-A ports, along with an SD card slot. It's a bit disappointing that Lenovo used USB 3.1 Gen 1 instead of Gen 2, since Gen 2 has twice the speed at 10Gbps. I assume that this is because it's the same design as last year.
The bottom panel can be removed with seven Philips-head screws. This will give you access to the internals, where you can swap out things like the RAM, SSD, speakers, and more. For more details on replacing and upgrading parts, check out the user guide under Customer Replaceable Units, or the maintenance manual for something more in-depth.
Display and audio
If you're in the market for a 15.6-inch ThinkPad X1, then good news! You're buying a ThinkPad X1 Extreme, because it's the only one. The Yoga and the Carbon both have 14-inch displays.
The X1 Extreme has four display options, two of which are 1080p and two of which are 4K UHD. The lowest-end one is 1080p with 300-nit brightness. Obviously, this will give you the best battery life. There's also an FHD model with Dolby Vision HDR400 and 500-nit brightness.
Honestly, I feel like FHD is too low on a 15.6-inch screen. I'd go for 1440p if they had it, since I feel like it's the best balance between battery life and resolution. After all, FHD will probably get you close to twice the battery life as you will with 4K, or at least the more power-consuming 4K OLED.
And those are the other two options. There's a 4K model with Dolby Vision HDR400 at 500-nit brightness, and a 4K OLED model with Dolby Vision HDR500 at 400 nits. These are the two that Lenovo sent me, and they're both beautiful, but I'll tell you right now that OLED is the one you want. In fact, no matter what you're buying, ever, if there's an OLED model, get the OLED model.
With OLED, pixels are lit up individually, rather than being in front of a backlight. That means that black is true black, to where you can't tell where the screen ends and the bezel begins. Colors rendered on top of true black are more vibrant, as a backlight can make them look more washed out. The IPS model is by no means bad, but that sweet, sweet OLED is just so much better. It's also the only configuration that supports touch.
This is also the first time that Lenovo has offered Dolby Vision on both IPS and OLED screens on the same model. A couple of years ago, the ThinkPad X1 Carbon and Yoga were both offered in OLED models, and that ended up getting swapped out for a Dolby Vision IPS. Hopefully, OLED will make a return in next year's Carbon and Yoga.
The bezels are the same as they were last year, except the webcam is different. Last year, you had to choose between a ThinkShutter privacy guard and an IR camera. Now you can have both; of course, if you close the privacy guard, Windows Hello won't work.
As far as audio quality goes, there's some good and some meh here. The good is that it gets loud. These speakers will definitely fill the room. The bad is that it does have a slight (and I mean slight) tinny effect to it. The two 2W speakers that have Dolby Audio Premium don't have the clarity of some Dolby Atmos speakers I've heard on other laptops.
Keyboard and trackpad
This is one of those sections that I do feel like I'm writing over and over, because I review so many ThinkPads, and they all have such similar keyboards. This is a premium typing experience; it's precise and it's comfortable, something that I always say about premium ThinkPads. They just have great keyboards, and that's something that's pretty widely known. I've typed quite a bit on this machine and I didn't get tired of it (and I've had this PC for months now), and that's the main test that it has to pass.
One thing that's different about ThinkPads is that the key-press is deeper than on other laptops. Upon getting this device, I actually had to take some time to get used to it, because I'm used to so many shallower keyboards. Naturally, it's up to you to decide if you like a deeper or shallower keyboard, but Lenovo's premium ThinkPad keyboards are precise and comfortable.
Right between the G, H, and B keys is the red TrackPoint, a feature found in every single ThinkPad. This can be used to move the pointer around the screen, and you can click with the buttons above the Precision trackpad. This is a feature that you'll either love or hate, and if you hate it, you can always just ignore it. I think that's what most people do at this point.
There's also a fingerprint sensor to the right of the keyboard. I'm more of a facial recognition type of guy, but it's nice to have the choice between different biometric authentication types. After all, ThinkPads have had fingerprint sensors for years before Windows Hello even existed.
Performance and battery life
This is Lenovo's most powerful ThinkPad that doesn't fall under the workstation category. It's the only one with an Intel 45W H-series processor, and the only one with dedicated graphics as powerful as an Nvidia GeForce GTX 1650. The configurations that Lenovo sent me also include 32GB RAM and a 1TB SSD.
The CPU configs that Lenovo sent me are a Core i7-9850H and a Core i9-9880H, both of which support vPro. Both are 45W, but the Core i7 has six cores with 12 threads, while the Core i9 had eight cores with 16 threads. While last year's was the first to include an H-series processor, this year's is the first to include a Core i9.
The main thing that I did to test performance was video editing, and the X1 Extreme did a great job. If you're doing 4K 60fps video editing, you might want something more powerful, but for 4K 30fps or 1080p 60fps, the X1 Extreme does a great job.
Of course, all of that power comes at the cost of battery life. OLED, a 45W CPU, and dedicated graphics all of their cost on power. If you choose non-OLED 4K, you'll do a bit better, but for the best battery life, you'll want to go for 1080p. I got about four hours of everyday use with the OLED model, and about five hours with the non-OLED model. On the other hand, I could get up to six hours on the OLED model just listening to music in the background.
For benchmarks, I used PCMark 8, PCMark 10, 3DMark, and VRMark. I only ran one VRMark test because it didn't hit the minimum frame rate on the easiest one.
| | |
| --- | --- |
| PCMark 8: Home | PCMark 8: Creative |
| | |
| | |
| PCMark 8: Work | PCMark 10 |
| | |
| | |
| 3DMark: Time Agent | VRMark: Orange Room |
| | |
| | |

The X1 Extreme scored well on all tests, just as I'd expect for a machine like this. It's powerful, but at the same time, it's not a VR machine. If you want VR and things like it, you can go the workstation route.
Conclusion
Just like with last year's model, the Lenovo ThinkPad X1 Extreme Gen 2 is a lovely PC. You certainly won't regret this purchase, assuming that it's what you're looking for. When I say that, I mean that you have to be looking for a premium PC that's also portable. You have to be planning on using it for more than just productivity-related tasks. If you want general productivity, look for an X1 Carbon or an X1 Yoga. U-series processors are great for productivity, and the battery life is much better.
And the battery life is the main issue with this PC. There's always a balance between power and battery life, and you have to decide where you want to fall on that spectrum. I also take slight issue with the proprietary charger, since Dell has managed to ship a 130W USB Type-C charger (not 135W, but still significant). I just don't like proprietary chargers. I want one charger for all of my devices.
The ThinkPad X1 Extreme is a magnificent combination of power and portability though. With a 45W CPU and dedicated graphics, it still weighs in at just 3.76 pounds. Add to that a beautiful OLED display and one of the best keyboards out there, and I'm not sure what else you can ask for.
If you want to check out the ThinkPad X1 Extreme, you can find it on Lenovo.com here.