It was just a few years ago that you could get the best that smartphones had to offer for under $700. But since contracts went away and companies no longer needed to hit that $199 (with a contract) price point, prices have skyrocketed. Apple's latest flagship, the iPhone Xs Max, starts at $1,099, and now foldable phones are showing up well in excess of $2,000.
But there's good news, which is that you don't have to spend a lot of money to have a great phone, or at least that's what Motorola has been saying - nay, proving - for years now with its Moto G lineup. Once again, the Moto G7 carries on the tradition of providing value for your dollar.
The price of the Moto G7 is a bit higher as well now, as it costs $299 rather than $249, which was the price of the G6. It makes some worthwhile improvements though. Read on for our review.
Specs
CPU
Qualcomm Snapdragon 632, 1.8GHz octa-core Kryo 250, 14nm
GPU
Adreno 506
Body
157x75.3x8mm, 172g
Display
6.2 inches, 2270x1080, 403ppi, LTPS LCD, 18.9:9
Camera
12MP + 5MP, Front - 8MP
Video
4K - 30fps, 1080p - 60fps, Front - 1080p - 30fps
Aperture
f/1.8
Camera features
LED flash, PDAF, auto smile capture, 8X digital zoom, Cinemagraph, portrait mode, Google Lens, YouTube Live
Front - Screen flash. auto smile capture, Cinemagraph, portrait mode
RAM
4GB
Storage
64GB, expandable by up to 512GB
Battery
3,000mAh
Price
$299

Day one
Design
In terms of just being a beautiful device, the Moto G7 is a real winner, and it's much nicer than the G6. The Moto G6 had a metallic glass back, yet it still managed to kind of look plain. The G7 also has a glass back, but this time it's white and there's a chrome-colored frame. Unfortunately, the black model still has a black frame, so in my humble opinion, that one still looks a bit plain.
As I said, the frame is chrome-colored, as it's not actually made of metal. It's made using a process called vacuum metalizing, so it's actually mostly plastic. The good news is that that means there are no antenna lines.
Unfortunately, the glass back still doesn't mean that the device supports wireless charging. The response I got on that was once again, "Not at that price point." It's a bummer though, because as always, glass is prone to breaking.
The Moto G7 also has quite a camera bump, which is surprising for a device that's 8mm thick. It maintains Motorola's design language though, so I guess it's not that surprising. Beneath the camera module, there's a fingerprint sensor, so those upgrading from the Moto G6 will have to get used to it no longer being on the front of the handset.
On the bottom of the device, you'll find a USB 2.0 Type-C port for charging, a speaker grill, and a 3.5mm combo audio jack. Yes, the good news is that there's still a headphone jack, something you will not find in Motorola's higher-end Moto Z series.
On the right side, there's a power button and above that, a volume rocker. On top is where you'll find the nano-SIM/micro-SD slot.
Ultimately, it's a very well-designed device, and this $299 smartphone has the look and feel of a thousand-dollar smartphone.
Display
The Moto G7 has a 6.2-inch 18.9:9 FHD+ LCD, and there are good and bad things about this. For one thing, the screen looks beautiful for what it is. If you buy a phone with an OLED screen, it's going to look better, but this is probably among the best you'll get at this price point.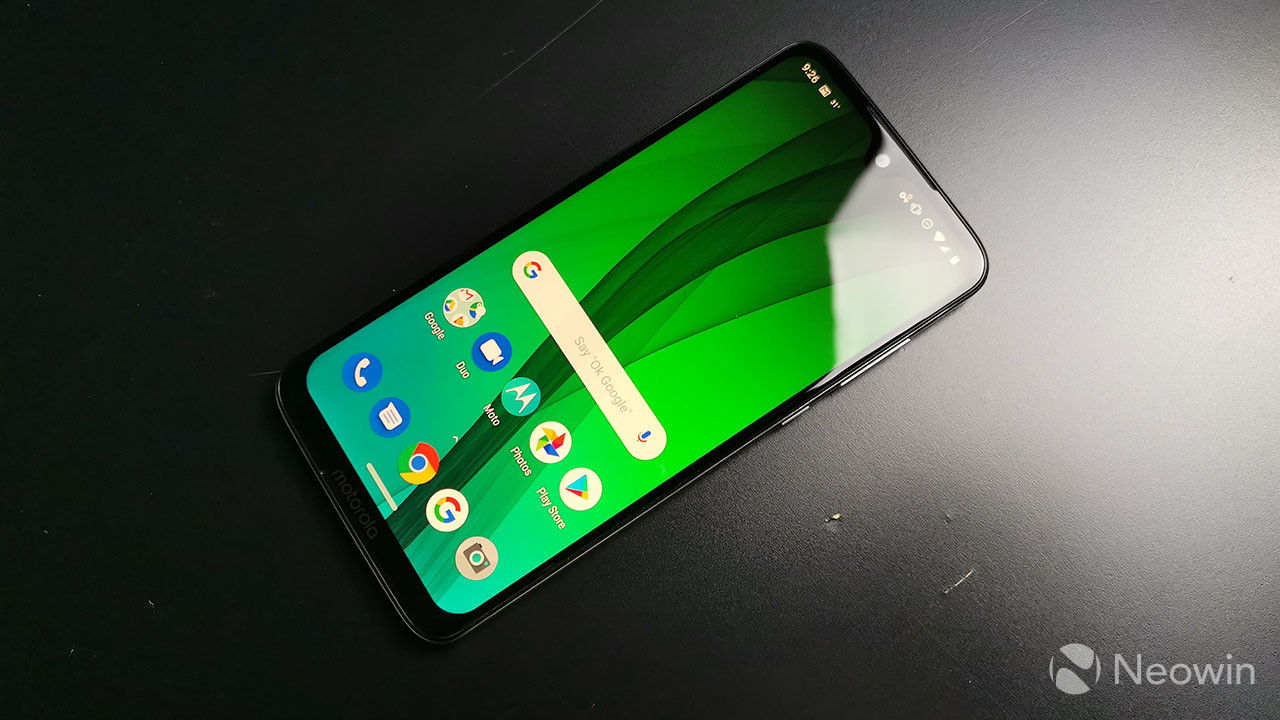 Last year's Moto G6 was also FHD+, but it had an 18:9 aspect ratio. Motorola was able to trim down the bezels this time around to make the display a bit larger. One of the ways this happened was moving the fingerprint sensor to the back, but it still has a massive chin. By the looks of it, it seems this chin exists to show the Motorola branding, and I do not like it. Last year, it wasn't as obvious because the branding sat between the fingerprint sensor and the display. With the fingerprint sensor gone, it's much more obvious.
There's also a teardrop notch, which is fine. If you check out the other devices announced alongside the G7, including the G7 Play and G7 Power, you'll find that those have larger notches. I say it's fine because a teardrop notch is about as unobtrusive as it gets, since no company has thought to put a notch in the corner since LG did it with the V20.
Motorola also has a feature called Peek Display, which is its always-on display. Not only does this show you the time, but it shows you notification badges that you can actually interact with. You can also use the Moto app to turn on a feature that allows you to reply to notifications without unlocking the phone (it's off by default, for obvious reasons).
This is where I really wish that the Moto G7 had an OLED display. With OLED screens, pixels can be turned off and you get true black. LCDs, on the other hand, are entirely backlit. If you look at the Peek Display in a dark room, it's very clear that the entire display is lit up. With an OLED display, that wouldn't be the case, although if you really want that, you can look at the Moto Z3.
Camera
The Moto G7 includes a 12-megapixel rear camera and a five-megapixel depth sensor, along with an eight-megapixel front camera. The big new feature is Cinemagraph, which was previously exclusive to the Moto Z series. As usual, the new Moto G camera features are all about bringing features down from the flagship line. It also supports Google's AR Stickers now, which is fun.
As you'd probably expect, the camera is the biggest sacrifice that you're going to make in a $299 phone. It's just not that good. It's not terrible either, but if you're used to getting the best shots, this will take some adjustment.
The camera is somewhat slow, and I ended up getting some blurry shots. Also, it's really tough to focus in low light. The Moto G7 does have phase detection autofocus (PDAF), so it can focus pretty fast in bright lighting, but PDAF on its own doesn't do too well in low-light. And truthfully, most of our pictures are taken in low-light settings.
The front camera now supports portrait mode, and you can adjust how much blur you want in your background. For the samples that you're about to see, I turned it up all the way.
My biggest complaint with the rear camera is that it's a bit too slow to capture a shot. The front camera, on the other hand, simply isn't that good. If you look at the images of me wearing Microsoft's new HoloLens 2 headset, you'll see that they just didn't come out great, despite great lighting and plenty of time to take the photo.
The low light shots from the rear camera came out pretty good, and that includes the food shots. In fact, if you're taking a picture of something that's completely still, you're in pretty good shape.
But one thing that's really good about the rear camera is that it supports video capture at either 4K 30fps or 1080p 60fps. Last year, I praised the Moto G6 for supporting 1080p 60fps at its price point, and now 4K 30fps is even more impressive. 4K 60fps is still reserved for some of the top-end flagships, so 4K 30fps is still really good at this price point.
Performance
The most impressive improvement from last year's Moto G6, and probably the reason why it costs a bit more, is the performance. The Moto G7 uses a Snapdragon 632 chipset, whereas traditionally, the Moto G series has used chips from Qualcomm's Snapdragon 400 lineup, excluding the Moto G4, which had a Snapdragon 617.
The chipset has eight Kryo 250 cores clocked at 1.8GHz, and it's a delight to use. In fact, the chipset can be known as pretty close to high-end, if not high-end. The Snapdragon 800 series is now in its own premium class, as flagship smartphones are offering way more power than most users need. The good news is that that means that a $299 phone like this actually does have the power that you need.
For benchmarks, I used Geekbench 4, AnTuTu, and GFXBench. First up is Geekbench 4, which tests the CPU.
As you can see, it does pretty well, about on par with flagship smartphones from a few years ago like the Samsung Galaxy Note5 and the original Google Pixel. Next up is AnTuTu, which tests a bit of everything.
Finally, GFXBench tests the GPU.
I don't put much stock in benchmarks, as they're really only useful for comparing a device to another. Real-world usage is what matters to me, and the Moto G7 does great for everyday needs.
Moto software
All of Motorola's devices ship with as close to stock Android as you can get without buying a Pixel, but that doesn't mean that the Lenovo-owned company doesn't add their own flavor. It just all comes through the Moto app, and it's one of my favorite things about Motorola smartphones.
The Moto features tend to be useful, and they also make me nostalgic for the original Moto X, which was renowned for its Moto Voice features. Sadly, the old Moto Voice is dead, replaced by Google Assistant, but Moto lives on.
Moto is broken up into three sections: Moto Actions, Moto Display, and Moto Voice. As you can see from the image above, Moto Actions is where the bulk of the features live. One of my favorites is one-button navigation, which is similar to the one found on Google Pixel devices but without a back button. There's also an option to put the phone on do not disturb if it's facing down.
I already talked about Peek Display in the Display section of this review, and Moto Display also has a feature that will keep the device awake if it knows you're looking at it.
And finally, Moto Voice will announce calls and read texts to you while you're driving and while a supported device is connected. You can also set it to do this if you're in certain places.
Some of the features are great, and some of them just aren't for me. But if you go and buy a Motorola phone, check out the Moto app. There's always some good stuff in there. I also always appreciate the approach of putting this stuff in the app, rather than having to hunt down OEM features in Settings.
Made for Fi
There's not a whole lot that I can say about this, but I want to point out that the Moto G7 is a Made for Fi phone, meaning that it supports carrier switching on the Google Fi network. Formerly Project Fi, Google Fi supports most mainstream GSM phones now, but if it's not Made for Fi, it pretty much acts as a T-Mobile phone.
The Moto G7 will switch seamlessly between the networks of T-Mobile, Sprint, and U.S. Cellular. That means that you'll get some of the best service around.
It's also one of the more inexpensive Made for Fi phones. The only ones listed that are cheaper are the Moto G6 and the Moto X4, and those are obviously discounted because they're older. You also get a discount if you buy the Moto G7 on Google Fi, as it costs $249 as long as you activate it within a month.
Conclusion
The Moto G7 is a great phone, hands down. If you're not looking to spend a thousand dollars on the latest flagship from Apple, Samsung, LG, or anyone else, this is definitely something that you should be looking at.
And you should totally get the white one. It's just so beautiful, with its bright white glass back and its metallic frame that looks like stainless steel but isn't obstructed by antenna lines. Plus the device keeps its headphone jack, so that's always good.
My biggest complaint would be the lack of wireless charging, as I'm never a fan of using a glass back if there's no actual functional benefit. I'd also prefer an OLED screen, since I do love Motorola's take on the always-on display but I don't like that the whole screen lights up. These were both issues that I had with the Moto G6 as well.
And in fact, the Moto G7 is probably a worthy upgrade from the G6. There's a massive performance boost from this model, with its Snapdragon 632 chipset. The cool thing is that with the Moto G series, you actually can upgrade your phone every year without breaking the bank, and I think you'll be happy if you do just that this year.
If you want to pick up a Moto G7, you can find it here.